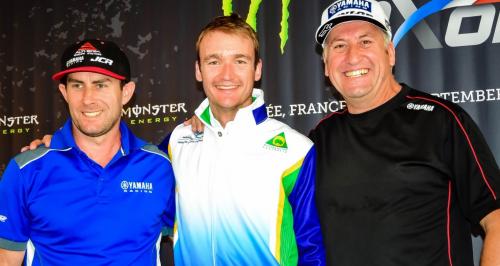 The Australian rider has made an impressive start to the 2016 New Zealand Senior Motocross Championship, clean sweeping the opening round at Timaru.
By Hayden Gregory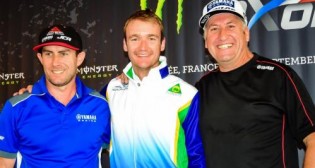 Returning from a stint in the MXGP, Ferris looked on song all weekend claiming victory in all three motos to record a perfect score of 75 points.
The first race saw Ferris pip defending NZ champion Cody Cooper by two seconds with fellow returning Aussie Todd Waters claiming third a further 20 seconds behind.
The second moto was dominated by the same three riders with the Aussie pair claiming the top two spots as Cooper fell to third. Ferris claimed the flag two seconds ahead of Waters as he laid early claim to round one honours.
In the third and final moto Ferris won a thrilling race to complete his perfect day. The Aussie only just beat out Cooper and Waters with just three seconds separating all three riders.
The result gives Ferris an 11 point lead in the championship over local rider Cooper while Waters sits a further 2 points behind.
In the MX2 division Jed Beaton also landed on the overall championship podium for Australia. The Yamaha rider impressed across the ditch with a 9-3-1 finish for the day. A poor first moto hindered any chance of a round victory leaving the door open for NZ local Hamish Harwood to take the red plate.
Harwood remained consistent scoring a 2-1-3 result to lead home Hadleigh Knight in second.
The second round of the New Zealand Motocross Championship will take place on February 28th at the Manawatu Orion Motorcycle Club.
MX1 class overall results:
1. Dean Ferris (AUS)
2. Cody Cooper
3. Todd Waters (AUS)
4. Scott Columb
5. Hamish Harwood
6. Brad Groombridge
7. Justin McDonals
8. Daryl Hurley
9. Yu Hirata
10. Campbell King
MX2 class overall results:
1. Hamish Harwood
2. Hadleigh Knight
3. Jed Beaton (AUS)
4. Kayne Lamont
5. Micah McGoldrick
6. Ethan Martens
7. Logan Blackburn
8. Cohen Chase
9. Joel Wightman (AUS)
10. Sam Cuthbertson
MX1 class championship standings:
1. Dean Ferris 75
2. Cody Cooper 64
3. Todd Waters 62
4. Scott Columb 49
5. Hamish Harwood 49
6. Brad Groombridge 47
7. Justin McDonals 40
8. Daryl Hurley 38
9. Yu Hirata 33
10. Campbell King 31
MX2 class championship standings:
1. Hamish Harwood 67
2. Hadleigh Knight 61
3. Jed Beaton 57
4. Kayne Lamont 52
5. Micah McGoldrick 49
6. Ethan Martens 48
7. Logan Blackburn 46
8. Cohen Chase 41
9. Joel Wightman 39
10. Sam Cuthbertson 38