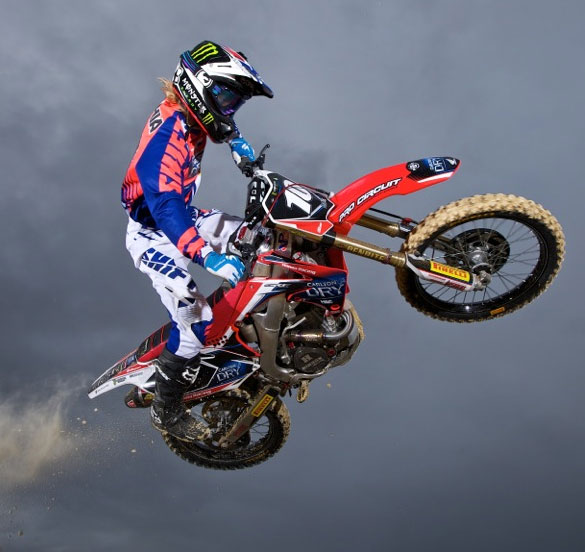 The second round of the 2013 MX Nationals at South Australia's Murray Bridge, proved to be an event the Carlton Dry Honda Racing team would rather forget.
Josh Cachia sustained a puncture to the rear tyre of his CRF250 in the opening MX2 race, putting him out the moto and out of contention for a podium.
The teams luck didn't fare any better in the MX1 class with Ford Dale going down on the opening lap of both races.
Dale was once again, one of the fastest riders on track, earning a spot in the five-rider superpole. Pace didn't translate to a good result for the Sunshine Coast rider who finished the two races ninth and 12th.
"I got two terrible starts, crashed in both races and struggled to come back through the field," Dale explained.
"This track is fast and it really showed me that I need to work on my strength and my starts.
"I qualified well and had the pace to run at the front but I need to be a lot stronger when it comes to riding the 450 on these type of tracks," Dale said.
After just three weeks riding the CRF450 Daniel McCoy continued to make good progress. He finished the opening MX1 race seventh and has moved to 11th in the championship standings.
"I felt strong in the first moto and after just three weeks on the bike I feel like we are definitely making inroads.
"In the second moto I found myself stuck back in the pack and with the track deteriorating, I struggled to make up ground.
"Overall we have definitely progressed in our program and I can't wait for Wonthaggi," McCoy concluded.
Josh Cachia bounced back from a disappointing and premature end to his opening race to finish third in the final MX2 moto.
"I got a good start and holeshot the first race but about three laps in I felt the rear end start swerving all over the place," Cachia explained.
"Luke Clout got past me but I was still able to hold second, then about two thirds of the way through the moto the tyre gave way completely and came off the rim.
"In the second race I got a reasonable start but I struggled a bit with my arm. I decided it was best to settle for third and some much needed points," he continued.
The Carlton Dry Honda Racing team will regroup ahead of next weekend's hometown event at Wonthaggi Motocross track. The track is a happy hunting ground for the Victorian outfit that won both classes at last year's event.

2013 Monster Energy MX Nationals Round 2 Murray Bridge – MX 1 Overall Results 
1. Todd Waters 66
2. Billy Mackenzie 64
3. Jake Moss 60
4. Lawson Bopping 59
5. Matt Moss 54
6. Tye Simmonds 46
7. Jacob Wright 45
8. Cody Cooper 45
9. Ford Dale 42
10. Cody Mackie 42
11. Daniel McCoy 41
2013 Monster Energy MX Nationals Round 2 Murray Bridge – MX1 Championship Points:
1. Todd Waters 141
2. Billy Mackenzie 122
3. Lawson Bopping 109
4. Jake Moss 107
5. Matt Moss 107
6. Cody Cooper 105
7. Tye Simmonds 98
8. Ford Dale 85
9. Cody Mackie 83
10. Jacob Wright 80
11. Daniel McCoy 78
2013 Monster Energy MX Nationals Round 2 Murray Bridge – MX 2 Overall Results 
1. Luke Clout 67
2. Luke Styke 65
3. Brock Winston 57
4. Kale Makeham 54
5. Ryan Marmont 50
6. Dylan Long 49
7. Geran Stapleton 47
8. Rhys Carter 45
9. Kayne Lamont 44
10. Matt Ryan 43
16. Josh Cachia, 30
2013 Monster Energy MX Nationals Round 2 Murray Bridge – MX2 Championship Points: 
1. Luke Styke 135
2. Luke Clout 122
3. Kale Makeham 112
4. Brock Winston 109
5. Geran Stapleton 90
6. Kayne Lamont 90
7. Matt Ryan 90
8. Josh Cachia 88
9. Takeshi Katsuya 82
10. Kade Mosig 73
2013 Monster Energy MX Nationals Round 2 Murray Bridge – MX 1 Overall Results 
1. Todd Waters 66
2. Billy Mackenzie 64
3. Jake Moss 60
4. Lawson Bopping 59
5. Matt Moss 54
6. Tye Simmonds 46
7. Jacob Wright 45
8. Cody Cooper 45
9. Ford Dale 42
10. Cody Mackie 42
11. Daniel McCoy 41
2013 Monster Energy MX Nationals Round 2 Murray Bridge – MX1 Championship Points:
1. Todd Waters 141
2. Billy Mackenzie 122
3. Lawson Bopping 109
4. Jake Moss 107
5. Matt Moss 107
6. Cody Cooper 105
7. Tye Simmonds 98
8. Ford Dale 85
9. Cody Mackie 83
10. Jacob Wright 80
11. Daniel McCoy 78
Images courtesy of Jorden Bethune/Pixel Pig Media

Josh Cachia in action