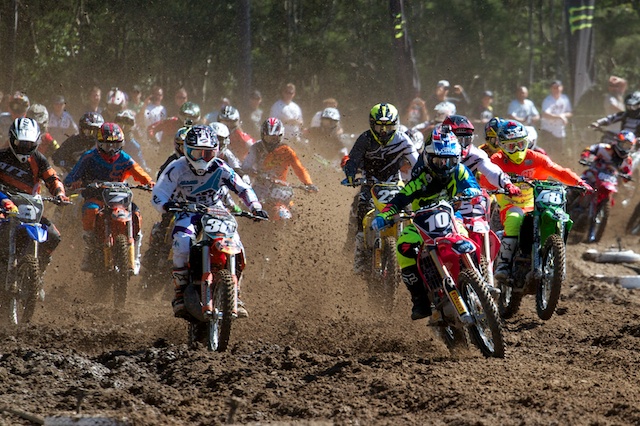 Todd Waters on his way to victory at Raymond Terrace on Sunday

The 2013 Monster Energy MX Nationals series opened under clear blue sky's with a crowed of 4000-plus people enjoying a great day of racing. And in the end, the series opener lived up to the pre-season hype.
The racing started with a bang, moto one of the Motul MX2 saw Josh Cachia (Carlton Dry Honda) grab the first Suzuki holeshot for the season.
As moto one came to an end it was 2012 runner-up Serco Yamaha's Luke Styke who took the win from team mate Luke Clout and rising star Kale Makeham rounding out the top three.
Moto two for the Motul MX2 class was all Styke again followed by Honda's Cachia and Zero Seven's Kade Mosig taking third.
When the points were added it was #2 Styke with 70 points for the win from #10 Cachia in second with 58 points and Makeham also on 58 points in third.
Then it was time for the Monster Energy MX1 class, with Motorex KTM's Todd Waters taking a clean-sweep after getting the first five points from the Go Pro Super Pole.
Second was Motul Pirelli Suzuki's Cody Cooper who went 3-3 for 60 points and CDR Yamaha's Billy Mackenzie rounded out the top three with 58 points ahead of Monster Energy Kawasaki's Jay Marmont on 54 points and Motul Pirelli Suzuki's Matt Moss on 53 points.
The Pirelli MXD class was stacked with new riders moving from the junior ranks and they didn't disappoint.
Victorian KTM rider Jack Simpson went 1–2 for the win with 67 points over Mad Dog Kawasaki's Jesse Dobson on 65 Points, third was Kiwi Hamish Harwood on 56 points.
The championship now heads to Murray Bridge South Australia for round two on the 28th of April. The Pirelli MXD will skip round two, replaced by the Yamaha Pro Quads and the Scott Rookies.