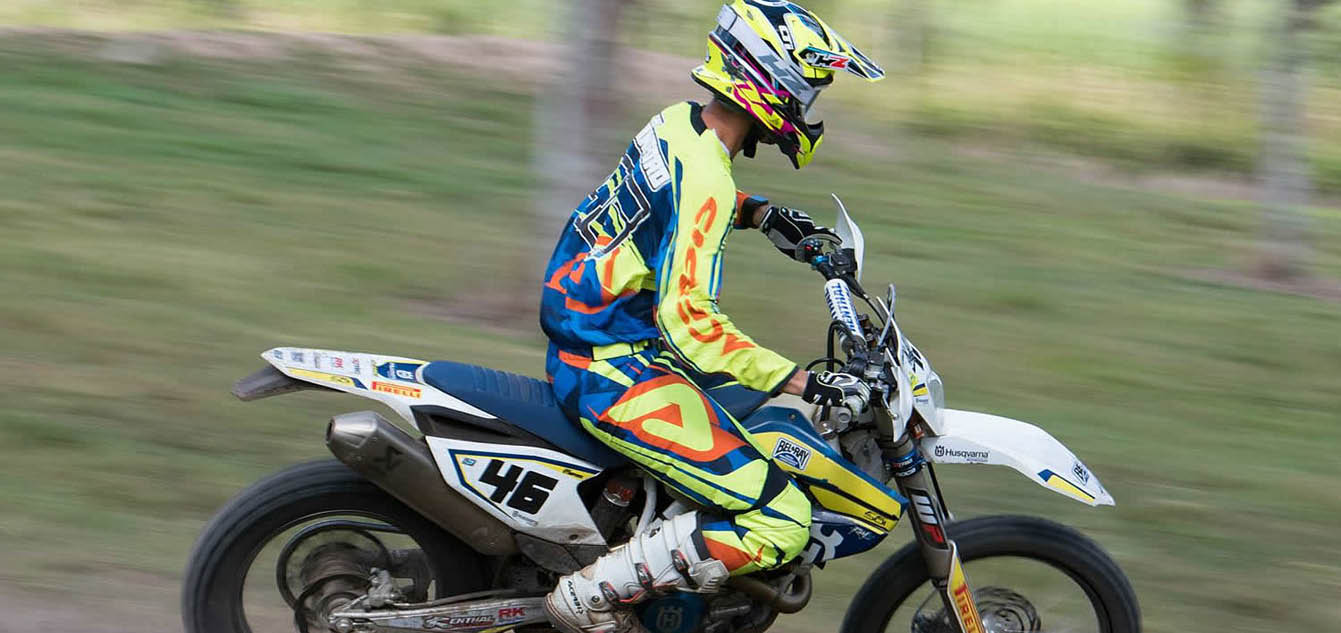 Lachy Stanford and Fraser Higlett secured a Husqvarna 1-2 at the Queensland Enduro Championship.
By Hayden Gregory
Aboard his Husqvarna FE501, Lachy Stanford powered to his fourth straight Queensland enduro title. The result was made all the more impressive given the horrendous weather conditions which met riders towards the end of day two. The Byron Bay rider won all nine special test on Saturday before collecting another two victories during Sunday's downpour.
"The tracks here were world-class; they've done an awesome job. We had roughly 12 kilometre loop that was taking 18 minutes to get around, and we ended up doing nine sprints because they were forecasting big rain on Saturday night. So we did a lot of bike time there and I won every test outright, which is cool.
"The 501 is amazing, I don't know what it is, I just gel really well with this bike. I feel really comfortable on it and can put it where it needs to go. It's easy to ride, it suits every track and it just suits my riding style to a T. You can go from fast flowing track into tight technical stuff, and it will be like a dream. On the Sunday it rained hard and they only did two tests with the track was pretty much underwater. Some of the straights were down in between the cane fields and it was pretty fun aquaplaning down there. John Hand, the owner of the property, is just a real hard old school enduro guy who has done Six Days and everything. He wasn't listening to all the sooks, he was like just "nah, get back out there!" Old school! John's good.
"Winning my fourth State championship is cool but I've definitely got my eye on bigger prizes these days. But when it's this much fun and we are doing this much racing, it's a good warmup for the Aussies. Two hours and 45 min of sprint racing on the Saturday was good training for Hattah too.
Having said that, King Kirk has won 11 Queensland titles now so I want to beat his record – I'm only up to four so I've got a lot to go."
Stanford's Husqvarna team mate Fraser Higlett finished runner up for the championship, a remarkable effort considering he fractured his collarbone just three weeks ago.
"I think I was just a bit more consistent than anyone else," Higlett shared. "I was third this weekend, fourth at the opener and sixth in the second round. Everyone else fell off! Saturday was pretty good, the tracks were awesome, but we did like 2-3 hours of sprints on Saturday, which was pretty extreme, and Sunday it was pouring while we were racing, so that was pretty crazy too. It was actually pretty fun riding through the deep water in the rain on Sunday – it didn't feel too good on the bike but it pulled through fine. There was a rain forest section and it was like pitch black. You were actually relying on your light! So that was pretty cool.

"It's pretty nice to come out of juniors and into seniors and achieve this. Getting second to Lachy is cool. He is just crazy if you watch him ride, he just looks so slow compared to everyone else, but he's going fast as. He's smooth as.

"I fractured my collar bone three weeks ago, that hurt a bit at the weekend. But I strapped it up and it worked for me. I rode last Wednesday and that sort of felt all right, so I went up thinking that if it hurt too much I'd just go slow.' I really only needed to race that last round to get a podium finish to the championship."