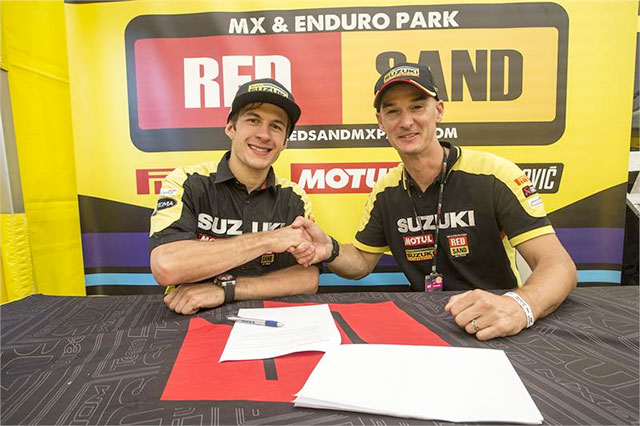 The Swiss rider has penned a new two year deal.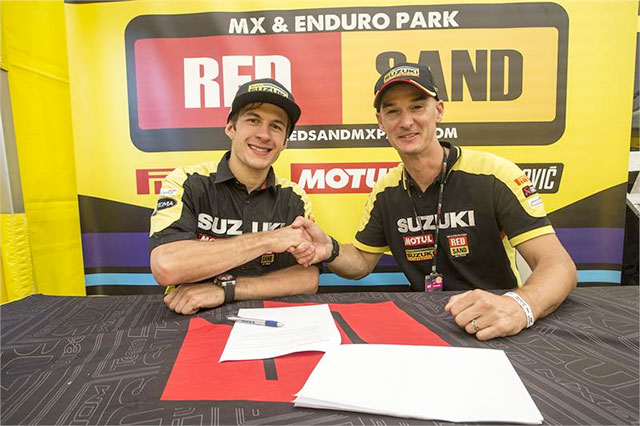 By Hayden Gregory
Jeremy Seewer was contracted with Team World Suzuki MX2 until the end of the 2017 season, yet in a huge boost for both the team and the rider; Seewer has extended a further two years to contest the MXGP class.
The 22 year old enjoyed great success in 2016 scoring ten podiums from the first 18 rounds. Seewer attributes the new deal to his relationship with Team Manager Stefan Everts who he really enjoys working with both on and off the track.
"For me it actually was a pleasure to know and work with Stefan for my first year," Seewer shared. "And I knew, I would decide about my future after working together with him. It all worked out great this season, we want to go in the same direction, I feel good in the team so it was clear for me that I wanted to stay with them and that my future was with Suzuki."
Everts also spoke of the new deal and his commitment to securing the long term future of Team World Suzuki.
"Working with Jeremy has been a pleasure, we have a good feeling and a good spirit between us," Everts said. "We have the same goal and same ambition. I'm very pleased that we could come to an agreement with Jeremy for the '18 and '19 MXGP seasons. It's an important phase of my planning for what I want to achieve with the Suzuki Factory Team."
'The Legend' has always stressed the importance of finding young talent and assisting them on their road to the MXGP class. And he is happy that he can take this road together with '91'. "Jeremy has a very good image and he is a fantastic ambassador for Suzuki. He is something we like to be connected with," Everts finished.
Seewer's next point of call for Suzuki will be the inaugural SMX Manufacturers Cup this weekend, October 8th, before taking a much deserved break.