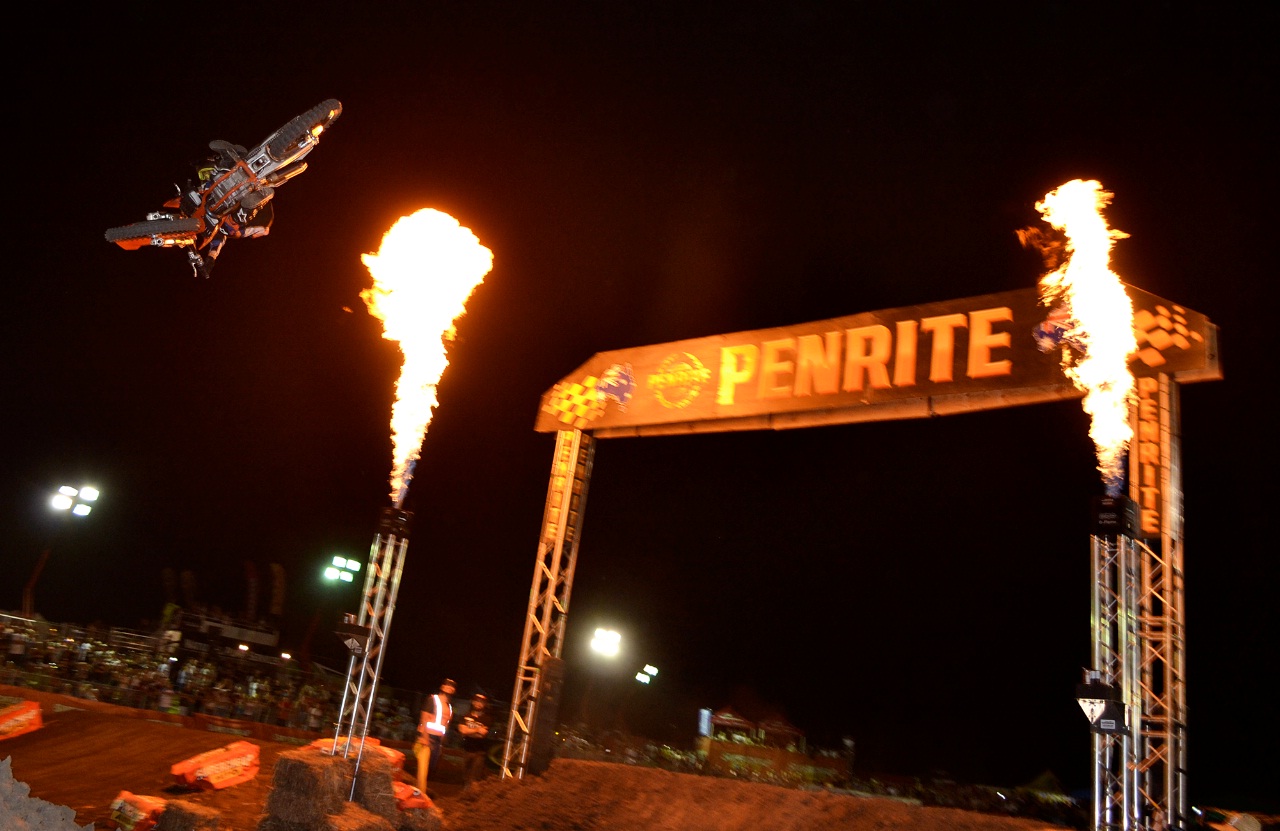 The view's sweet from the top of the SX2 podium
Press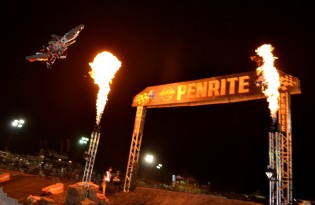 In a Championship that had been dominated through all three opening rounds by visiting American ace Jimmy Decotis from the Penrite Honda Racing team, Woods has etched his name in the record books as the first rider to knock Decotis off the top step of the Australian Supercross Championship SX2 podium.
And as Woods discovered on Saturday evening, the view from the top step of the podium looks pretty darned good!
ASX: Let's start at the start, Lewis: can you give us a recap of your race career from over the years?
LW: I've pretty much been racing forever! I started off in Juniors, my first bike was a 65, because I never raced 50s. I got my first Championship in Juniors and basically carried on from there. When I turned Senior, I went straight onto a 450 at 17 years of age.
ASX: That's a big step, straight into Open racing and straight onto a 450?
LW: For sure and as it turned out, maybe it was a little too much too soon. I'm not really a big guy with a big build, I'm just 69 kilos, not 85 kilos, and probably should have gone to a 250. But the thing is, as a privateer, racing a 450 is way more affordable, because with a 450, you pretty much just need a pipe, whereas on a 250, you need as much power as you can possibly get, so the set-up and the maintenance is more expensive.
ASX: What kind of results have you had over the years?
LW: I guess you would describe me as a top ten kind of guy, pretty much. I've basically been a privateer all the way through, which makes it a little tougher for guys like us, compared to the factory guys, who pretty much just have to concentrate on riding the bike, thanks to the greater support and budget they have access to. I got my break to step up onto a team last year with Penrite Honda, which was awesome, but at the first round of Supercross last year at Bathurst, I broke my femur and that was over just as soon as it started.
ASX: How long were you sidelined?
LW: It was seven months before I could get back on the bike and just start to roll around again and since then it's just been all about working back up to fitness and finally getting back into racing.
ASX: How did the Davey Motorsports KTM ride come together for this year's Australian Supercross Championship presented by Penrite Oils?
LW: My former team manager, Paul Keepence, offered to buy me a KTM 250SXF for this year's Supercross series, and helped me to get a ride organised. Then Davey Motorsports became involved and the whole thing came together about three weeks before the first round of the Championship at Bathurst. Davey Motorsports transport my bike and gear to the races and it's working out sweet.
ASX: Was it your only option for a ride for Supercross this year?
LW: Yeah, because I really had nothing otherwise. I don't have the time or the money to be able to buy a bike and get everything organised to race a national Championship. I run motocross coaching schools mid-week and help my dad, Craig, as a mechanic, as he recently had a back operation. So I really have to say thanks to Paul and to Davey Motorsports KTM for giving me this opportunity in Supercross this year. At the first round at Bathurst the bike was dead-stock, but since then we've been gaining more support with parts and it has all been coming together.
ASX: So how did the three opening rounds of the SX2 Championship play out for you?
LW: The first round at Bathurst was good, because I just wanted to get through the first round and see where everything was at. I got a sixth place finish in the Final, which was good, especially as I came through from outside the top ten early on, so I was happy with that. The next two rounds at Jimboomba and Adelaide I placed ninth in the Final at both rounds, and they were those kind of races where not much goes right. I struggled a little with bike set-up and some little crashes, but in the Adelaide Final I came from last after a tangle in the second turn, so to get back up to ninth there was okay. My lap times in Adelaide were good, and most important of all, we made some good developments with bike set-up at Adelaide, so I felt good going into the break knowing that the bike was really starting to work for me.
ASX: With a three week break after Adelaide, did you feel like the J2 Supercross back at Jimboomba for round four of the Championship could be a turning point?
LW: I was feeling good because the bike had been so good at Adelaide. During the break Paul had done some more work to it and it was only getting better again. He freshened it up with a new piston and rings and got some parts to keep it in top shape. I'd done a lot of practice on the bike during the break, as it is the only bike I have, because I don't have the budget to get a practice bike. I do have a 450 at home, but that's just not the same to practice on when you are racing a 250.
ASX: So how did things kick off when you got back on the bike at J2?
LW: I was happy with my Heat race. I got a good start out of the gate but went a little wide in the first turn because we hadn't hit it before and had not had the chance to learn it, so I missed the apex and ran wide, which meant I missed timing the first rhythm section. But I came through and made some good passes and felt pretty good on the track and knew I could race well on it. I could turn in under some guys and the traction was there for me. Jimmy Decotis was just up ahead of me in the Heat and I felt like a had his pace and could run with him, so I felt good for the Final. I had a good gate pick, so it was all pretty much set for the Final.
ASX: But before the Final, you got a last-minute call-up to be part of the Best Whip contest after the rider line-up changed.
LW: That's right. The race promoter Scott Bannan came into the pits and asked me to get my gear on and go into the Whip contest. Some other riders had opted out, but my feeling was, you've gotta have a Whip contest for the fans! And it was sweet … the prizemoney I got for winning it will be real handy!
ASX: Then you backed right up for the SX2 Final after those mighty Whips and as it turned out, you and Dylan Wills nailed the start on your KTMs.
LW: For the actual start, as I came out of the gate, I almost missed a gear and it kind of buggered me up a bit and I went a little left and got tangled a bit with Clouty …
ASX: What? When Luke Clout and Wade Hunter got tangled and hit the deck right off the elevated start?
LW: Yeah, kind of. I was lucky, I pulled out of it and just got out of that mess. But if I had been in a different gear or something, it could have been a real different story for me, if I had connected with them.
ASX: That must have been close! Yet you came back from that and made an awesome start.
LW: As it turned out, yeah. I got through the first turn and got that next rhythm section real good. But what was most important was the fact I didn't make the same mistake in the first turn like I did in the Heat race where I ran wide.
ASX: Once you were in the lead it looked like you rode a super-clean race out front all the way.
LW: Once I was in front I just started ticking off laps, because making fast, consistent laps was always going to be the most important thing on that track. I take my hat off to anyone who could do that, because the J2 track was tough. After all the heat through the day, the ground was so hard and traction was absolutely vital, and I just knew I had to settle and ride clean and fast and minimise mistakes. That was so important. I had to rule out mistakes, like going into the rhythm sections in the wrong gear, or bad line choice, stuff like that, as that can cost so much time.
ASX: You looked absolutely solid right through the whole mid-section of the race.
LW: There was one stage, about lap four to about lap 11, and I could see the distance between me and Jimmy and I was knocking if off and was starting to really feel like I was in the zone.
ASX: The last few laps Decotis moved a little closer to you: was the heat or your fitness an issue, because it was for many riders on the night?
LW: No. my fitness was not a problem at all. There were some little mistakes in there, but I held it together and just kept going hard. The last three laps, I actually backed it down a little to minimise any mistakes, but it was one of those tracks where I should not have changed anything!
ASX: Did you have a handle on how close Decotis was getting to you?
LW: I could see he was coming, for sure. But I just kept pounding out the laps and counting it down and kept at it all the way to the end.
ASX: How good did it feel to take that chequered flag and fire the candles?
LW: Unreal! Really unreal, actually! As a privateer, it was awesome. For guys like me, racing as a privateer, there is so much that goes into it, not just riding the bike like the factory guys. That's the biggest thing that makes it special to me.
ASX: Where does this win rank in your career?
LW: Right at the top. I won some junior nationals back in the day and have won races over the years, but not like this. This is 100 per cent the best win ever.
ASX: Decotis had some really great sentiments for you on the podium, did that feel good?
LW: Jimmy was awesome, but that's just the kind of guy he is. He has been a privateer back home in America for a long time and he's been top privateer for years, so I think he might see the parallels. He's a cool dude, for sure!
ASX: The win has seen you leap up the Championship points table now: Decotis leads with 137, from Luke Arbon (SD3 Husqvarna) and Jackson Richardson (Penrite Honda Wilson MX) tied on 111, then you and Geran Stapleton (Penrite Honda Wilson MX) are tied on 104, followed by Dylan Wills (Newcastle KTM) on 98 and Luke Clout (Serco Yamaha) on 92. It's a fair old traffic jam in the SX2 class.
LW: Yeah, it's really close now with two rounds to go. I'm pumped about it. It's a shame I had to two ninth places earlier on, because at the end of the day you need to be really consistent right the way through any Championship.
ASX: Two rounds of the Championship remain, at the AUS-X Open at Allphones Arena in Sydney this weekend, then the final round at Knights Stadium at Sunshine in Melbourne one week later. Have you ever raced an indoor supercross before?
LW: Way back in the Junior days I did, but not anything more recently. I missed the Brisbane indoor last year with the broken leg.
ASX: So what's your plan for these last two rounds?
LW: More of the same would be good! This week my bike is staying up in Sydney, so I won't get to ride it again until we get to Allphones Arena. So I will have to ride my 450 at home for training. But I really know what the KTM 250SXF is like now and I feel really good on it and I know how good it was last weekend, so I probably wouldn't even want change anything anyway. We probably won't even change the tyres!
ASX: That will have to help the privateer budget, for sure! Good luck for the final two rounds and good luck the big Whips and the race wins keeping coming.
LW: Thanks so much. The vibe since getting the win at J2 has been awesome, and more of it would be great. I'm loving the love, that's for sure, so thanks to everyone who has played a part.
Want more articles like this? Subscribe to Dirt Action Magazine.