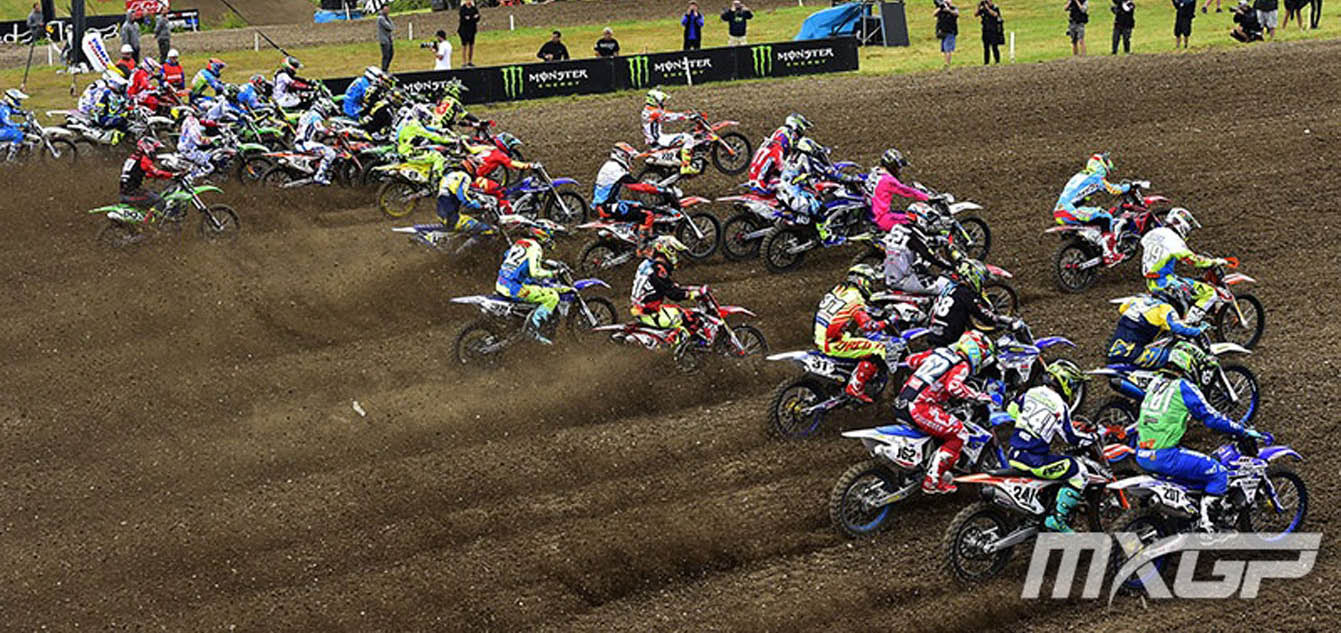 All the fallout from round 11 of the World Championship.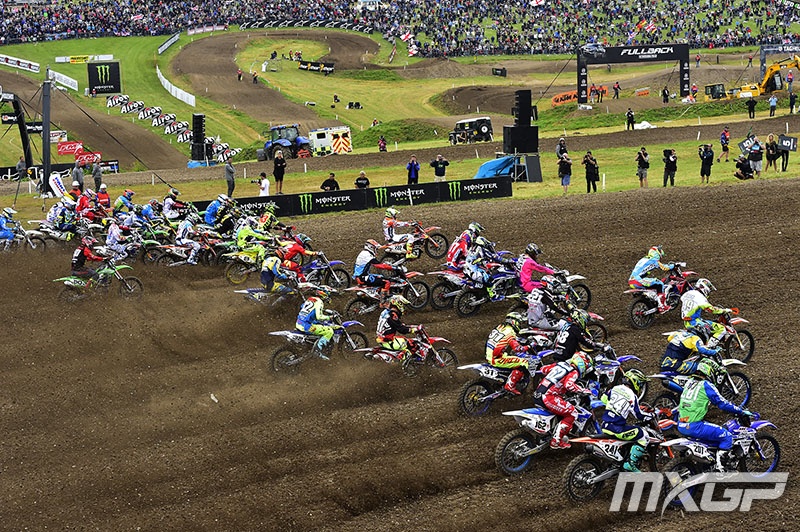 Tim Gajser (1st MXGP): "I'm so happy to win again; it's such a great feeling! I love this track and I was really enjoying it a lot. The second race was a little sketchy with the rain because the track got really slippery and it was difficult for visibility, but I really enjoyed my riding today – having fun with some nice scrubs and whips. In the past races I was in a rush at the beginning and made some stupid mistakes, but I'm really happy that this weekend I could ride more smart and take another pair of wins for the overall. I really enjoy riding this track, and it suits me with big jumps and fast corners. They prepared the track really well too and did a good job. I was feeling really comfortable and made a good start and then could control the race from the front. When I saw that I had already a big gap I knew all I needed to do was finish so I closed the gas a little bit and just enjoyed the race, having fun on the jumps, and starting to race a little bit more with the head."
Max Nagl (2nd MXGP): "It was a pretty good weekend. I always enjoy coming to the British GP and especially this track. I got a good start in the qualifying race and finished second so I earned a good gate pick for the final motos. In the opening race I didn't manage to get a good start. I was seventh or eight and spent most of the race stuck behind Van Horebeek. I was faster than him but couldn't find a place to pass, so I settled for seventh. We made some changes with my bike between the motos. We changed gearing and it worked to our advantage. I got a massive holeshot in moto two and then put five really intense laps in to make a small gap of almost six seconds. When the rain started coming down I had to slow down a bit and Gajser passed me. I was surprised with getting second overall. But we've got so many fourth places this season so I guess we deserved to be on the podium this time."
Gautier Paulin (3rd MXGP): "Especially after the French GP, it's a great way to come back. Yesterday wasn't my day as I was struggling a little but we worked hard with the team and did a good job to come back really strong today. The qualifying race was pretty terrible for me, but today was another day and we've been good all day. The first moto was ok but the second race was good. I spent too much time behind Butron and I used too much of my goggle roll-offs with the conditions, but I'm pleased with third and to be back on the podium again."
Evgeny Bobryshev (4th MXGP): "Honestly I can't say I'm satisfied with fourth because we could have been on the podium today. From yesterday the feeling was good here and things were working well on this track, and at the start of race one it was great to be out in the lead and running so well. Then we had a few small issues and when I was trying to push behind Tim I over-jumped and missed a corner, jumping out of the track. It's frustrating as I think a podium was definitely on the cards today. We had the pace for it, but it just didn't happen."
Valentin Guillod (5th MXGP): "I tried to clean my goggles, but the roll-off system was broken by a stone in the start, and it was hard to see. 10 seconds before I could remove them I crashed. Without goggles it's really complicated to race, but I managed to come back to 7th. The first race was awesome, really good. But I'm disappointed to miss the podium by two points. It's not about my riding, it's just bad luck."
Antonio Cairoli (6th MXGP): "First moto with the second place was ok, because I struggled a little bit to pass the other riders at the beginning of the race and with the good speed I had maybe I could follow the leader. I try to pass but it was not easy so I had to wait the end of the race, when they did some mistake. I was looking forward for the second race, because I really love this track and I have good memories from the past but then I had a bad start and I came out of the gate really bad. Then I was trying to come back and when I was again close to the top ten, on the big quad I was a bit short and I hurt something on my left wrist that was very painful and I was thinking that I could not even end the race, so I slowed down, loosing some position. I was thinking to give up but then it was going slightly better and I decided to keep fight for some important points that I need for the Championship and I finish in the top ten. At the end of the race we went check my wrist at the medical service, because it has swollen a lot and tomorrow I will go to my doctor to check it better and see what it is and hopefully is not so bad and I can do a good race in Mantova next week."
Jeremy van Horebeek (7th MXGP): "It was difficult to pass in the first race, but the team did a great job for the second moto and I was confident that I could do better. The start was complicated because of the rain, and I crashed, so it was a chase back to eighth. Maybe not the best result, but the riding was really good, and I had a really good pace. It was not easy with the rain today, and the track was getting really slippery. I'm disappointed with the results, but the riding is going really well?
Jordi Tixier (8th MXGP): "It was a great weekend for me; I was happy with my results and my rhythm. On Saturday I did my best qualifying race; I finished eleventh but I was really close to the top five. In the first moto I got a ninth and did even better in the next one; my start was great, but in the second corner I got a stone in my goggles and damaged them. I didn't want to throw them away as it was raining; finally I had to do it but I had a good rhythm and could keep my sixth place. It's nice to see that we are working well with the team; now we'll move to Holland to prepare for Mantova next weekend."
Clement Desalle (9th MXGP): "It's a good feeling to end the weekend with a top five result, especially after the first race where I didn't get what I could expect. I had a bad start and then during the first lap I jumped on a mound of earth and did a superman! I didn't crash but my adrenalin was up; I lost my rhythm and even crashed later in this lap. I was last, as long way back, and recovered to seventeenth so for sure it was good to get a fourth position in the next race. I had a better start around fifth or sixth, and then came through to fourth; I tried to catch a podium, but Paulin had also a good rhythm. We continue to work with the team; this year many things are new as I race with a new bike, new suspension, new tyres and we must find the best settings for me. But I feel the improvements, and that's good for the future."
Chad Reed (13th MXGP): "I think my physical fitness is totally fine, but the muscle memory for 35 minutes of pounding, especially from this track, is lacking. The riding, the feeling on the bike and the pace was fine, but the grind in two days of motocross is a lot different than what we do in one day in Supercross. Hopefully this will shock the body and make next week a bit easier. But honestly the pace doesn't seem too gnarly, and my feeling on the bike is the best I have had outdoors in a long time."
Ben Townley (16th MXGP): "Tough weekend but it doesn't sound like much different to what I have been saying all year. I put it down twice early in the first one so I decided to save my energy for the second. I wanted a decent and consistent moto but fell with a lap to go. It's been a hard old season. I expected a much better weekend. We just need to keep working. We made some positive changes overnight. The team had some ideas and we made a fork and a shock change to make the bike softer and that made it turn better and gain more traction."
Jeffrey Herlings (1st MX2): "We managed to do it and turn a negative weekend into a very good one. We leave here with almost a 150-point lead and its looking very good and very steady. There's seven rounds to go and three are in the sand, so I am looking forward to my home GPs like in Lommel and Assen."
Dylan Ferrandis (2nd MX2): "It was great to be back on the podium as I missed it at the last two GPs. I had a good feeling with the track this weekend; here it was possible to make the difference with the other riders. It's just a shame that my starts were not better as I would like to race with Jeffrey; in both races the gap to him was too great by the time I came to second. We came here after some testing sessions with the team, working mainly on the suspension; on Saturday we made some more changes on the settings, and today the bike was great."
Pauls Jonass (3rd MX2): "After yesterday's qualifying race when we had so much bad luck I don't think anyone thought I could be on the podium, I had the 24th gate pick so was not the best start position but still in the first race I managed to lead some laps from the start after I made a pass at the second corner. I started to ride a bit tight and Jeffrey and Ferrandis passed me. Then with three corners to go on the last lap I over-jumped and Jeremy (Seewer) went by, I got a pretty decent start in the second race and moved up to second quite quickly. Then Dylan (Ferrandis) passed me. Maybe I didn't ride the best lines and didn't get the best flow but I finished third. Its not so bad to be back on the podium."
Jeremy Seewer (4th MX2): "Almost! I knew I had to pass Pauls for the podium. The top three was not my sole goal because I knew a fourth place was not a disaster, especially in the championship picture. But of course I wanted to pass him! I was faster but couldn't make it happen on the last lap. I got through but the rut was quite high and I couldn't turn enough. It was a positive weekend and I showed some really good speed yesterday and I think I had the fastest lap-time in the first moto. We still need to work on the start because we have a new issue to solve as I struggled a bit just coming out of the gate. It seems like we have enough power I need to maintain it and really use it. Anyway it was good for the championship. Jeffrey won again and he wasn't 100% so I hope there might be another occasion where we can fight and try to beat him this year."
Aleksandr Tonkov (6th MX2): "I'm happy with the speed we had today, and the team has really done a great job to keep the bike in top condition. But I'm still unable to train at full capacity, so it's difficult to keep at the front for two motos with the top guys. I'm looking forward to the break after Mantova to have three full weeks to rest and recover, and then I hope to get better and come back at full strength for the rest of the season."
Tommy Searle (11th MXGP): "It was nice to race my home GP, to see so many fans and try to spend some time with them as they gave us amazing support. It's been a really good weekend, but it's a shame that the rain came for the second race. I was happy with the first race, then in the second one I had some good laps but then the rain was so bad that I had troubles with my goggles; I slowed down too much as I didn't want to take them off, but I should have throw them away… In the first race I had a good speed, I know I can do it and I just hope that I make it happen soon."
Glenn Coldenhoff (12 MXGP): "Saturday was okay. I got a bit of arm pump in qualifying but still managed to get tenth, which was good enough for a gate pick. Then in the first moto I had a very bad start and I was pretty far back. I went quite well in the first laps and the riding felt good and I passed Nichols in the last lap for tenth. I got a better start in the second moto but then Charlier crashed in front of me and I had to start again dead last."
Petar Petrov (15th MX2): "It was bad weekend, not so much to say as we had some technical issues. I had my best Saturday for some time to qualify in seventh position after fighting with Jeffrey (Herlings) for most of the race. Today in the first moto we had some small issues but I was able to finish the race, but in the second one I had a bad start and was forced to retire on the second lap. Again I had the speed, but that's also racing and now we don't think anymore about the championship but just try to do well in each GP."
Brian Hsu (16th MX2): "It is my first proper race and I was feeling a bit tired already from Saturday and pushing hard in the heat race. I am still struggling a little with my arm and wrist because I was gripping more with my right side and I have to compensate; it was a tough weekend! I survived though so I am happy and will work for better."