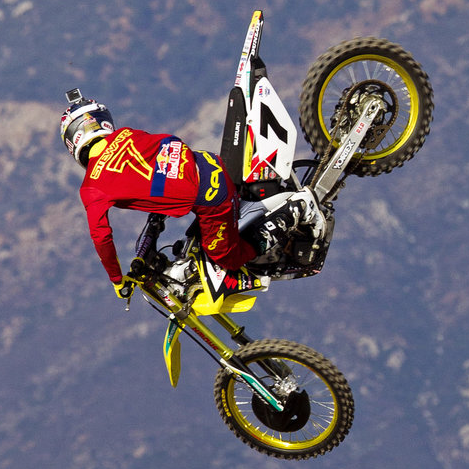 Straight up motocross in Red Bull Straight Rhythm
Check out all the best action from the 2014 edition of Red Bull Straight Rhythm.
The first ever Red Bull Straight Rhythm competition is in the record books. The large crowd in attendance witnessed some heated head-to-head racing that forced riders to try everything they could to cut their times down. In the end, it was James Stewart who took the Open Class victory while Marvin Musquin held strong in the 250 Class for the top spot.
Open Class Final
James Stewart vs Justin Brayton
Despite Brayton's fine form all day, especially in the whoops, there was no stopping James on this track. He had not lost a race during the entire event, and would not be defeated by Brayton in either of the two races in the final. James took the checkers to become the first Open Class champion ever at Red Bull Straight Rhythm.
James had this to say about the win: "It was a lot harder than I thought it'd be this year. On every run today, the guys rode faster and faster. There were places where I didn't think I could make up time, but somehow, I made it up where I needed to. I can't wait to watch it on TV."
250 Class Final
Marvin Musquin vs. Justin Hill
The teammates met for the first time since practice in the 250 class final. Hill had bested Marvin in their practice races on a few occasions, but had nothing for the Frenchman in the final. The pair battled through both races, but at the end of each, it was the 25 of Musquin throwing style on the finish line. Marvin celebrated with a classic heelclicker and his signature ecstatic fist pump.
Travis Pastrana made his triumphant return to the race track on RM-Zilla, the 500cc two-stroke demon bike that he has chosen to pilot at Red Bull Straight Rhythm. We saw him matched up against Justin Brayton during the qualifying day, and as the video shows, Travis was right there. His speed in the whoops has not missed a beat since his pro days – he was hitting them wide open.
James and Malcolm Stewart went head-to-head all day during practice at day one of Red Bull Straight Rhythm 2014. Get a first-person view of the half-mile-long track in the video above, as JS7's on-board GoPro records the action.