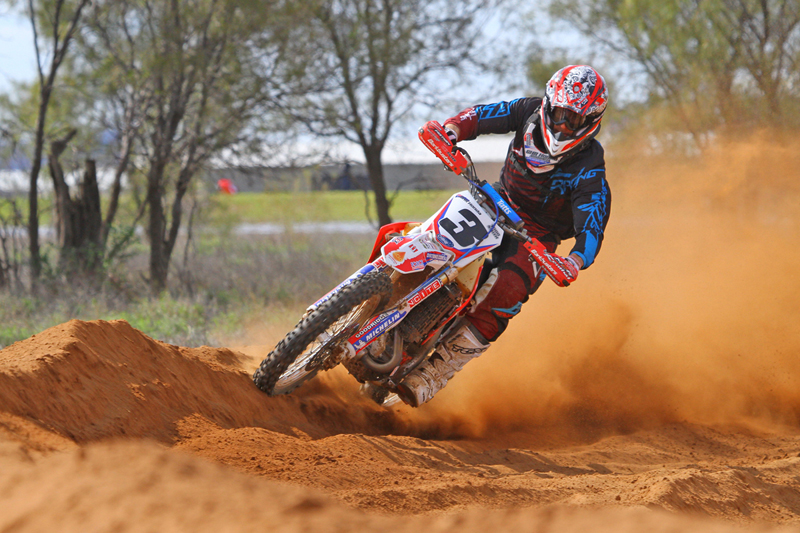 Todd Smith from Condobolin in New South Wales has been 'crowned' King of the Desert after taking victory today in the 38th running of the annual off-road classic event, the Tatts Finke Desert Race.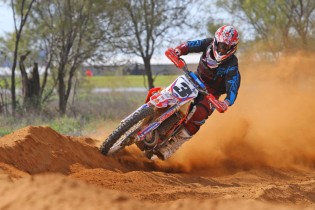 Following him across the line in second position was his brother Jacob, making for a sibling situation that has not occurred before in the history of the event.
Todd Smith also brought Honda its 20th victory in the event's history, breaking a four year string of wins by KTM.
Riding the #3 Honda CRF450R Todd Smith returned to the Alice Springs start from the overnight stop in Finke in a time of 2 hours 1 minute and 44 seconds. His total time for the event was 4 hours 2 minutes and 8 seconds
Jacob Smith (#11 Honda CRF450R) made the return trip today in a time of 2 hours 2 minutes and 58 seconds.
In third place, in his debut Tatts Finke appearance, was Joshua Green from Soldiers Point in NSW on the #X49 Yamaha YZF450.
Green's time today was 2 hours 3 minutes and 38 seconds. His total event time was 4 hours 7 minutes and 42 seconds.
Fourth outright was Jarrod Bewley (Oberon NSW) on bike #5 Husaberg FE501 who took the chequered flag with a total event time of 4 hours 9 minutes and 30 seconds.
In fifth position overall, Ivan Long (Tanunda SA) #298 KTM 500EXC rode brilliantly today to be third fastest on the road.
Four time Tatts Finke Desert Race winner Ben Grabham (#X99 KTM 450 SX-F) finished 11th overall in a total event time of 4 hours 25 minutes and 17 seconds.
Top 20 Overall:
| | | | | | | | | |
| --- | --- | --- | --- | --- | --- | --- | --- | --- |
|  Pos | |  # | Competitor | Town | Bike | Day 1 | Day 2 | Overall |
| 1 | | 3 | Smith, Todd | Condobolin, NSW | CRF450R | 02:00:23 | 02:01:44 | 04:02:08 |
| 2 | | 11 | Smith, Jake | Condobolin, NSW | CRF450R | 02:03:05 | 02:02:58 | 04:06:03 |
| 3 | | X49 | Green, Joshua | Soldiers Point, NSW | YZF450 | 02:04:04 | 02:03:38 | 04:07:42 |
| 4 | | 5 | Bewley, Jarrod | Oberon, NSW | FE 501 | 02:05:49 | 02:03:41 | 04:09:30 |
| 5 | | 298 | Long, Ivan | Tanunda, SA | 500 EXC | 02:07:23 | 02:03:21 | 04:10:44 |
| 6 | | 7 | Dooley-Mcdonnell, Jack | Alice Springs, NT | CRF450R | 02:07:44 | 02:05:29 | 04:13:14 |
| 7 | | X96 | Auricht, Caleb | Pacific Paradise, QLD | CRF450R | 02:07:56 | 02:08:11 | 04:16:08 |
| 8 | | 4 | Fish, Mathew | Kyneton, VIC | 450SXF | 02:09:41 | 02:08:06 | 04:17:48 |
| 9 | | 17 | Summers, Lachlan | Alice Springs, NT | KXF450 | 02:10:46 | 02:10:57 | 04:21:43 |
| 10 | | 552 | Marr, Lachlan | Alice Springs, NT | CRF450R | 02:12:16 | 02:10:01 | 04:22:18 |
| 11 | | X99 | Grabham, Ben | Bathurst, NSW | 450 SX-F | 02:12:46 | 02:12:31 | 04:25:17 |
| 12 | | 15 | Hayes, Luke | Alice Springs, NT | 450 SX-F | 02:16:42 | 02:12:03 | 04:28:46 |
| 13 | | X88 | Walsh, Michael | Alice Springs, NT | CRF450R | 02:17:39 | 02:12:08 | 04:29:47 |
| 14 | | 698 | Faggotter, Rod | Longreach, QLD | YZ450F | 02:15:58 | 02:16:55 | 04:32:54 |
| 15 | | X18 | Boyle, Peter | Stony Creek, VIC | CRF450R | 02:20:16 | 02:15:09 | 04:35:26 |
| 16 | | X41 | Armstead, Kenny | Alice Springs, NT | 450 SX-F | 02:20:50 | 02:15:15 | 04:36:05 |
| 17 | | X86 | Stephens, Lee | Fern Bay, NSW | RMZ450 | 02:19:51 | 02:18:06 | 04:37:57 |
| 18 | | 575 | Turner, William | Alice Springs , NT | CRF450R | 02:20:36 | 02:17:44 | 04:38:21 |
| 19 | | 19 | Van Maanenberg, Luke | Sippy Downs, QLD | CRF450R | 02:18:25 | 02:20:16 | 04:38:42 |
| 20 | | X29 | Nelson, Micheal | Alice Springs, NT | KXF450 | 02:21:56 | 02:17:57 | 04:39:53 |