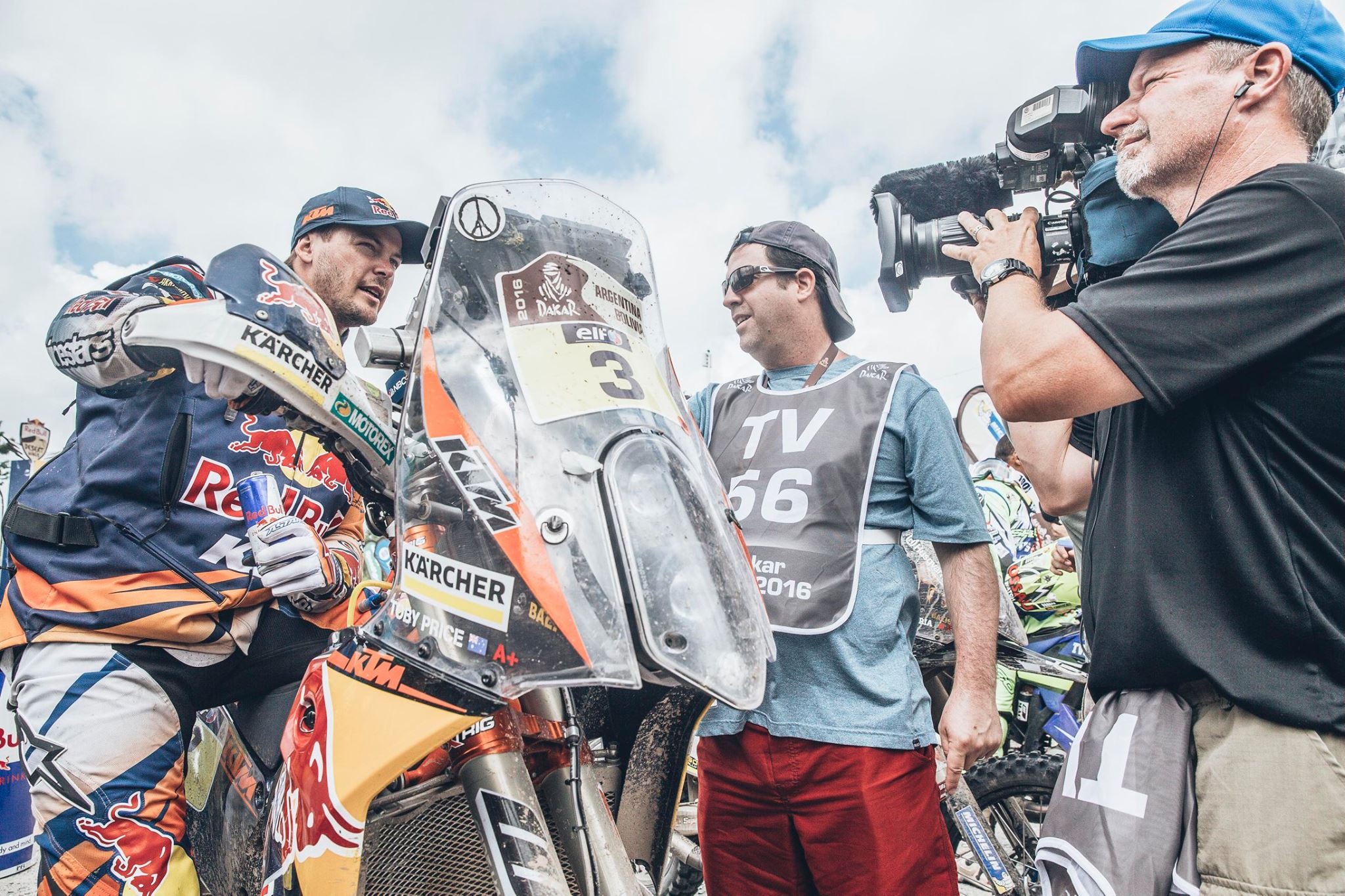 Australian hopeful Toby Price has secured his second stage win overnight at the 2016 Dakar Rally.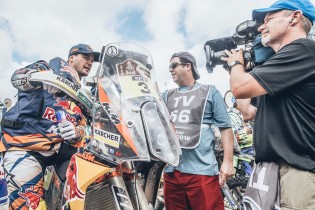 By Hayden Gregory
Price led his team well over stage five, crossing the line first with three team mates in tow for a KTM top four finish. His overall time of four hours, three minutes and 44 seconds has shot him right back into title contention climbing from seventh overall to third. The Aussie now sits just one minute and 47 seconds behind HRC's Paulo Goncalves.
"This marathon stage was definitely difficult." Price commented. "Today was a little bit tricky with the navigation. I had to stay on top of the game. 

"I caught a couple of other guys and got in some dust. I made a couple of little errors in the end there, because I was a little too worried to take my eyes off the road. It was a pretty crazy track. All in all, we're stoked.
"I didn't expect to be that far ahead for the day. I caught a couple of guys, but I thought the other guys in front were on a good pace. We're stoked. We've got another long day tomorrow and we'll see how we do.
"The track was just like big open roads, so on most of it you could get on the gas and go pretty good, but then on probably the last thirty or forty kilometres it was pretty hard navigation and I was trying to stay on top of things. We just tried to push when we could and try to hold back when we had to, but we've come away with a good result, so it's a good day.
"I know we've got the stage win, but I'm not too sure where we are overall, but we're stoked and happy with everything. We've just got to keep pushing along and do what we can. Fingers crossed, but there's still a long way to go.
"We can't count on things just yet. Today is only day five. We've got another seven or so stages to go and it's a long way. Anything can happen between now and then. We'll just try and make the right calls when we have to and push when we need to, so we'll see how we go.
"The bike is good. I didn't crash or do any damage to the bike. It's running really well. The guys have done a really good job. All is good, just the tyres were starting to get worn out at the end and it was hard to hang in there on those slippery roads, but it made it a bit of fun".
KTM teammate Antoine Meo crossed the line in second place nearly two and a half minutes after Price. The Dakar rookie was impressed with his stage and is looking more comfortable following his switch from world-class enduro.
"I'm quite happy with my riding style and yesterday I tried to stay careful, to look after the bike and not damage anything," Meo said." I did have a little crash in the first half of the marathon stage yesterday and the tire was very slippery on the back. Today my front fork was leaking so I had no front brakes but I told myself it doesn't matter. I rode quite well. I didn't do anything crazy and I stayed on two wheels. It was a great day and I'm very happy."
The top five for the stage was rounded out by Stefan Svitko, Matthias Walkner and HRC's Joan Barreda. Overall leader Paulo Goncalves retained his number one position despite clocking in at 12th place for the stage.
Stage six will see the riders contest the longest stage of this year's event spanning a total of 723km with 542km of special tests.
Stage 5 Results:
1. PRICE (AUS) – 04:03:44
2. MEO (FRA) +00:02:21
3. SVITKO (SVK) +00:02:33
4. WALKNER (AUT) +00:02:40
5. BARREDA BORT (ESP) +00:05:57
6. QUINTANILLA (CHL) +00:06:51
7. JAKES (SVK) +00:07:19
8. RODRIGUES (PRT) +00:07:20
9. PEDRERO GARCIA (ESP) +00:07:36
10. DUCLOS (FRA) +00:08:34
Overall Classification After Stage 5:
1. GONCALVES (PRT) – 14:30:07
2. SVITKO (SVK) +00:01:45
3. PRICE (AUS) +00:01:47
4. BARREDA BORT (ESP) +00:02:27
5. WALKNER (AUT) +00:02:57
6. BENAVIDES (ARG) +00:06:46
7. FARIA (PRT) +00:08:13
8. QUINTANILLA (CHL) +00:08:30
9. MEO (FRA) +00:11:49
10. DUCLOS (FRA) +00:13:39