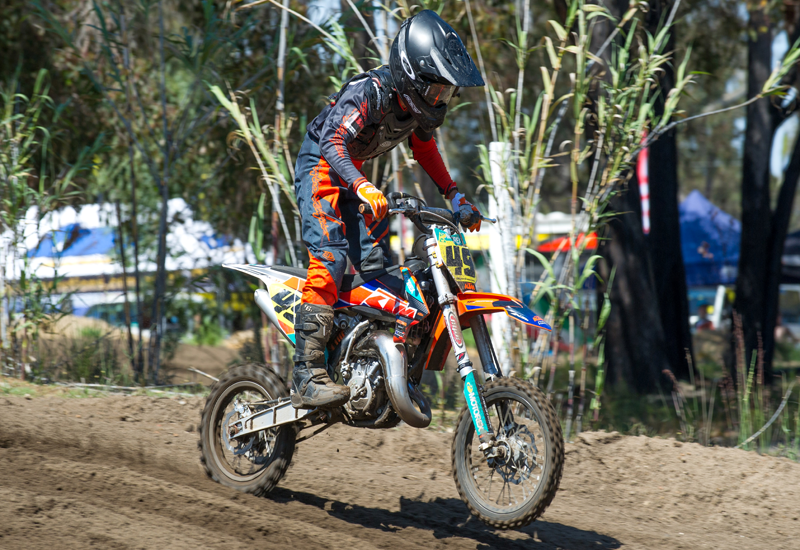 When riders, teams, parents and spectators arrived at the Shrubland Park Circuit this morning, a change in the air could be felt as this year's KTM Australian Junior Motocross Championship reaches the business end of the event.

Press – 1/10/15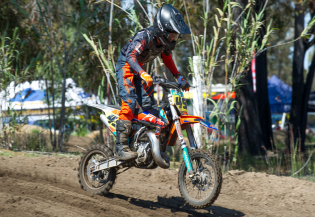 100cc to 125cc 2-stroke 13-u15 years – FINAL 1
With a full grid of 40 riders, it was KTM's Duffy, who took the hole shot and the early race lead, while Bailey Malkiewicz settled in to second ahead of Mat Fabry and Riley Dukes.
With only 28 seconds separating the top 20 riders at the halfway point, positions changed left right and centre, with Fabry gaining plenty of attention, passing Malkiewicz for second, and beginning to hunt down the rear wheel of Duffy.
By the time the last lapboard came out, Duffy and Fabry were going head to head, Fabry with the lead by only the smallest of margins. And at the conclusion of the moto it was Yamaha's Fabry who held on to take the race win, ahead of Duffy in second, and Callum Norton in third.
100cc to 125cc 2-stroke 13-u15 years – FINAL 2
With the stakes high in the 100cc to 125cc 2-stroke 13-u15 years class, riders fixated their eyes on the first corner – Riley Dukes making the most of a ripping start and moving in to the race lead.
However after a tough outing this morning, Yamaha's Mat Fabry made his presence known, taking the race lead from Dukes, with Caleb Grothues following suit, settling in to second behind him.
However after a quiet day so far for Grothues, the KTM mounted youngster looked to redeem himself, moving in to the race lead, relegating Fabry to second, while Callum Norton sat in third.
When the ten-minte moto wrapped up, Western Australia's Grothues returned to form to take the win, while Fabry also redeemed himself to take second, while Norton wrapped up the race in third.
85cc 2-stroke / 150cc 4-stroke std wheel 9-u12 years – FINAL 1
The second race for this morning, was one that had spectators on the edge of their seats, with all eyes on the hard charging Jett Lawrence (KTM) who was looking to take another race win.
When the 40 riders launched off the start, Lawrence was the first bike through turn one, with tough competitor Billy Payne caught up in turn one.
After only one lap, Lawrence had stretched out his lead to a whopping eight seconds, while Seth Manuel, Alex Larwood and Liam Atkinson began their battle for second.
When the chequered flag flew, Lawrence took another commanding 16-second race win, ahead of Larwood in second, while a late charge from Levi Rogers saw him finish in third.
85cc 2-stroke / 150cc 4-stroke std wheel 9-u12 years – FINAL 2
When the youngsters lined up for the second final in the 85cc 2-stroke / 150cc 4-stroke std wheel 9-u12 years class, all eyes were on the number 49 machine of Jett Lawrence who looked to keep up his 2015 form.
And keep up form he did, after getting to the early race win, Lawrence left Alex Larwood, Deegan Mancinelli and Cody Chittick to chase his tail, proving that his skill extends to the bigger bikes too.
As racing progressed, Larwood kept Lawrence in his sights, however unable to close in on the KTM superstar, Lawrence crossed the line in first, ahead of Larwood in second and Levi Rogers who put in a late charge to take third.
100cc to 125cc 2-stroke 13-u15 years – Championship Standings: 
1) Mat Fabry – 67 points
2) Caleb Grothues – 61 points
3) Callum Norton – 60 points
4) Riley Dukes – 56 points
5) Regan Duffy – 52 points
85cc 2-stroke / 150cc 4-stroke std wheel 9-u12 years – Championship Standings:
1) Jett Lawrence – 70 points
2) Alex Larwood – 64 points
3) Levi Rogers – 58 points
4) Myles Gilmore – 50 points
5) Cody Chittick – 50 points