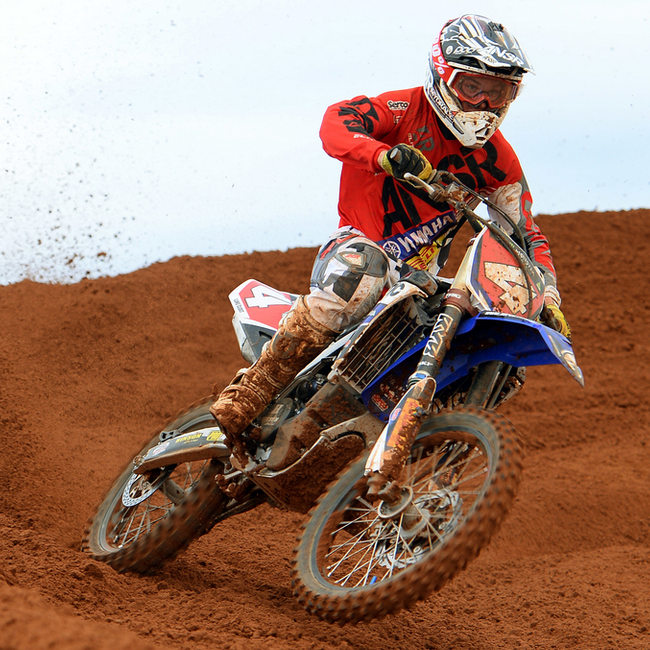 Serco Yamaha's Luke Clout retained his points' leaders red plate after an actioned packed round four of the MX Nationals was held over the weekend.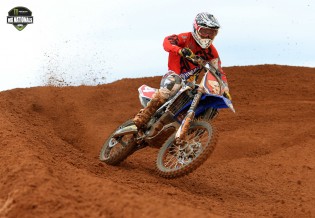 Yamaha's factory supported MX2 team saw both team riders Luke Clout and Jay Wilson work through an eventful day but both showing plenty of speed on the track.
The opening moto saw Clout burst through the pack and latch onto the top three riders by the half way stage. He made the move into third and then had his sights locked on second place when he miscued a jump and fell from his bike. He quickly scrambled to his feet and got going only losing one position; such was the gap the first four had built over the rest of the field. He maintained fourth until the completion of the race.
Race two and Clout was determined to get the job done. He moved into second and began to stalk the leader when he again fell from his bike and lost valuable positions. He again rallied to finish fifth and his 4-5 scores earned him fourth for the round and still in control of the points race.
"It was a day that got away from me," Clout said. "Both crashes were totally my fault and those are the mistakes a rider shouldn't make. I did all the work to get myself in a good position and then I let it go to waste so it was a disappointing day for me.
"But, we race again next week so I have to dust myself off, get my head back in the game and make amends. The sand in WA is tough but three races will be a big opportunity to get things back on track," Clout offered.
For team mate Jay Wilson, bad starts were a thorn in his side all day. In both motos, Wilson was way down the field at the end of the opening lap and had a lot of work to do to even get back inside the top 10.
To his credit, Wilson never gave up and he did indeed get himself back inside the top 10 in both races, finishing 10th in race one and eighth in race two. He finished ninth for the round and holds down seventh in the championship.
"I just didn't get a decent jump out of the start in each race and with the first two corners being sharp, it strings the field out fast. I felt I raced well on the track but having to pass over 20 riders in both races isn't good, so I will be working on my starts all this week," Wilson said.
The Serco rig is now on its way to WA for round five of the MX Nationals at Wanneroo, just north of Perth.
To follow the Serco Yamaha team on Facebook, www.facebook.com/sercoyamaha or on Instagram @sercoyamaha
Round Four Results – Murray Bridge
MX2
1st Luke Arbon – 67
2nd Brenden Harrison – 55
3rd Kayne Lamont – 55
4th Luke Clout – 54 (Serco Yamaha)
5th Kale Makeham – 54
6th Caleb Ward – 51
7th Hamish Harwood – 50
8th Errol Willis – 49
9th Jay Wilson – 44 (Serco Yamaha)
10th Ryan Marmont – 41
Championship Standings – After Round Four
1st Luke Clout – 261 (Serco Yamaha)
2nd Kayne Lamont – 249
3rd Hamish Harwood – 242
4th Brenden Harrison – 235
5th Kale Makeham – 221
6th Luke Arbon – 204
7th Jay Wilson – 193 (Serco Yamaha)
8th Errol Willis – 189
9th Ryan Marmont – 176
10th Caleb Ward – 172