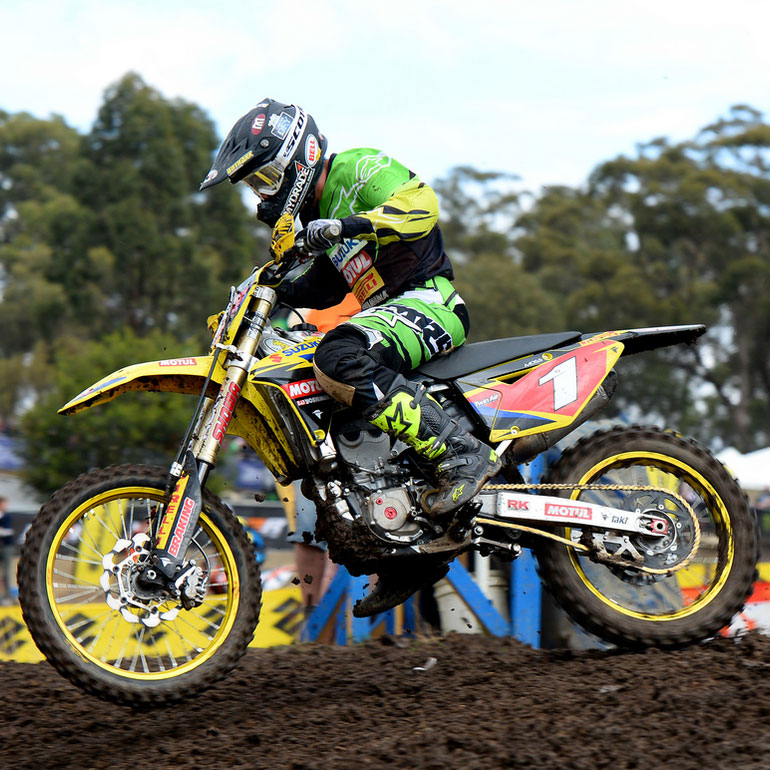 Team Motul Suzuki's Matt Moss claimed victory in the first round of the MX Nationals at Broadford, Victoria, on Sunday, commencing his MX1 Australian Motocross Championship title defence on top of the overall standings.
Moss was methodical in his quest for victory to open the 2014 season, salvaging second in moto one after a mid-race fall with twin brother Jake, before winning the second moto in convincing fashion. Third in the final moto was enough to secure the overall and early championship lead.
The result, combined with three points scored in Super Pole, sees Moss build an early four-point advantage in the championship aboard the factory-backed Suzuki RM-Z450.
"I'm happy to come away with a win this weekend and it's a great way to start the series," Moss commented. "I really want to thank Team Motul Suzuki, everybody that's helped me and we will keep working from here. I'm looking forward to the rest of the season."
Rookie teammate Rhys Carter was also impressive on debut with Team Motul Suzuki in MX1, finishing sixth overall after an inspired effort throughout the weekend on his RM-Z450. The New Zealander scored 6-7-6 results to commence the season.
"It was a good day," Carter said. "I had the expectation to finish in the top 10, so to finish sixth overall for the round was a big bonus for me. We will keep improving from here and this is definitely a confidence boost to start the season so positive with Team Motul Suzuki."
Team Motul Suzuki manager Jay Foreman was pleased with Moss and Carter's performances at Broadford across the trio of 20-minute premier class motos, now looking forward to building momentum as the 10-round season progresses.
"We're really happy, because the first one's always tough and it's important to get through it in a good position," Foreman explained. "Matt was strong all day and started the season on top like he planned to do, even though things weren't 100 percent in that final moto. He battled on to the overall though and did what he had to do.
"Rhys was exceptional for his first MX1 outing with the team and I'm sure he's only going to get faster with more time on the team. This was a really strong way to start the year, so we are extremely happy."
The MX Nationals, Australian Motocross Championship, will continue with the second round at Appin in New South Wales on Sunday, 13 April.
2014 MX Nationals, Australian Motocross Championship
Round one – Broadford, VIC
MX1 moto one results:
1. Adam Monea
2. Matt Moss (Team Motul Suzuki)
3. Kirk Gibbs
4. Billy Mackenzie
5. Kade Mosig
6. Rhys Carter (Team Motul Suzuki)
7. Jay Marmont
8. Hayden Mellross
9. Sam Martin
10. Jacob Wright
MX1 moto two results:
1. Matt Moss (Team Motul Suzuki)
2. Jake Moss
3. Kirk Gibbs
4. Adam Monea
5. Kade Mosig
6. Brad Groombridge
7. Ryhs Carter (Team Motul Suzuki)
8. Hayden Mellross
9. Jacob Wright
10. Jay Marmont
MX1 moto three results:
1. Jake Moss
2. Adam Monea
3. Matt Moss (Team Motul Suzuki)
4. Billy Mackenzie
5. Kirk Gibbs
6. Rhys Carter (Team Motul Suzuki)
7. Kade Mosig
8. Brad Groombridge
9. Brock Winston
10. Jay Marmont
MX1 overall results:
1. Matt Moss (Team Motul Suzuki) 97
2. Adam Monea 95
3. Kirk Gibbs 86
4. Kade Mosig 76
5. Billy Mackenzie 75
6. Rhys Carter (Team Motul Suzuki) 74
7. Jake Moss 67
8. Brad Groombridge 67
9. Jay Marmont 66
10. Hayden Mellross 65
MX1 championship standings:
1. Matt Moss (Team Motul Suzuki) 100
2. Adam Monea 96
3. Kirk Gibbs 88
4. Billy Mackenzie 80
5. Kade Mosig 76
6. Rhys Carter (Team Motul Suzuki) 74
7. Jake Moss 71
8. Brad Groombridge 67
9. Jay Marmont 66
10. Hayden Mellross 65