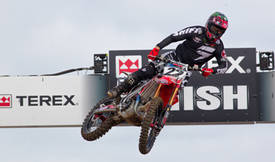 Chad Reed wins the Carlton Dry Open battle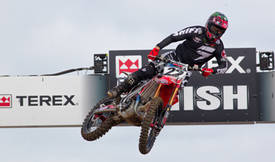 A packed Phillip Island crowd turned out to watch TwoTwo Motorsports' Chad Reed take victory as the Terex Australian Supercross Championships made a spectacular debut showing alongside the AirAsia Australian Motorcycle Grand Prix yesterday.
The Lukey Heights track proved a huge drawcard for two-wheel fans who were treated to intense and close competition across the talent-filled fields.
And it wasn't just the fans captivated by the racing – MotoGP superstars Valentino Rossi, Nicky Hayden, Colin Edwards and Cal Crutchlow were amongst the many high-profile riders to make their way to the other side of circuit once their own qualifying sessions had concluded.
Carlton Dry Pro Open Championship leader, Monster Energy Kawasaki's Jay Marmont was resilient against the Reed charge early on, topping the head-to-head matchup with the multiple AMA Supercross Champion in practice and qualifying.
Reed found his feet in their heat race, with Carlton Dry Honda Thor Racing's Ben Townley showing his speed to come home second ahead of Marmont.
The Main Event belonged to Reed, who, despite over eight months off the bike away from competitive racing, controlled the pace from start to finish.
He took the holeshot from Marmont and form CDR Yamaha pilot Danel McCoy and looked comfortable for the duration, only slowing to roll a triple which allowed the points leader to close momentarily.
Reed's advantage was 2.085s as he greeted the chequered flag for a memorable victory.
"It feels good to win, especially after eight months off the bike," said Reed. "Last weekend was my first ride back and my starts were horrible.
"I holeshot a couple tonight and felt like we had made some gains – we are full steam ahead on 2013 plans.
"This was a really special event, I love it I and wish every Supercross weekend was like this.
"Thanks to the fans for coming out today, I hope we will be back next year, bigger and better."
The maximum points haul moves Reed to seventh on the standings which are still topped by Marmont.
He'll take a five-point lead and the red plate to round three in a fortnight, and was happy to take away solid points after a strong performance.
"I had a couple of offs in my heat races so I knew I had to get a good start in the main and try and get out in front," said Marmont.
"Chad and I came into that first corner doing a bit of Casey Stoner sliding but we held on and kept it upright.
"He made a mistake coming into the triple and had to roll it which gave me the chance to catch back up to him.
"I felt great and being here in this atmosphere is just awesome – this was an awesome event and hopefully we will be back next year."
McCoy made it two podiums from two starts yesterday and maintains second on the points ladder and a legitimate title chance heading to Toowoomba.
Teammate Lawson Bopping repeated his fourth place finish from Dubbo to move ahead of Campbell Mining Honda's Jake Moss, who was fifth.
A first-corner pileup played havoc with a number of the Terex Pro Lites title contenders in their Main Event.
Carlton Dry Honda Thor Racing's Gavin Faith holeshot the 15-lap final and established an early race rhythm in the lead.
He managed to steer clear of the 7-rider pileup which put an end to the charge of Serco Yamaha Metal Mulisha Racing's Luke Styke and Raceline Pirelli Suzuki's Errol Willis.
Faith opened an advantage and was able to keep the fast-finishg BCP Honda Fox Racing pilot Geran Stapleton in check to record his second straight win.
"I didn't feel great in practice but we made some changes and I felt great in my heats and the final," said Faith.
"I had a couple of close calls and almost went down a few times but made it to the end and was able to build on my round 1 result."
He moves 13 points clear of Stapleton on the table, with JDR KTM's Ryan Marmont finishing on the final step of the podium today to climb into third.
Stapleton was elated to be able to ride back through the field and claim second place on the podium.
"This is a pretty awesome feeling – I didn't even know I was in second, I thought I was fourth," said Stapleton.
"I was concentrating that hard as it was totally different to Dubbo, I had to come through the field and it was a pretty tight track.
"It was so cool being on the same weekend as MotoGP and having the crowds there to watch us."
Also caught up in the first-corner melee was Monster Energy Kawasaki rider Kade Mosig.
After a second-place finish in Dubbo, Mosig was forced into recovery mode in yesterday's drama-filled final and did well to finish 10th.
Suzuki rider Steven Clarke was consistent with another fourth place finish, holding down fourth on the standings and now ahead of Mosig who drops to fifth.
The action continues today as tomorrow's stars in the Unit Under 19s and Pirelli Junior Lites go into battle.
The AirAsia Australian Motorcycle Grand Prix recorded its highest-ever Saturday visitor numbers yesterday, with thousands of the 40,245 making their way to Lukey Heights to witness the world-class Supercross action.
Terex Australian Supercross Championships, Phillip Island Grand Prix Circuit, Phillip Island. Rd 2:
Race Results:
Open:
C Reed (Honda) 12m14.825s
J Marmont (Kawasaki) 12m16.910s
D McCoy (Yamaha) 12m18.208s
L Bopping (Yamaha) 12m21.011s
J Moss (Honda) 12m23.169s
T Waters (Suzuki) 12m25.488s
T Simmonds (Honda) 12m30.715s
B Townley (Honda) 12m41.106s
C Boyd (Honda) 12m43.592s
B MacKenzie (Kawasaki) 12m47.323s
Lites:
G Faith (Honda) 9m14.068s
G Stapleton (Honda) 9m17.172s
R Marmont (KTM) 9m20.979s
S Clarke (Suzuki) 9m21.786s
L Clout (Yamaha) 9m32.113s
S Coloumb (Suzuki) 9m36.803s
J Booth-Elliot (Honda) 9m49.774s
T Potter (KTM) 9m52.006s
T Cachia (KTM) +1 lap
K Mosig (Kawasaki) +1 lap 10.
Championship Points:
Open:
J Marmont (Kawasaki) 47pts
D McCoy (Yamaha) 42pts
L Bopping (Yamaha) 36pts
J Moss (Honda) 36pts
T Waters (Suzuki) 30pts
T Simmonds (Honda) 30pts
C Reed (Honda) 25pts
C Boyd (Honda) 25pts
B MacKenzie (Kawasaki) 25pts
J Wright (KTM) 22pts
Lites:
G Faith (Honda) 50pts
G Stapleton (Honda) 37pts
R Marmont (KTM) 36pts
S Clarke (Suzuki) 36pts
K Mosig (Kawasaki) 33pts
S Coloumb (Suzuki) 28pts
L Clout (Yamaha) 23pts
N Sutherland (Kawasaki) 22pts
L Styke (Yamaha) 20pts
J Booth-Elliot (Honda) 18pts