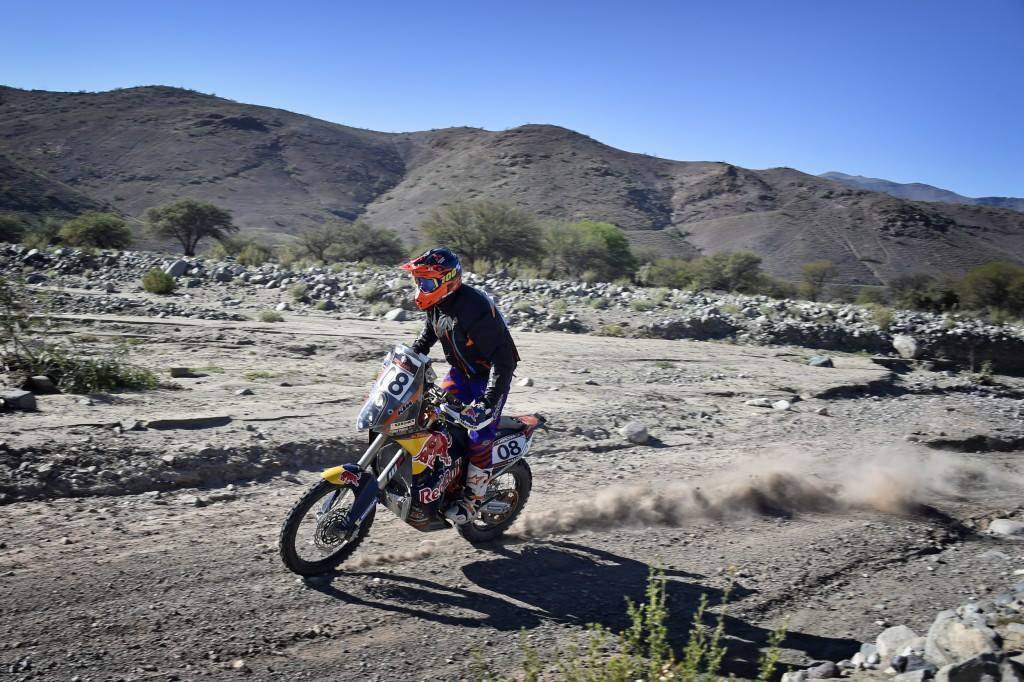 Following a first round dominance of team KTM, Paulo Goncalves has fought back for team HRC with a stage two victory. 
Story by Hayden Gregory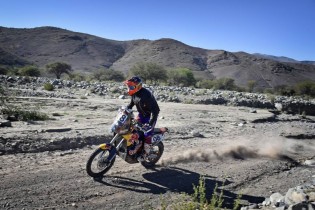 The day played out over two legs with the first stretching 90 kilometres of fast track through dried-up riverbed, requiring clever navigational skills. The second leg required much less navigation with 120 kilometres of full throttle dusted paths.
At the completion of the stage it was HRC's Paulo Goncalves who recorded the day's fastest time. Aboard his Honda CRF450 Rally, Paulo managed to climb to eleventh place on the overall scoreboard.
"After the little problem yesterday, things went much better." Goncalves stated. "I started out from behind. There were dry riverbeds with a lot of dangers caused by the rains. I had all the other riders ahead and it was pretty dangerous, mainly because of the quads.
"The dust stopped me from going too quick due to all the dangers. I tried to race at my own rhythm. We were thinking positively and took it as it came. Everything worked out well without a problem. I will keep trying hard in the three remaining days and I will do my best with the navigation, the pace and the stamina."
KTM Red Bull Rally Factory's Mathias Walker currently leads the race after finishing second to Goncalves in stage two.
Walkers KTM team mate Toby Price was listed as third overall for the stage however may be ruled out of contention following a number of penalty infringements.
This would come as a huge blow to the AORC Champion who posted this on his Facebook page earlier today:
"Was a disaster today. Would of finished in 3rd again today but with nobody to blame but myself, I should of backed it off as the roadbook was very inconsistent today with notes anywhere up to 300-400meters out meaning I was hitting things early and ended up with 22 speed zone fines as I was early or thought I was lost and panicked in a speed zone and clocked them up real quick. 
"My race is finished so now it's just riding to get practice for Dakar, Very frustrating though, It's hard to explain how it works but everything is messed up at the moment."
The Atacama Rally will continue tomorrow for stage three with a timed 236 kilometre loop.
Stage 2 Results Provisional
1. GONCALVES Paulo – POR Team HRC 2:23'44
2. WALKNER Mathias – AUT KTM Red Bull Rally Factory + 0'10
3. PRICE Toby – AUS KTM AUS Rally Factory + 3'16
4. SUNDERLAND Sam – GBR KTM Red Bull Rally Factory + 4'31
5. QUINTANILLA Pablo – CHI KTM Warsaw Rally Team + 5'50
6. GOUET Daniel – CHI KTM + 14'44
7. MEO Antoine – FRA KTM Red Bull Rally Factory + 15'16
8. ISRAEL Jeremias – CHI Team HRC + 17'22
9. PROHENS Felipe – CHI Team Hermanos Prohens + 21'55
10. ALBALOOSHI Mohammed – UAE KTM UAC + 30'06
Rider Standings After Stage Two (Provisional)
1. WALKNER Mathias – AUT KTM Red Bull Rally Factory 3:08'25
2. SUNDERLAND Sam – GBR KTM Red Bull Rally Factory + 1'13
3. PRICE Toby – AUS KTM AUS Rally Factory + 1'15
4. QUINTANILLA Pablo – CHI KTM Warsaw Rally Team + 1'32
5. MEO Antoine – FRA KTM Red Bull Rally Factory + 15'15
6. GOUET Daniel – CHI KTM + 20'03
7. ISRAEL Jeremias – CHI Team HRC + 20'17
8. VILADOMS Jordi – SPA KTM Red Bull Rally Factory + 37'57
9. PROHENS Felipe – CHI Team Hermanos Prohens + 50'22
10. ALBALOOSHI Mohammed – UAE KTM UAC + 50'45