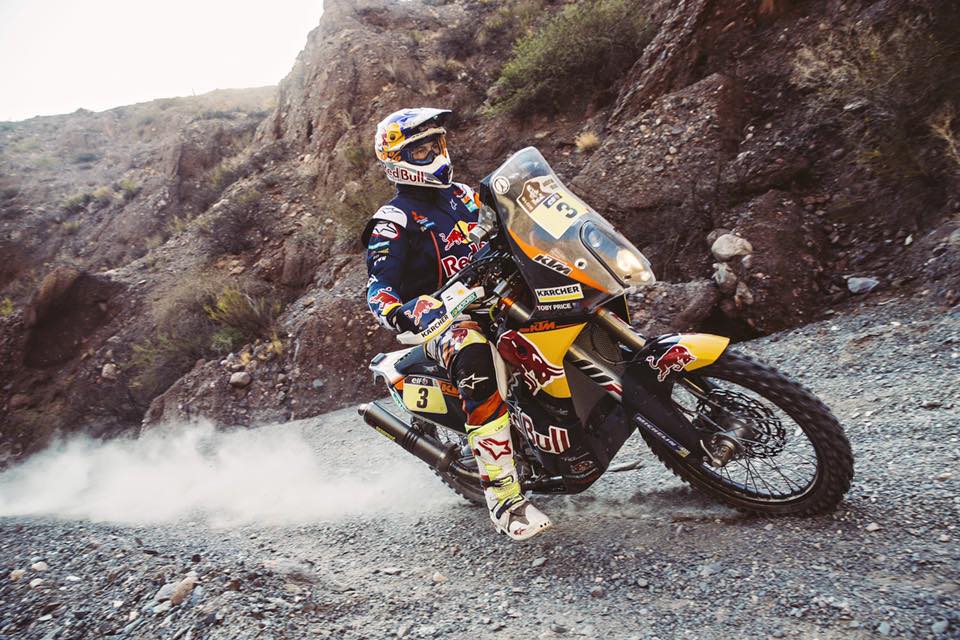 Toby Price has finished second overall at stage 11 of the Dakar Rally extending his overall lead to 35 minutes.
By Hayden Gregory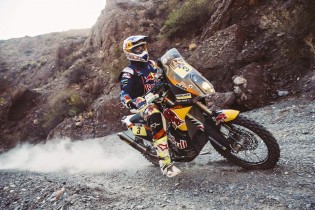 The 11th stage led riders from La Roja to San Juan as the competition begins to hit the pointy end. Price started the day with a 23 minute advantage over second placed Svitko and unlike the previous day he didn't have to lead out the pack. With this in mind Price was happy to sit behind his rivals and keep pace before turning it on in the latter part of the stage.
Price stepped up a gear, showing trademark navigational skills that we have come used to seeing over the past two weeks. The Australian was the second person to cross the finish line just 18 second behind Antoine Meo. Second placed rider overnight, Svitko could only manage a seventh place finish opening up a 35 minute gap between Price and himself.
"We've had a good day." Price commented. "We started third and at about the 180 kilometre mark we got on to the front and led the way. 
"The most difficult part was how hot it was. On the last probably fifty to eighty kilometres it was starting to heat up really bad again. We just couldn't get any airflow. It was a tough day but it's just good to be here at the finishing line.
"We're another day closer, but for sure, it's been a hard one. I can't smell victory yet, not yet. I won't smell victory until I cross the finishing line on the last day.
"It's been hard on the bikes today. There's been a lot of hot weather. The bike is still going really well, there's no water leaking or anything. It still feels strong, so we're in a good spot.
"Meo put in a good time today. He got the stage win and beat me by eighteen-seconds. But it's all good, we've made a bit of time on the overall second placed rider which is our main goal and hopefully the next two days we can take it a little bit easier.
"At the moment it looks like a few people are a little bit lost and have lost some time, so it will be interesting to see once everyone has crossed the line today to see exactly where everybody is at. Maybe the podium positions may have changed around a bit by the end of the day".
Pablo Quintanilla rounded out the podium for the 11th stage leaving him just two minutes behind Meo for third overall. Unfortunate scenes also saw top competitor Paulo Goncalves crash out of this year's rally. He updated fans via his Facebook page with the following message:
"Friends, I've had a medical discharge and I'm already back at bivouac along with the team HRC-Honda Racing Corporation. I'm still feeling a little dizzy, but nothing that a good few days of rest won't fix. Let's go back in 2017, more than ever and ready to win. The dream doesn't end here.
I can only thank you for all the support over these days, for all the messages, for all the strength. I will never forget!
Thank you all, Paulo Gonçalves"
Stage 11 Results: (Provisional)
1. MEO (FRA) – 05:19:08
2. PRICE (AUS) +00:00:18
3. QUINTANILLA (CHL) +00:02:48
4. RODRIGUES (PRT) +00:06:02
5. VAN BEVEREN (FRA) +00:12:09
6. BENAVIDES (ARG) +00:12:13
7. SVITKO (SVK) +00:12:29
8. BLYTHE (USA) +00:21:28
9. VILADOMS (ESP) +00:25:29
10. FARRES GUELL (ESP) +00:27:07
Overall Standings After Stage 11 (Provisional)
1. PRICE (AUS) – 40:08:30
2. SVITKO (SVK) +00:35:23
3. MEO (FRA) +00:43:46
4. QUINTANILLA (CHL) +00:45:19
5. BENAVIDES (ARG) +00:57:05
6. RODRIGUES (PRT) +01:02:01
7. VAN BEVEREN (FRA) +01:33:46
8. BRABEC (USA) +01:39:55
9. FARRES GUELL (ESP) +01:41:58
10. METGE (FRA) +03:19:41