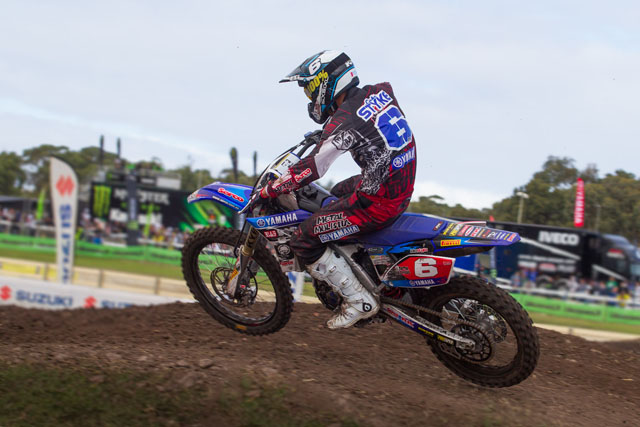 Serco Yamaha / Metal Mulisha Racing's Luke Styke has made it a hat trick of podium finishes in the opening three rounds after the Wonthaggi round of the 2012 MX Nationals was concluded over the weekend.
For Immediate Release: Monday, April 30, 2012.
After a third and a win at the opening two rounds, Styke took over the points leaders red plate and headed into round three at Wonthaggi looking to keep the consistency rolling and the red plate in his possession.
Styke achieved both goals, taking second place for the round on the back of his 3-1-6 results and maintains a 23 point lead in the championship. The win in race two was undoubtedly the highlight of the day as Styke snatched the holeshot and broke clear of the pack to take a wire to wire win.
"Today was good. The first two races went well and I felt like I had the speed and fitness to get the job done, but my start in the last race wasn't great so I just had to get as many points as possible. My plan is to be fast and consistent at every round and so far things are on track after the first three rounds," Styke comments.
Team mate Kirk Gibbs faced some challenges at Wonthaggi but still managed to pull down sixth for the day. Gibbs found himself picking up his YZ250F more times than he would care to remember as small crashes proved costly. He rounded out the day with 5-13-4 results with the opening two motos both marred with falls.
Despite the tough day, Gibbs currently lies in third place in the championship and with seven rounds remaining there is plenty of time to launch an assault on the championship leaders as the MX2 class heads towards the business end of the season.
"It was a bit of a frustrating day where I made some small mistakes that cost me dearly. I would work my way into a reasonable position, only to fall and drop valuable points. I need to get that sorted ASAP," said a disappointed Gibbs.
Gavin Eales, team owner of Serco Yamaha, was on hand at Wonthaggi and enjoyed his teams' performance.
"Not many people in the pits would have thought Luke Styke would be winning this championship after three rounds and standing on the podium at every round. I'm impressed with his work ethic and determination and now he is adding consistency and a well thought-out plan to his racing and it's showing in the results.
"Kirk just made some mistakes at crucial times. He is better than that and is disappointed but I expect him to bounce back strongly at the next couple of rounds and make it a tight three way battle for the championship," Eales ends.
For a full list of results and more information on the MX Nationals; www.mxnationals.com.au
To follow Serco Yamaha / Metal Mulisha Racing; www.facebook/sercoyamaha
Results
MX2 – Wonthaggi
1st Ford Dale – 69 (Honda)
2nd Luke Styke – 60 (Serco Yamaha)
3rd Josh Cachia – 57 (KTM)
4th Adam Monea – 55 (Suzuki)
5th Cheyne Boyd – 49 (Honda)
6th Kirk Gibbs – 43 (Serco Yamaha)
7th Kade Mosig – 43 (Kawasaki)
8th Errol Willis -39  (Suzuki)
9th Geran Stapleton – 36 (Honda)
10th Lewis Woods – 29 (Suzuki)
Championship Standings – After Round Three
1st Luke Styke- 192
2nd Ford Dale – 179
3rd Kirk Gibbs – 162
4th Josh Cachia – 149
5th Kade Mosig – 140
6th Cheyne Boyd – 136
7th Adam Monea – 135
8th Errol Willis – 115
9th Justin McDonald – 110
10th Ryan Marmont – 91