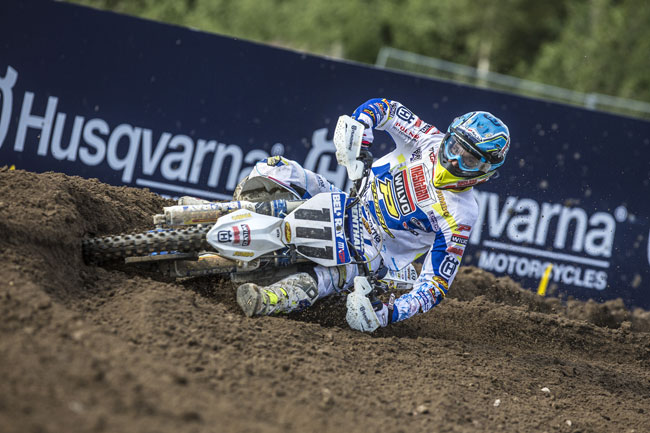 Australian duo, Dean Ferris and Todd Waters, have finished in the top 10 at round 15 of the 2015 FIM Motocross World Championships in Mantova, Italy.
Story by Hayden Gregory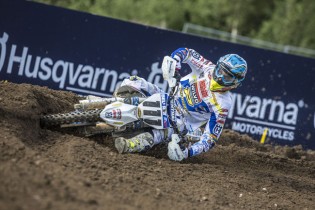 The GP of Lombardia was a welcome return to the competition following a short three-week break. The break looked beneficial to Australian Dean Ferris who started the day on fire, exploding out of the gates to lead the first moto for two full laps.
The Wilvo Nestaan Husqvarna Factory Racing rider was unable to hold onto his impressive pace eventually falling back through the field to finish in seventh place. The soft and sandy track proved a challenge in the second moto yet Ferris was still able to have a strong performance to finish in eighth position and wrap up seventh overall for the round.
Replacing the cancelled trip to Brazil, Mantova last held a Grand prix in 2010. The flat and sandy course was compact and full of tight turns ensuring riders were kept honest and on their toes.
Red Bull Husqvarna Factory Racing's Todd Waters had a testing day on the course finishing moto one in ninth place despite being involved in a first turn pile up. Waters could only manage an 11th place finish in moto two leaving him with a 10th place overall ranking for the round.
"Two first turn crashes pretty much ruined my day." Waters explained. "I felt great on the track and was third fastest this morning. Then I got flattened in the first turn of the opening moto. I got back to ninth and got some points but what can you do after a first turn crash.
"I couldn't believe it when I went down at the start of the second moto. I lost my filter side cover and the filter got covered in sand. It wasn't great and felt like the throttle was sticking at times. Pretty much a really frustrating day." Waters concluded.
Out in front it was Yamaha Factory Racing Yamalube's Romain Febvre who aced both motos to win his sixth round of 2015. Febvre dominated both races to extend his world championship lead to 101 points over compatriot Gautier Paulin. The 23-year old will only need to defend the same margin next weekend at Assen to secure the championship.
"It was a really good weekend and started from Saturday when I saw that I had the speed. My starts were not great today but I managed to pass and lead both motos." Febvre reflected. "I'm really happy to be back on top of the box.
"We are getting close now to the end [of the season] and the title can be won next weekend. We will see. I think next weekend will be even sandier and it will be easy to make a mistake.
"We need to stay on two wheels and keep pushing. I'm happy that Jeremy is back on the podium and for sure it is good for the team, for Yamaha and all the crew. We've all worked hard."
Round 16 of the MXGP will continue this weekend in the Netherlands at Assen circuit.
MXGP 15 Overall Top Ten:
| | |
| --- | --- |
| 1st | Romain Febvre (FRA) – 50 |
| 2nd | Jeremy Van Horebeek (BEL) – 42 |
| 3rd | Evgeny Bobryshev (RUS) – 40 |
| 4th | Shaun Simpson (GBR) – 36 |
| 5th | Gautier Paulin (FRA) – 33 |
| 6th | Glenn Coldenhoff (NED) – 31 |
| 7th | Dean Ferris (AUS) – 27 |
| 8th | Maximilian Nagl (GER) – 24 |
| 9th | Tyla Rattray (RSA) – 23 |
| 10th | Todd Waters (AUS) – 22 |
MXGP Championship Top Ten:
| | |
| --- | --- |
| 1st | Romain Febvre (FRA) – 597 |
| 2nd | Gautier Paulin (FRA) – 496 |
| 3rd | Evgeny Bobryshev (RUS) – 463 |
| 4th | Antionio Cairoli (ITA) – 416 |
| 5th | Shaun Simpson (GBR) – 392 |
| 6th | Maximilian Nagl (GER) – 384 |
| 7th | Jeremy Van Horebeek (BEL) – 366 |
| 8th | Clement Desalle (BEL) – 331 |
| 9th | Glenn Coldenhoff (NED) – 321 |
| 10th | Todd Waters (AUS) – 300 |