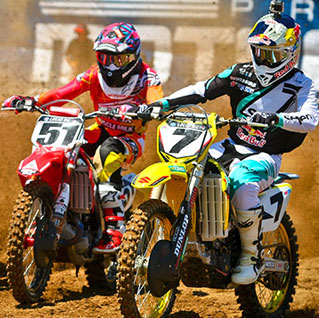 Ryan Villopoto and Ken Roczen Sweep 2013 Opener at Hangtown
With a record event attendance of nearly 25,000 fans, the 45th running of the Red Bull Hangtown Motocross Classic proved to be one for the history books as the 2013 Lucas Oil Pro Motocross Championship, sanctioned by AMA Pro Racing, kicked off in Sacramento, Calif. on Saturday. After missing an entire season in 2012 due to injury, Monster Energy Kawasaki's Ryan Villopoto made a valiant return, sweeping both 450 Class motos atop one of the most stacked fields in the series' recent history. Additionally, Red Bull KTM's Ken Roczen claimed his first career 250 Class overall victory at Hangtown.
Yoshimura Suzuki's James Stewart, who missed most of the second half of the 2012 season, made a comeback of his own by grabbing the Motorcycle-Superstore.com holeshot in Moto 1, garnering one point toward the overall championship holeshot bonus of $25,000 in the 450 Class. However, keeping the lead wasn't an easy task as three other former 450 Class Champions and several returning contenders chased the 2008 champ early on.
Villopoto took over the lead on the opening lap with Stewart and defending champion Ryan Dungey close in tow. The trio diced it out in the first half of Moto 1 but it was ultimately Villopoto who locked in the moto win, with Dungey in second and Stewart in third.
Team Honda Muscle Milk's Trey Canard returned to the Hangtown Motocross Classic for the first time since his 250 Class championship-winning season in 2010. Canard made a statement early on as he jumped in behind the lead battle and even closed in on Stewart near the end of Moto 1. Just behind was the epic battle for fifth place between Canard's teammate Barcia, BTO Sports/KTM's Andrew Short, Lucas Oil Troy Lee Honda's Malcolm Stewart, Smartop/MotoConcepts Mike Alessi and 450 Class rookie Monster Energy/Pro Circuit/Kawasaki's Dean Wilson. Malcolm Stewart, Alessi and Wilson experienced issues that dropped all three in the running order, while Canard and Barcia prevailed, rounding out the top five, with Short sixth.
James Stewart began Moto 2 in similar fashion to the first, grabbing the Motorcycle-Superstore holeshot once again and taking over the points lead in the season-long chase for the end-of-the-year cash prize. From there, Stewart engaged in a battle for the lead with Dungey, while Villopoto followed close behind. Near the halfway mark, Villopoto made his move to the front, leaving Dungey and Stewart to fight for the second place position. Dungey bested Stewart for the second place spot in Moto 2, giving the Minnesota native second overall for the day with a pair of second place finishes. Stewart, the 2012 Hangtown winner, scored (3-3) for third place overall. Villopoto went on to secure the first overall win of the 2013 season with a score of (1-1).
"Hangtown has always been a rough place for me so for the bike to feel like it did today was amazing," Villopoto said. "I'm obviously happy with that and happy with how I rode. I feel like we're in a really good place and it's only going to get better from here."
The 250 Class was set to be a showcase with a full lineup of returning contenders, including defending 250 Class Champion Blake Baggett. Fresh off a wrist injury, the Monster Energy/Pro Circuit/Kawasaki rider had no reservations about getting to the front early on as he grabbed the Motorcycle-Superstore holeshot in Moto 1. However, the Red Bull KTM duo of Marvin Musquin and Ken Roczen quickly gained control of the lead. Musquin led three laps before his teammate commanded the lead for the remainder of Moto 1.
GEICO Honda's Eli Tomac began the first moto just outside of the top five but made his way into podium contention early on. Tomac first set his sights on Musquin and then made his way around Baggett to eventually secure second place in Moto 1. Baggett finished third, while Musquin took fourth and MyPlash Star RacingYamaha/Metal Mulisha's Cooper Webb rounded out the top five in his Pro class debut.
In Moto 2, GEICO Honda's Zach Bell grabbed the Motorcycle-Superstore holeshot but it was once again Roczen who jumped out front on the opening lap. Roczen set the pace early on and Baggett remained close in tow throughout the first half of the race. Roczen eventually put a gap on the defending champion in the final laps of Moto 2, going on to secure his first career victory in the 250 Class.
"Coming here, I didn't really know what to expect because I sort of took some time to have fun during the week off [between supercross and motocross]," Roczen said. "It's important to me to keep things fun but next week it's time to put in some work and make my performance even better."
Baggett's score of (3-2) was enough to give him second overall for the day, while Tomac went (2-3) for third overall. Musquin captured a pair of fourth places to claim fourth overall, while GEICO Honda's Zach Osborne rounded out the top five overall with a (9-5) score.
New Zealand's Courtney Duncan took the opening round of the Women's Motocross (WMX) Triple Crown by storm, sweeping both motos of the day in her WMX debut. Duncan bested Team Honda Muscle Milk's Sayaka Kaneshiro, who finished second overall with a (2-3) score and Texas native Taylor Higgins rounded out the overall podium. Six-time WMX champion Jessica Patterson finished second in Moto 2 but bad luck in the first moto gave her 10th overall for the day.
The WMX Triple Crown returns to the Lucas Oil Pro Motocross Championship June 8 for the GEICO Hangtown National in Mt. Morris, Pa. Round 2 of the Lucas Oil Pro Motocross Championship heads to Lakewood, Colo. for the Rockwell Watches Thunder Valley National next weekend, May 25.
For tickets and additional information, please visit AlliSports.com/motocross and LIKE the Pro Motocross Facebook page and follow @ProMotocross on Twitter and Instagram for exclusive content and additional information on the latest Lucas Oil Pro Motocross Championship news.
Lucas Oil Pro Motocross Championship
Red Bull Hangtown Motocross Classic
Prairie City OHV Park – Sacramento
May 18, 2013
Round 1 of 12
450 Class (Moto Finish)
1. Ryan Villopoto, Poulsbo, Wash., Kawasaki (1-1)
2. Ryan Dungey, Belle Plaine, Minn., KTM (2-2)
3. James Stewart, Haines City, Fla., Suzuki (3-3)
4. Trey Canard, Oklahoma City, Okla., Honda (4-4)
5. Justin Barcia, Monroe, N.Y., Honda (5-5)
6. Ryan Sipes, Elizabethtown, Ky., Suzuki (8-7)
7. Andrew Short, Colorado Springs, Colo., KTM (6-10)
8. Mike Alessi, Victorville, Calif., Suzuki (12-6)
9. Tyla Rattray, Durban, South Africa, Kawasaki (9-9)
10. Weston Peick, Wildomar, Calif., Suzuki (13-8)
450 Class Championship Standings
1. Ryan Villopoto, Seattle, Wash., Kawasaki, 50
2. Ryan Dungey, Belle Plaine, Minn., KTM,44
3. James Stewart, Haines City, Fla., Suzuki,40
4. Trey Canard, Oklahoma City, Okla., Honda,36
5. Justin Barcia, Pinetta, Fla., Honda, 32
6. Ryan Sipes, Elizabethtown, Ky., Suzuki, 27
7. Andrew Short, Smithville, Texas, KTM, 26
8. Mike Alessi, Victorville, Calif., Suzuki, 24
9. Tyla Rattray, Wildomar, Calif., Kawasaki, 24
10. Weston Peick, Wildomar, Calif., Suzuki, 21
250 Class (Moto Finish)
1. Ken Roczen, Apolda, Germany, KTM (1-1)
2. Blake Baggett, Grand Terrace, Calif., Kawasaki (3-2)
3. Eli Tomac, Cortez, Colo., Honda (2-3)
4. Marvin Musquin, La Reole, France, KTM (4-4)
5. Zach Osborne, Abingdon, Va., Honda (9-5)
6. Kyle Cunningham, Aledo, Texas, Yamaha (8-7)
7. Jason Anderson, Edgewood, N.M., Suzuki (12-6)
8. Jeremy Martin, Millville, Minn., Yamaha (7-13)
9. Joseph Savatgy, Cairo, Ga. KTM (10-11)
10. Justin Hill, Yoncalla, Ore., Kawasaki (13-9)
250 Class Championship Standings
1. Ken Roczen, Apolda, Germany, KTM, 50
2. Eli Tomac, Cortez, Colo., Honda, 42
3. Blake Baggett, Grand Terrace, Calif., Kawasaki, 42
4. Marvin Musquin, Corona, Calif., KTM, 36
5. Zach Osborne, Abingdon, Va., Honda, 28
6. Kyle Cunningham, Aledo, Texas, Yamaha, 27
7. Jason Anderson, Edgewood, N.M., Suzuki, 24
8. Jeremy Martin, Millville, Minn., Yamaha, 22
9. Joseph Savatgy, Cairo, Ga. KTM, 21
10. Justin Hill, Yoncalla, Ore., Kawasaki, 20
WMX Class (Moto Finish)
1. Courtney Duncan, New Zealand, Yamaha (1-1)
2. Sayaka Kaneshiro, Japan, Honda (2-3)
3. Taylor Higgins, Mesquite, Texas, Honda (4-4)
4. Mackenzie Tricker, Australia, Yamaha (3-6)
5. Jacqueline Strong, Sedona, Ariz., KTM (6-5)
6. Alexah Pearson, Sacramento, Calif., KTM (5-8)
7. Mariana Balbi, Brazil, Kawasaki (7-7)
8. Sara Pettersson, Sweden, KTM (8-9)
9. Hailey Larson, Mill Valley, Calif., Honda (9-10)
10. Jessica Patterson, Tallahassee, Fla., Yamaha (30-2)
WMX Triple Crown Points
1. Courtney Duncan, New Zealand, Yamaha 50
2. Sayaka Kaneshiro, Japan, Honda 42
3. Taylor Higgins, Mesquite, Texas, Honda 36
4. Mackenzie Tricker, Australia, Yamaha 35
5. Jacqueline Strong, Sedona, Ariz., KTM 31
6. Alexah Pearson, Sacramento, Calif., KTM 29
7. Mariana Balbi, Brazil, Kawasaki 28
8. Sara Pettersson, Sweden, KTM 25
9. Hailey Larson, Mill Valley, Calif., Honda 23
10. Jessica Patterson, Tallahassee, Fla., Yamaha 22