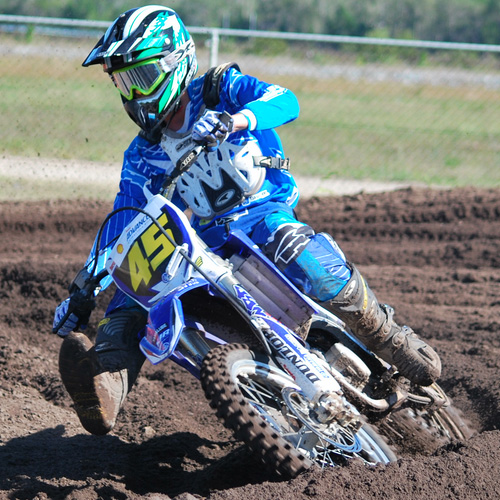 Originally slated as round one, the Coolum event was rescheduled for the weekend of May 25/26 after its February date was washed out. 
.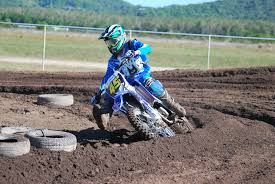 Nathan Crawford took the win in the 15 years 250cc event with 1-2-1 results on the fast and flowing Coolum circuit. He fell in race one while leading but managed to fight back and take the win, while another fall in race two was too much to overcome and he had to settle for second. He finished the day strongly with a wire to wire win in the final leg.
Things were a lot more intense in the 13-15 years 125cc class as the team mates of Crawford and Todd went at it all day. The pair separated themselves in all three legs and put on a great show. Crawford finished second overall for the round with 2-2-1 results to shadow his teammate in the days' standings.
Nathan now holds a commanding lead in the 15 years 250cc class with two rounds to go, while he is just 10 points shy of Todd in the 13 – 15 years 125cc division.
"Things went pretty well today. I made a couple of small mistakes on the 250 but still managed to get the round win while the 125 was great fun battling with Wilson," Crawford said.
Wilson Todd took the win in the 125cc class, his third in the four rounds contested so far, with 1-1-2 results. The last 125 moto of the day was easily the race of the day with Crawford fighting off attack after attack from Todd until the final corner when the pair entered the turn side by side. Todd committed to the high line, lost front wheel traction as he tried to take the corner at warp speed and hit the dirt, he still was able to pick up and take second for the race.
In the 13-14 years he was a cut above the competition with his only blemish a fall in race two whilst holding a 15 second lead with only three turns to go. His 1-10-1 results put him in third for the round.
"I have always done well here at Coolum so I was really looking forward to the round. I like racing Nato in the 125 class and with Josiah Natske here on the 250, he kept me on my toes," Todd offered.
Over the weekend, the QLD YJR team also assisted New Zealand champion, Josiah Natske. Natske won the 13-14 years 250cc after Todd's fall in race two and finished third on the 125, making it a Yamaha 1-2-3 podium sweep for the round.
The series picks up at round five at Kilcoy in a fortnights time, before the final round at Tivoli in just over a month.
To follow the Yamaha Junior Racing team; www.facebook.com/YamahaJuniorRacingAus
Round Four Results- Coolum
13-15 years 125cc
1st Wilson Todd – 72 (YJR)
2nd Nathan Crawford – 69 (YJR)
3rd Josiah Natske -56 (YM-NZ)
15 years 250cc
1st Nathan Crawford – 72 (YJR)
2nd Blake Colleton – 67
3rd Braden Collins – 62
13 – 14 years 250cc
1st Josiah Natske – 69 (YM-NZ)
2nd Reece Rayner- 62
3rd Wilson Todd – 61 (YJR)
Series Standings – After Round Four
13-15 years 125cc
1st Wilson Todd – 281
2nd Nathan Crawford – 271
3rd Braden Collins – 226
15 years 250cc
1st Nathan Crawford – 282
2ndBraden Collins – 244
3rd Blake Colleton – 243
13-14 years 250cc
1st Wilson Todd-280
2nd Reece Rayner – 227
3rd Jye Zimmerman – 190