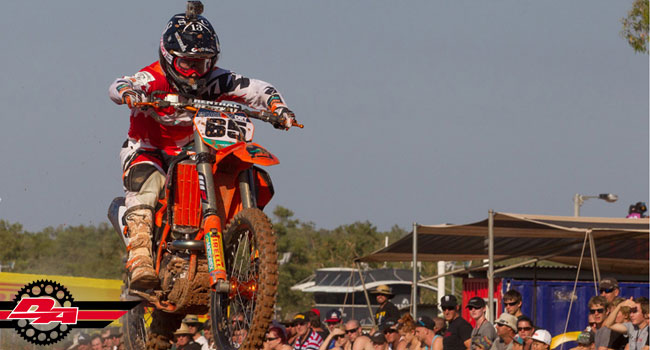 Despite an early setback, Motorex KTM riders Kirk Gibbs and Daniel McCoy have made promising starts to the Terex Australian Supercross Championship at the weekend's double-header round at Hidden Valley circuit near Darwin.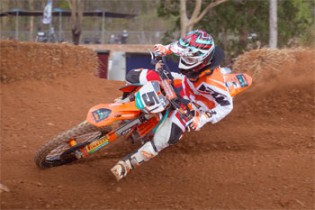 The pair leaves Darwin 5th and 6th in the championship respectively on 31 points apiece, behind championship leaders Matt Moss (50), Jake Moss (42) and Weston Pieck (36).
Saturday evening's opening round presented an initial hurdle as the track's tendency to deteriorate and form choppy bumps wrong-footed both riders with suspension settings and both struggled with arm pump, McCoy finishing 6th and Gibbs 8th after falling.
The pair regrouped and came out today with some suspension changes and obvious advancements, Gibbs taking the holeshot and leading for the first five laps while McCoy ran fifth. Gibbs fell and remounted to finish fourth, with McCoy in tow in fifth.
In the MX2 category, Dylan Long (3, 6) holds fourth overall with Kale Makeham (6, 5) sixth.
Brenden Harrison's exciting return did not pan out quite as the Choice Motorsports competitor had hoped, and despite qualifying fastest on Saturday and winning his heat today, he succumbed to arm pump from a lack of recent race time in both longer championship rounds and will leave the NT in 15th place.
For more information visit www.ktm.com.au
SX-Open championship standings (after two of six rounds):
1. Matt Moss 50,
2. Jake Moss 42,
3. Weston Peick 36,
4. Jay Marmont 35,
5. Kirk Gibbs 31,
6. Daniel McCoy 31,
7. Josh Hill 31,
8. Lawson Bopping 28,
9. Kade Mosig 26,
10. Tim Vare 20
SX-Lites championship standings (after two of six rounds):
1. Luke Styke 47,
2. Gavin Faith 47,
3. Ryan Marmont 38,
4. Dylan Long 35,
5. Luke Arbon 34,
6. Kale Makeham 31,
7. Kayne Lamont 27,
8. Nickolas Sutherland 27,
9. Taylor Potter 24,
10. Luke Wilson 21