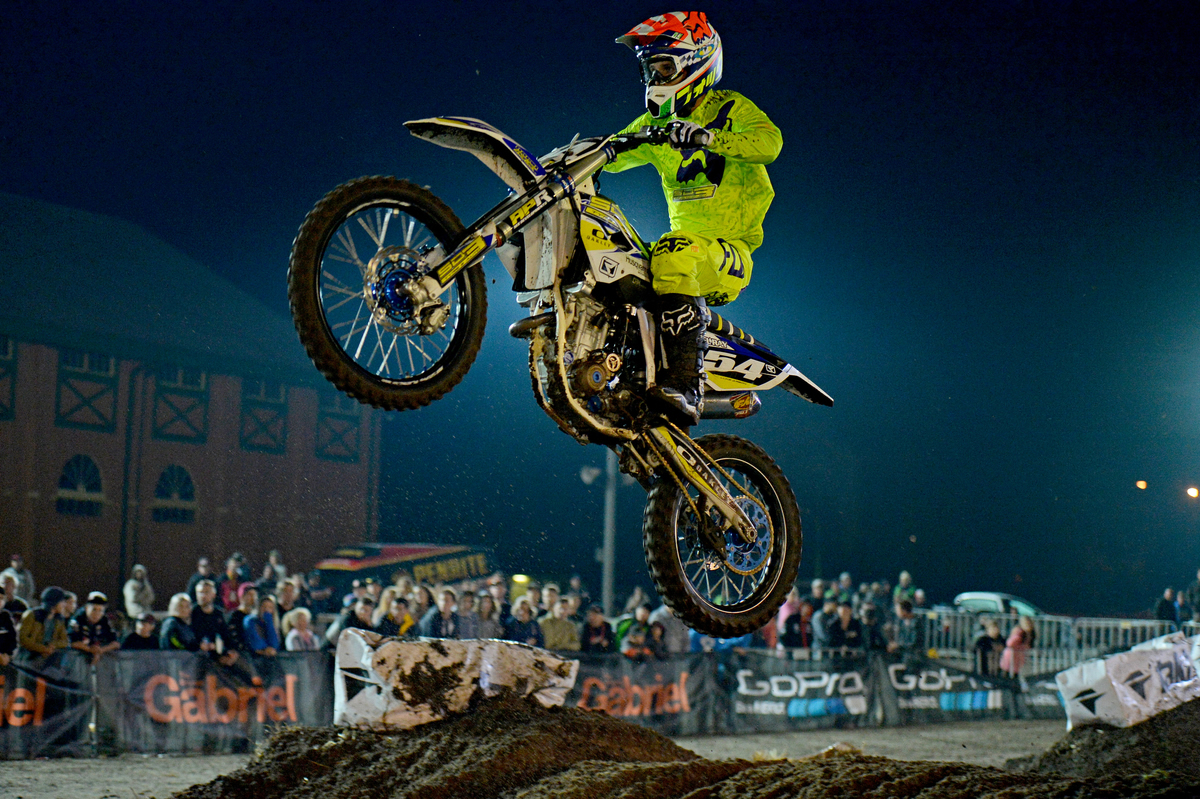 Press – 11/10/2015
Husqvarna Factory Support racer Luke Arbon drove back to Sydney in the wee hours of this morning with a smile on his face, having stood on the Bathurst Supercross SX2 podium just a few hours earlier.
The 2014 MX2 number three proved that with his recent fatigue illness treated and seemingly gone, he's again one of the big boys in the class, where he finished behind Jimmy Decotis and Luke Clout.
Hailing from Gawler in South Australia, Arbon was expected to fight for top honours in this year's motocross championship, but a series of illnesses and injuries prevented the 22-year-old from gaining any momentum at all.
The most serious threat to his career was contracting a chronic fatigue condition known as "Leaky Gut Syndrome", in which toxins enter the bloodstream through the stomach lining.
The condition is notoriously difficult to diagnose, and it plagued Arbon for a number of months until identified by a physician, and treated by a combination of medication and diet.
With a new lease of life the Husqvarna FC 250 rider is back able to ride with his usual vigour, and the difference was plain for all to see.
Despite a similar start to the night, his fellow Husqvarna FC 250 rider Nathan Crawford didn't get the result he'd hoped for in Bathurst, after a nasty qualifying crash saw him get up creased and dazed.
Crawford gamely battled on and salvaged 11th place points in the final, but can't wait to face the starter next weekend in Brisbane, for a chance to redeem himself.
In the premier SX1 category, Husqvarna's current national number five Jesse Dobson was an unexpected withdrawal from both Bathurst and next weekend's second round, after his recovering knee injury was determined to be not yet strong enough.
Dobson will aim for an appearance at the third round of the championship in South Australia on October 31, with a view to gaining some solid results before the end of the season.
In the Junior Lites competition, Husqvarna Junior Racing Team rider Calum Norton teed off in fine style, his 3, 2, 1 results on the night giving him second place in the championship behind Cooper Pozniac and ahead of Dylan Wood.
For more information on Husqvarna motorcycles visit www.husqvarna-motorcycles.com
Luke Arbon – FC 250: "It feels so good to be finishing back up on the box and leaving the track happy, not wondering what's wrong with me. It's great to ride a bike like I know I can and the way I know my body can perform. I went out in qualifying and qualified second when it was pissing down rain, so that gave me a bit of a vibe. Then I got the holeshot and led every lap in my heat, and just felt comfortable. In the main I just rode a little bit tight but still ended up on the podium, so it's good to get that one out the way. I got a decent start and came out second behind Clout, he was manning up and hitting the whoops pretty hard so he was pulling away, but then I would sort of catch him a bit in a section. I ended up making a mistake crossing over to the start straight again and Decotis got me there, but I ironed it all out and rode around smooth on a track which was super gnarly, so I came out alright. I've only been back onto five weeks so I told myself that I would be happy with top five in Bathurst, so to get third was awesome. Now my other goal is to finish on the podium every round, and I don't see any reason to not do that."
Nathan Crawford – FC 250: "I felt really good in our first ride on the track but once timed qualifying came around the track was really wet, and when they repaired the track they kind of just pushed mud over the ruts and made them difficult to see. I had big crash in my heat race just from catching the mud in my foot pegs and that. I banged up my ribs a little bit and hit my head, so I toughed out the main events to grab a few points because my head was really sore, but I'm just going to be working this week get back to where I was before that crash. And I'm going to redeem myself at the starch out of him."