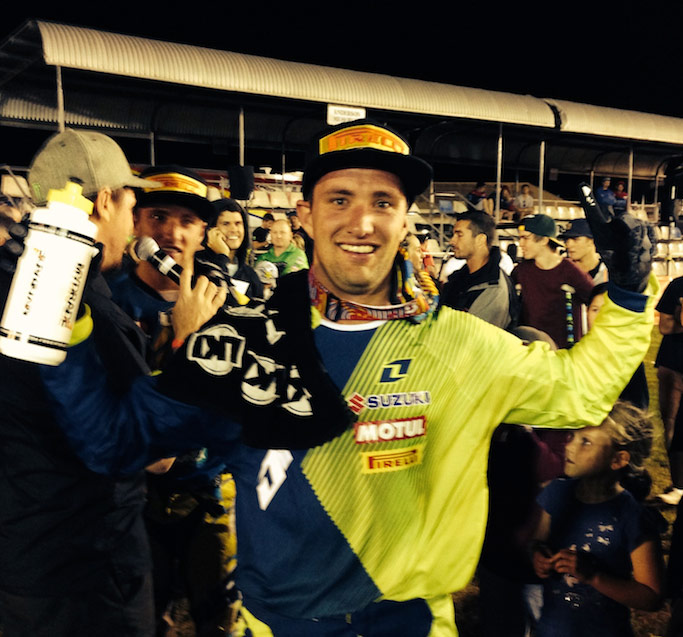 Motul Pirelli Suzuki's Matt Moss clinched the 2013 Australian Supercross Championship tonight in Toowoomba's sixth and final round, adding it to his Australian Motocross Championship.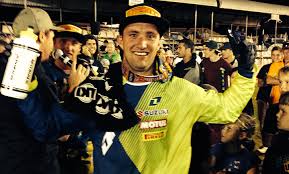 Aboard the 2014 RM-Z450, Moss was at his immaculate best in Queensland, topping timed qualifying, winning his heat race and leading all 20 laps of the main event on his way to the race win and championship after entering the finale five points behind the lead.
It's been a remarkable year for Moss in his maiden full-time campaign in the premier category, sealing both the Supercross and MX Nationals Championships for Suzuki in his return to the Jay Foreman-managed Motul Pirelli Suzuki squad.
"My feeling right now is indescribable," 25-year-old Moss commented. "I just wanted to do my own thing, stay clean and that's exactly what I was able to do. All day long I felt confident, I knew I had to do my job and get a good start in the main, which is how it turned out.
"I'm really thankful to Jay and Jess Foreman, as well as the entire Motul Pirelli Suzuki team – now we need to come back and defend these two number one plates next year!"
It was a Suzuki sweep of the Supercross podium overall as Moss' twin brother Jake claimed second for the round and series, while American Josh Hill salvaged third despite a DNF in the final main event of the season.
Motul Pirelli Suzuki team manager Jay Foreman was proud of Moss' efforts once again, the team making the most of its tight-knit structure across the course of the season.
"This is great," Foreman said. "Matt was never a gamble for me, we've worked together before and won championships together before. Once Matt is in the right place, anything is possible – he's so determined and he's a winner. This result is really incredible for the whole team."
Moss and Suzuki have now won five championships together including the 2008 SX Lites title, 2009 MX and SX Lites titles and both the 2013 MX and SX Open titles.
NOTE – There was an official protest lodged after the race, at this point in time the results or the exact circumstances of that protest are not officially known, though it should not have any impact on the Matt Moss's championship title.
SX-Open main event results:
1. Matt MOSS (Motul Pirelli Suzuki)
2. Jake MOSS (Campbell Mining Suzuki)
3. Jay MARMONT
4. Daniel McCOY
5. Lawson BOPPING
6. Hayden MELLROSS
7. Jacob WRIGHT
8. Matt HAWORTH
9. Lewi WOODS (Suzuki)
10. Brett METCALFE
SX-Open championship standings (final):
1. Matt MOSS (Motul Pirelli Suzuki) 123
2. Jake MOSS (Campbell Mining Suzuki) 118
3. Josh HILL (Hart and Huntington/InsureMyRide/DPH Suzuki) 103
4. Jay MARMONT 99
5. Daniel McCOY 99
6. Weston PEICK 83
7. Sam MARTIN (Hart and Huntington/InsureMyRide/DPH Suzuki) 69
8. Lewi WOODS (Suzuki) 54
9. Hayden MELLROSS 51
10. Jacob WRIGHT 51