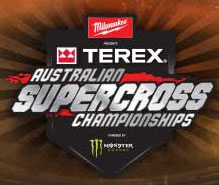 Australia's national Supercross championship (Milwauke presents the Terex Australian Supercross Champoinship) makes its return to South Australia this weekend following a five-year hiatus.
Mount Gambier's Borderline Speedway will host the iconic event, which boasts a stellar international line-up up including X-Games silver medalist Josh Hill and AMA Supercross stars Weston Peick and Gavin Faith.
Home-grown riders Motorex KTM's  Kirk Gibbs and Serco Yamaha's Luke Arbon have returned to South Australia to prepare for the event, that will see them take on some of the best riders from around the globe.
For Gibbs the event marks a return to his hometown, the 24 year-old was born in Millicent and grew up in Mount Gambier, honing his craft at the local motocross club.
Gibbs, who sits fifth in the coveted Pro Open class, is hoping a good showing in front of friends and family will elevate him in the championship standings.
"It is just awesome to have a round of the national Supercross being run in my hometown of Mount Gambier. It is something I never thought we would see.
"There are a lot of people who have supported me over the years but haven't seen me race before so it will be great they will be able to come and see me in action.
"I returned to South Australia straight after Darwin to prepare for this round, I narrowly missed the podium so I really want to get on the box at my local event but I know there will be quite a few riders hungry for a good result following the double-header."
Luke Arbon had little time to prepare for the Australian Supercross Championship, getting the call-up to the factory Yamaha team just four weeks before the season kicked off.
The 21 year old from Gawler is currently fifth in the championship with just four points separating him and third placed Ryan Marmont.
In addition to the national Pro Open, Pro Lites, Under 19's and Ultra Lites classes the event will also feature the KTM Mini Masters where 20 of South Australia's budding young racers aged between 7-9 will get the opportunity to demonstrate their emerging talent on the full-size Supercross track.
The youngsters will get to walk the track and talk with their idols before cutting three laps of the full-size Supercross track in front of a packed house.
"I think the KTM Mini Masters initiative is fantastic," Gibbs continued "it is a fantastic experience for the kids and it gives them a glimpse of the big picture.
"There was nothing like that when I was coming through the ranks I really think they get a lot out of it."
The third round of the Terex Australian Supercross Championship will be held at Mt Gambier's Borderline Speedway on Saturday October 12.
Tickets are available for purchase at the gate. Gates open at 3.00pm with racing to commence at 6.30pm.
Top Ten Pro Open Championship Standings (after Rd 2 of 6)
1. Matt MOSS 50,
2. Jake MOSS 42,
3. Weston PEICK 36,
4. Jay MARMONT 35,
5. Kirk GIBBS 31,
6. Daniel McCOY 31,
7. Josh HILL 31,
8. Lawson BOPPING 28,
9. Kade MOSIG 26,
10. Tim VARE 20
Top Ten Pro Lites Championship Standings (after Rd 2 of 6)
1. Luke STYKE 47,
2. Gavin FAITH 47,
3. Ryan MARMONT 38,
4. Dylan LONG 35,
5. Luke ARBON 34,
6. Kale MAKEHAM 31,
7. Kayne LAMONT 27,
8. Nickolas SUTHERLAND 27,
9. Taylor POTTER 24,
10. Luke WILSON 21