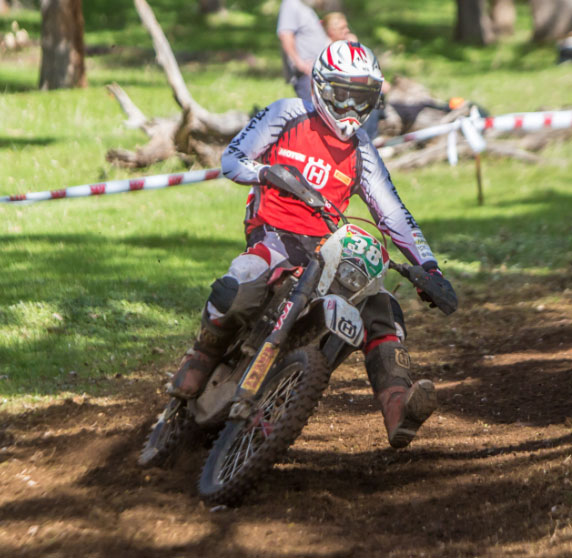 Harvey, Western Australia, 2013 A4DE (Australian 4 Day Enduro).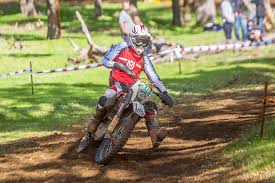 The Final Moto's at the A4DE in Harvey had it all with plenty of action for the crowd. Husqvarna's Matt Phillips won the E2 Class Final Moto on his TE 310 R, putting on a commanding display and beating second placed Chris Hollis by 13 seconds. Phillips posted the fasted time of the days racing, securing Husqvarna a 2nd in E2 class and 3rd Outright after 4 days of racing.
Husqvarna's Glenn Kearney had a disappointing day. He started the Final Moto confident to lock down 2nd in the E1 class and 4th Outright on his TE 250 R. Still nursing an injured ankle from a crash on day 3, Kearney showed his strong will and steely determination maintaining an impressive 8 second gap to the leader before a very unfortunate incident caused him to DNF, with only a few laps to go.
Husqvarna's youngest team member Lachlan Stanford continued to impress with another excellent days racing, finishing 4th in his E2 Class Final Moto. After 4 days racing he managed to beat Stefan Merriman by 0.067 of a second for 4th in the E2 class and 7th Outright on his TE 310 R.
Damian Smith managed to win every day of competition convincingly in the lead up to the Veteran's class final Moto. Smith continued his domination of the class taking the win in the Final Moto, wrapping up another A4DE Australian Championship for Husqvarna.
Comments from the Husqvarna Racing team riders:
Matt Phillips:
"It was a great week working with the PFG Husqvarna crew. My TE 310 R didn't miss a beat and I was really happy with my set up. I felt fit and healthy and ready to attack on all four days. My team mates Lachy and Glenn were always there the whole time and are good guys to hang out with after the race. Well done to Lachlan, always improving. I would like to mention that it is a great prospect for the Husqvarna family to have a mentor like Glenn Kearney in the team."
Glenn Kearney:
"With too big a gap to close on Milner in the lead of E1 and over a minute to third placed McCormack behind me I was just looking to consolidate 2nd in E1 and 4th Outright in today's Final Moto. It wasn't to be though, nursing my injured leg and running right where I needed to be I had a bolt come loose at the half way point of the Final Moto which ultimately caused a DNF. I was able to push the bike across the finish line, 3 laps down. A disappointing end to a tough 4 days, I just want to thank all the PFG Husqvarna team for all their effort throughout the event."
Lachlan Stanford:
"Well the final day has been raced and done. I had a good final Moto, got 4th in my class and held good speed the whole time which put me up a few positions in the Outright. I ended up 7th Outright and 4th in Class for the 4 days of racing. I had a fun A4DE and I am improving a lot every year. A massive thanks to the PFG Husqvarna Racing Team and all the associated sponsors, without them I wouldn't be here. Now to get home and start training for the ISDE in Italy."
Damian Smith:
"I was glad to win the Final Moto after an awesome 4 days. The bike was flawless and the team was excellent for the whole event. A big thanks to PFG and all the Husqvarna mechanics. I'm stoked to win another Australian Championship and want to thank my wife and kids for letting me doing what I love, riding Enduro and winning Championships."

Final Results 2013 A4DE:
Outright
1 Daniel Milner 01:56:55.123
2 Chris Hollis 01:58:07.770
3 Matthew Phillips HUSQVARNA 01:58:22.711
4 Josh Green 02:01:38.231
5 Tom McCormack 02:02:09.824
6 Peter Boyle 02:02:28.438
7 Lachlan Stanford HUSQVARNA 02:02:47.089
8 Stefan Merriman 02:02:47.156
9 Ben Burrell 02:03:11.180
10 Ben Grabham 02:03:20.999
….
15 Glenn Kearney HUSQVARNA 02:06:05.001
16 Damian Smith HUSQVARNA 02:06:46.519
E2 Class
1 Chris Hollis 01:58:07.770
2 Matthew Phillips HUSQVARNA 01:58:22.711
3 Josh Green 02:01:38.231
4 Lachlan Stanford HUSQVARNA 02:02:47.089
E1 Class
1 Daniel Milner 01:56:55.123
2 Tom McCormack 02:02:09.824
3 Peter Boyle 02:02:28.438
….
5 Glenn Kearney HUSQVARNA 02:06:05.001

Veterans Class
1 Damian Smith HUSQVARNA 02:06:46.519
2 Kirk Hutton 02:11:24.695
3 Adam Riemann 02:14:18.376
Photos: Four Oh Four
The Husqvarna Enduro Racing Team would like to thank their 2013 season sponsors Link International, Motul Oils, Pirelli tyres, RK chains, Ferodo pads, JT Sprockets, Polisport products, Excel rims, Vortex and RHK and Graphics supplied by Five Three Designs for their support.
Follow us on Social Media Facebook, Instagram and Twitter @husqvarnaaus