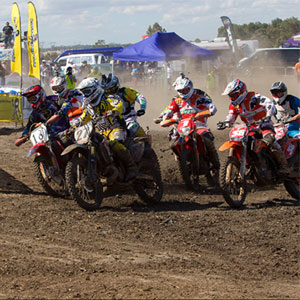 Victorian Honda mounted privateer Peter Boyle has taken out the second running of the InsureMyRide Melbourne Enduro-X.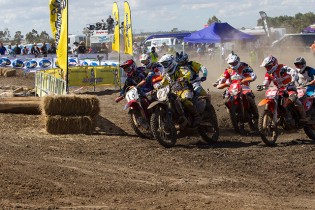 With the Melbourne City Skyline as a distant backdrop Calder Park provided the perfect venue for a great day of close racing and spectacular action. Promoters had put in plenty of man hours to make sure riders and fans got their monies worth and no one was disappointed. The man made track, which took in part of the huge Thunderdome banking, was deceivingly tough. While many looked from the outside and commented it didn't look to hard they where proved wrong once racing got underway.
The Pro class ran two heats and an LCQ to decide who would be vying for the $5000 winners cheque. Most of the big names progressed through their heats with Motorex KTM's Chris Hollis and CDR Yamaha's Daniel Milner taking the wins. Defending Champion Toby Price provided the upset when he crashed out and was forced to race in the 2 lap LCQ, which he won.
Daniel Milner looked the man to beat with the A4DE Champion notching up a pair of wins and a top 3 time in the one lap shoot-out that the top ten competed in, but it all came to nothing after he crashed out at the first obstacle of final one – he would take no further part in the day.
Boyle on the other hand had been fairly average during the heats with a 3-4 result but when the gate dropped in the final the former Pro Motocrosser cut loose and unleashed three straight holeshots , riding the first two heats uncontested. The third saw Chris Hollis and visiting American Kyle Redmond make him work hard for the win but in the end he prevailed to make it three straight.
"It just went perfect," Boyle said. "I struggled a bit in the heats but in the finals once i got a lead i really just rode at a speed i knew i would stay up at. The track was great and i am looking forward to doing a bit more off road racing this year, this is a good way to start," he concluded.
Fastest man in the shoot out, Chris Hollis, had a 2-3-4 result to finish 3 points ahead of his Motorex KTM team-mate Toby Price.
"I had an awesome ride," Hollis said. "I bent a lever in one heat and then suffered a bit of arm pump. I had a great battle with Peter (Boyle) but in the end he just smashed it. I knew i had enough points for second if i rode smart so that's what i did in the end," he concluded.
Toby Price had a shocker of a day with anything and everything that could go wrong doing so but in the end he proved why he is one of the toughest riders in the country by sticking it out and as a result securing enough pints to take the final podium position. A pretty nasty crash in the dreaded rock Garden in the opening heat caused some wrist damage but he re-grouped and notched up a 2nd and 3rd.
Mitch Harper and Tom McCormack rounded out the top 5.
SUPPORT CLASSES:
Powerhouse Motorcycles Dylan Rees took a 5 second win aboard his Sherco 300 in the Expert Class after taking a win and a second in his heat races, Luke Tomlinson finished second with Thomas Tuckerman 15 seconds back in third.
Asked by Commentator Lee Hogan what he would do with his $1000 winners cheque Rees replied, "Is there a pub on the way home," to the approval of the crowd. Getting a bit more serious Rees added, "I nailed the start put my head down and got a bit of a lead and then just made sure i stayed on two wheels. I wanted to take that cheque so i just stayed comfortable and brought it home," Rees concluded