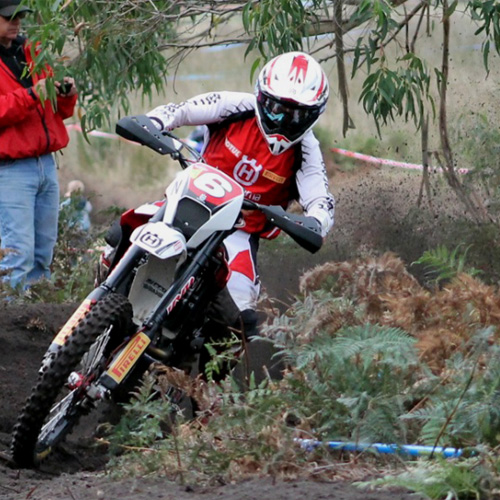 Round 5 and 6 of the Australian Off-Road Championship was held in Victoria in the scenic surrounds of Corner Inlet. The weather provided ideal conditions on both days with no rain and sunshine on Saturday.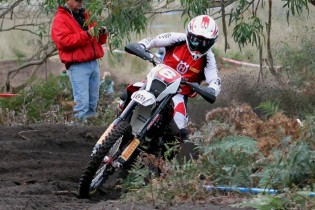 After the successful AORC rounds in Queensland, the Husqvarna Racing Enduro Team with Glenn Kearney and Lachlan Stanford, were keen to go racing again.
Matt Phillips did not participate at the rounds, staying in Europe for more testing with the Husqvarna Factory team to defend this World Championship lead.
Conditions were near perfect on both days, which had the course incorporate a broad range of terrain types offering the perfect layout for the 3 hour Cross Country race on Saturday and Sundays Sprint Series.
The E1 class (up to 250cc) saw Husqvarna's Glenn Kearney (TE 250 R) taking the win in the class with of a gap of 2 minutes and 2 seconds to 2nd placed Daniel Milner. His performance secured him 2nd place outright. On Sunday Glenn could feel the effects from Saturday's race. He was fighting the whole day with Daniel Milner for the win, but had to settle for 2nd place.
Glenn Kearney:
"It was a tough weekend with the sandy track getting really rough; the 14 km Cross Country course was a great layout. Coming into the weekend carrying some injuries I was a little concerned on how I would do. The Cross Country went well where I was able to lead the majority of the race battling with Josh Green who eventually took the outright win over me, though I was happy to take the E1 victory.
"Sunday I was feeling the effects of Saturday's race and struggled through the day to finish 2nd to Daniel Milner in E1 and 4th outright.
"Joel, Dave and Brian did a great job as usual, the TE 250 R was flawless, and a huge thank you to the Paul Feeney Group and Husqvarna for a great weekends racing."
With Matt Phillips not racing it was up to Lachlan Stanford in the E2 class. After a bad start Lachlan had to battle through the field to take the 3rd spot on the podium. With two crashes on the opening lap of Sunday's Sprint Series, Lachlan had to push hard on this TE 310 R to make up lost time, ending up 7th in class.
Lachlan Stanford:
"Saturday went really well for me. After my poor start, I ended up pushing through most of the field into 3rd. I'm really happy how I rode the Cross Country and finishing third in class.
"Sunday sprint series did not go as planned. I had two crashes in my first lap which set me back and I had to play catch up the whole day. I've posted a few good lap times but not enough I ended up 12th outright and 7th in class.
"My TE 310 R worked really well all weekend and didn't miss a beat. I am excited for the next rounds. Huge thank you to Husqvarna Motorcycles for the support and the associated team sponsors. Joel, Dave and Brian did an awesome job. I'm really happy being a part of the Husqvarna Enduro Racing team."
Veterans' class Damian Smith rounded out the strong performance for the Husqvarna Team. A broken oil line put a sudden end to Damian's racing on Saturday. He was determined to make Sunday his day, and went on to beat Kirk Hutton taking the number 1 spot on the podium.
Damian Smith:
"Saturday was a day I'd rather forget but the result on Sunday was awesome. The competition with Kirk is pretty fierce but in a good way, we push each other pretty hard. My TE 310 R is hard to fault, Saturday was a freak thing and Sunday she performed beautifully."
Paul Feeney:
"Great result for the boys and the team overall, Glenn was, as always, on the pace and it was great to see him take the win on Saturday and place 2nd on Sunday.
Lachlan is becoming a real asset for us in the E2 class with another podium place. The crashes on his first lap on Sunday limited his result this weekend, but I'm sure he will bounce back from that at the next round.
Damien continues to get consistent results on his TE 310 R and it was great to see him take the win on Sunday also.
Thanks again to our 2013 season sponsors Link International, Motul Oils, Pirelli tyres, RK chains, Ferodo pads, JT Sprockets, Polisport products, Excel rims, Vortex and RHK and Graphics supplied by Five Three Designs.
Results Round 5
E1
1st G. Kearney (Husqvarna)
2nd D. Milner (Yamaha)
3rd Peter Boyle (Yamaha)
E2
1st J. Green (Yamaha)
2nd J. Bewley (Husaberg)
3rd L. Stanford (Husqvarna)
Veterans
1st K. Hutton (Yamaha)
2nd D. Smith (Husqvarna)
3rd C. Wease (Yamaha)
Results Round 6
E1
1st D. Milner (Yamaha)
2nd G. Kearney (Husqvarna)
3rd Peter Boyle (Yamaha)
E2
1st J. Green (Yamaha)
2nd C. Hollis (KTM)
3rd Stefan Merriman (Yamaha)
…
7th L. Stanford (Husqvarna)
Veterans
1st D. Smith (Husqvarna)
2nd K. Hutton (Yamaha)
3rd Scott Szabo (KTM)
Next stop for the Husqvarna Racing Enduro Team are rounds 7 and 8 of the Australian Off-Road Championships, held in South Australia, journeying to the idyllic Coonawarra, from Saturday 29th to Sunday 30th of June 2013.
For more information on the Husqvarna Racing team and the entire 2013 Husqvarna line-up, please go to www.husqvarnamotorcycles.com.au