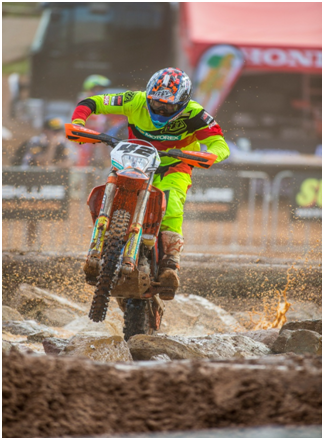 Husqvarna racers Glenn Kearney, Lachy Stanford and Fraser Higlett are all aiming for a podium finish as the Australian Off-Road championships conclude this weekend. The final round will be held at Monkerai, New South Wales with a XC/Sprint format double-header.
Story by Hayden Gregory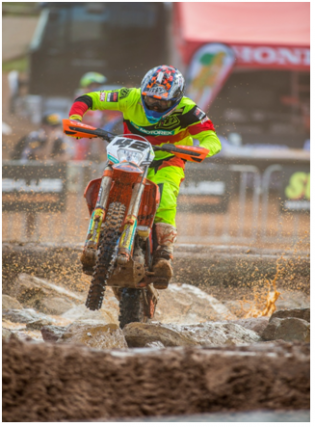 Multiple Australian enduro champion and team manager Glenn Kearney appears to have third place all but secured. Coming off his best weekend result at Kyogle, the thirty-four-year-old alongside his trustworthy Husqvarna FE 501 can still finish higher on the podium depending on the results of KTM pair Toby Price and Daniel Sanders.
Kearney is excited heading into the Mokerai track and is hopeful of a strong Husqvarna finish. "Monkerai is not far from where they had the four-day last year, and there is some really good terrain out there. Where they have set the course was probably the best test from the 4-day so it should be really nice. Hopefully we can continue in the same vein as the last couple of rounds – try to get some more fast sprint times and be right there at the front. I'm on the same track with the brake set up, but it took a while to replicate the one on my race bike so I didn't get to practice with it until this week. I've got two of them now in case something does go wrong though."

Teammate Lachy Stanford is locked into a more intense battle for the E2 championship. Currently trailing leader Beau Ralston by 12 points, Stanford will also be battling to stay ahead of Tye Simmonds and Chris Hollis who are within five points of the Husqvarna rider.
Stanford is well aware of how tight the battle for a podium finish will be and is excited to get racing. "But I just can't wait to get on the race bike again, to be honest. I'm excited, I've done all this practice for a month and the 350 is a great bike, I can't fault it, and now I just want to get on and go for it. We haven't had many cross countries this year so it will be good to get another under our belt. I've worked on the areas that I lacked last time, so I want to see if I can get further up the field this time.
Husqvarna young gun Fraser Higlett is holding on to a 20-point lead heading into the last weekend of racing. Having won eight of the 10 rounds in the J4 category, Higlett remains poised to take out his first national championship. "I've spoken to a few riders and they have told me that it's dusty and a little bit hardpacked – that's about all I know. I haven't looked at the points – I'll just take it as it comes. Obviously I'll try to get the win, but I don't know, if I got second it wouldn't be the end of the world…"
AORC E2 Championship
| | | |
| --- | --- | --- |
| 1 | Beau Ralston | 206 |
| 2 | Lachlan Stanford | 194 – Husqvarna |
| 3 | Tye Simmonds | 193 |
| 4 | Chris Hollis | 189 |
| 5 | Geoff Braico | 154 |
AORC E3 Championship
| | | |
| --- | --- | --- |
| 1 | Toby Price | 247 |
| 2 | Daniel Sanders | 221 |
| 3 | Glenn Kearney | 200 – Husqvarna |
| 4 | Stefan Granqvist | 153 |
| 5 | Kye Anderson | 127 |
AORC J4 Championship
| | | |
| --- | --- | --- |
| 1 | Fraser Higlett | 244 – Husqvarna |
| 2 | Ben Kearns | 224 |
| 3 | Deon Javni | 167 |
| 4 | Josh Major | 145 |
| 5 | Jed Blackall | 141 |
2015 Yamaha Australian Off-Road Championship, Provisional Points after 10 of 12 rounds: 
| | | |
| --- | --- | --- |
| 1 | Toby Price | 240 |
| 2 | Josh Green | 185 |
| 3 | Daniel Sanders | 178 |
| 4 | Chris Hollis | 165 |
| 5 | Tye Simmonds | 155 |
| 6 | Beau Ralston | 151 |
| 7 | Glenn Kearney | 143 |
| 8 | Lachlan Stanford | 130 |