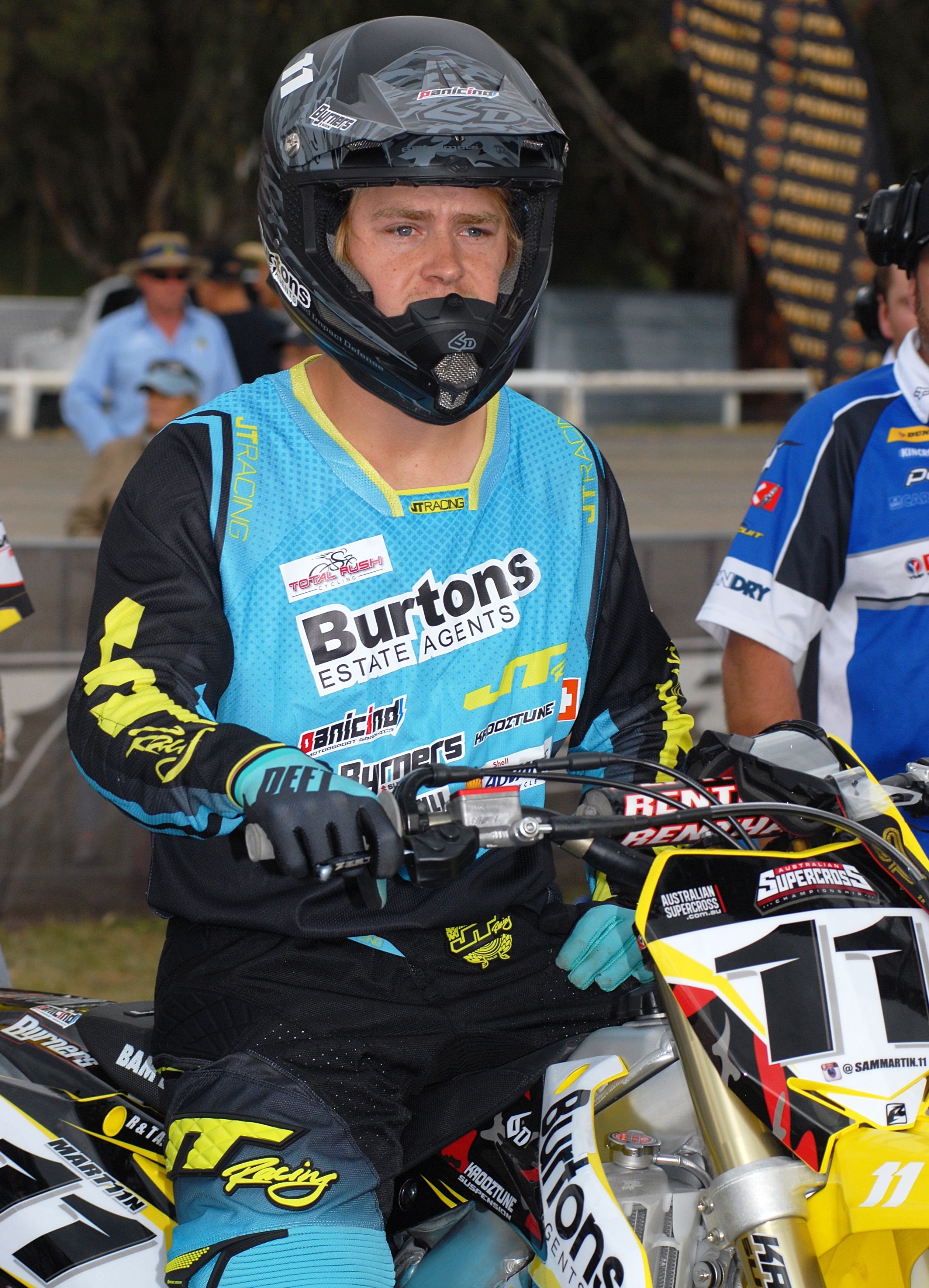 In a field stacked with high-profile factory-backed SX1 contenders, Victorian privateer Sam Martin heads into this Saturday night's (October 17) Go-Pro sponsored round two of the 2015 Australian Supercross Championship at Queensland's Jimboomba X Stadium intent on continuing to mix it with the biggest names in the sport.
Press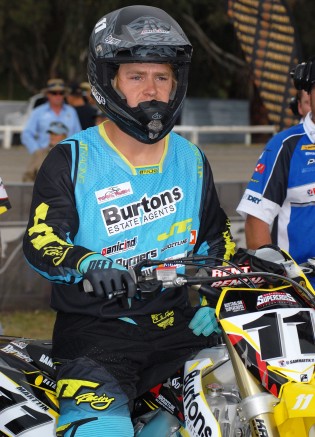 Martin nailed down a solid sixth place in last weekend's SX1 Championship opening round at Bathurst, NSW, to firmly stamp his name as the top performing privateer in the class – as five factory team racers finished ahead of him.
"I actually had the aim of going top five at the opening round, so to get a sixth is pretty close to the mark," explains Martin, who races with the backing of Melbourne's Byrner's Suzuki dealership and personal sponsor Lucas Burton from Burton's Real Estate.
"The conditions at Bathurst were pretty tricky, it was wet and sandy and muddy in places and the track really rutted out, so you had to be on your game all night long.
"But it was a solid result and now I've put in plenty of laps at the practice track this week and can't wait to get to Jimboomba for the next round."
A confident start to the Australian Supercross Championship finally gives Martin reason to smile, after a year of up and down fortunes.
The Victorian's 2015 season started on a high with a European Supercross campaign, which saw him win an International event in Denmark.
But not long after returning home to Australia to prepare for the MX Nationals, a huge crash while practising brought everything to a halt.
"The bike cut-out while I was practising and I had a big crash and knocked myself out," Martin explains.
"I still can't actually remember the day it happened.
"I spent some time in hospital and the doctors ordered me off the bike for four months to recuperate."
Waiting it out, he was finally able to get back in the saddle and line up for the mid-year MX Nationals round at Shepparton – but the horror luck continued and he broke his ankle in the first moto.
"That was that and I basically had to give up on motocross for the year," Martin says.
Now he's back in action for the 2015 Australian Supercross Championship and it appears the bad luck genie has gone back in the bottle – and Martin hopes she stays there, as he has a huge end-of-season campaign on the agenda.
"I'll be racing the next two rounds of the Australian Supercross Championship at Jimboomba and Adelaide, then I fly out the very next day to Europe to race the ADAC Supercross Series with the support of a Suzuki factory team," Martins explains.
"It's a really good deal and it actually helps me to pay for racing as privateer here in Australia.
"And the schedule means I can just get back home in time to race the final round of the Australian Supercross Championship in Melbourne on December 5, so from here on in the rest of the year is pretty busy!"
In what is sure to be a huge night of high-flying, high-octane Supercross action, this Saturday's Jimboomba X Stadium round of the 2015 Australian Supercross Championship will also feature freestyle MX demos, fireworks, amusement rides and a tyre-shredding display from a 2000hp burn-out car.
Gates open at the Jimboomba X Stadium track at 2pm, a meet-the-riders pit party will be held from 4pm, while all the racing action kicks off at 5pm.
Tickets to the Jimboomba event are on-sale now via the www.e-ticket.com.au web site