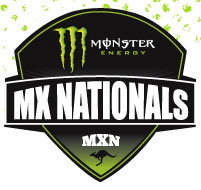 Points Scoring
The first change that will be noticed by many is the new Point Scoring system being used for the 2013 championship, again another change from the surveys and competitor communication with WEM. Many riders spend a lot of time and money chasing the championship series and with points only scoring the top 20, many have felt left out and unable to measure their progress as a racer in the championship. Points will now be awarded back to 30 position.
Points will be as follows:
1st 35, 2nd 32, 3rd 30, 4th 28, 5th 26, 6th to 30th 25 points decreasing 1 point with each position to 30th.
Formats
As already confirmed all classes will be conducted over a 2-moto format, MX1 and MX2 will be 30 minutes plus 1 lap. MXD will be 20 minutes plus 1 lap.
MX1 Super Pole.
At the conclusion of timed qualifying the top 5 riders will return to the start line. Each rider will be fitted with a Go Pro camera, when directed they will do 1 flying lap, the result of the flying lap will determine the top 5 positions for qualifying. Championship points will be issued 1st 5, 2nd 4,3rd 3,4th 2, 5th 1. Any rider who leaves the track at any point will be given 5th place and no points. Prize money for the fastest qualifier will be $500. Per round.
Helmet Eject System
In an effort to further improve rider safety and medical service at the MX nationals, all riders must fit a helmet eject system to the helmet. Helmet eject systems will be available at the track or you can order them at your local dealer, the distributer is Gas Imports.
Retail pricing is $89.95
Riders can now logo on to www.mxnationals.com.au and lodge their entries. Apart from the top 10, entries will be on a first in first served basis, a maximum of 50 entries will be accepted in each class, Round 1 will have 80 positions in MXD (Under 19's) and there will be 2 non qualifying races.
About the Monster Energy MX Nationals:
The Monster Energy MX Nationals, Australian Motocross Championship, is the leading motocross series in Australia. The series is promoted and operated by Williams Event Management (WEM), a Victorian-based event management company whose goal is to raise awareness of the sport nationwide. The series is sanctioned by Motorcycling Australia (MA), the premier professional motorcycle racing organisation in Australia. Further information on the Monster Energy MX Nationals can be found on the official series website at www.mxnationals.com.au.