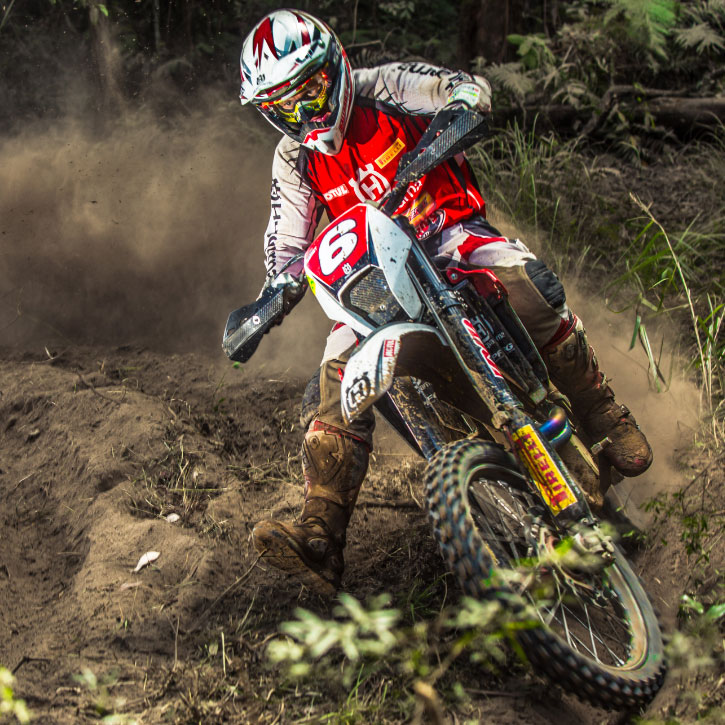 Dungog in the New South Wales Hunter region played host to rounds 11 and 12 for the 2013 AORC (Australian Off Road Championship) over the weekend.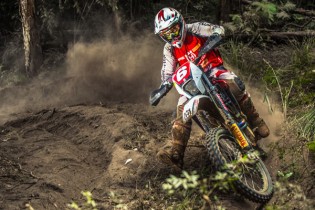 The Dungog event served as the championship decider for 2013 and the very best of Australia's off road racing talent were primed for a strong finish to their individual championship seasons.
Husqvarna racings Glenn Kearney came into the final rounds trailing Yamaha's Daniel Milner in the 2013 E1 (Enduro 1/up to 250cc) class. Kearney was looking to push Milner all the way to the finish for the 2013 championship and despite racing well across Saturdays seven test sprint format, Kearney finished a close second to the Yamaha rider.
Husqvarna's Lachlan Stanford had a strong result from Saturday with the Queensland youngster punching well above his weight to chase Chris Hollis and former world champion Stefan Merriman home in the E2 (Enduro 2/251-450cc) class, taking the third step on the podium for round 11.
2012 AORC veterans champion, Damian Smith came into the Dungog event leading the Vets class for 2013 and was looking to secure consecutive championship titles. Despite his best efforts Smith was forced to settle for 2nd place after Saturdays seven test sprint format behind Yamaha's Kirk Hutton.
Sunday's final round saw a shorter four special test format so competitors were prepared to pull out something special to lock down a strong finish to the 2013 championship.
Husqvarna's Glenn Kearney chased Daniel Milner hard, looking to take final round honours, however Milner had a similar plan with Kearney again forced to settle for 2nd spot.
Glenn Kearney:
"The 2013 championship has been a good season for me, it would have been great to take the title and that early season DNF with a crash damaged crankcase didn't help, however Milner was on his game all season and it showed with him taking the outright and class titles for the series.
"To finish runner up in the E1 championship is a great result and to finish on the outright podium for the championship is even better. The guy's at Husqvarna racing have really delivered with Joel and his team ensuring the TE 250 R was always a great package. It was great to have Paul Feeney at the last rounds.
"With just 2 weeks before Lachy and I head of to the ISDE (International Six Day Enduro) there will be no time to rest as we look forward to another strong result for Husqvarna."
Lachlan Stanford:
"2013 has been a great year for me at Husqvarna, it's great to be racing at this level and considering it's my first year back, the season has gone very well. I was trying my best for a championship podium and we just missed it by finishing a close fourth.
"As always, Joel and his team have been great all year, the TE 310 R has always been on the money as a race package. Thanks again to Paul Feeney and our sponsors for their support for 2013."
Paul Feeney:
"It was great to be here for the final rounds of the 2013 AORC season, the boys have had a great season and their results reflect their efforts.
"To have Glenn finish runner up in E1 and third outright is a great result for both Glenn and the team. Likewise Lachlan has had a strong season and I am confident he can go one better next year and finish on the championship podium.
Congratulations to Damian Smith, Damo has had a strong and consistent season, it's been a pleasure to see him take out the vet's championship for 2013, thoroughly deserved.
"Thanks again to the boys behind the scenes, Brian, Joel and the race tech's have done a great job all year."
Results Round 11
E11st  D. Milner      (Yamaha)

2nd G. Kearney  (Husqvarna)

3rd  Ben Burrell  (KTM)

E21st  C. Hollis         (KTM)

2nd S. Merriman (Yamaha)

3rd  L. Stanford  (Husqvarna)

Veterans1st  K. Hutton (Yamaha)

2nd D. Smith   (Husqvarna)

3rd  A. Smidt   (KTM)
Results Round 12
E1

1st  D. Milner             (Yamaha)

2nd G. Kearney    (Husqvarna)

3rd  T. McCormack   (Yamaha)

E2

1st  C. Hollis         (KTM)

2nd S. Merriman (Yamaha)

3rd  J. Green        (Yamaha)

4th L. Stanford   (Husqvarna)

Veterans

1st D. Smith     (Husqvarna)

2nd K. Hutton   (Yamaha)

3rd  A. Smidt    (KTM)
Championship Results 2013
E11st  D. Milner      (Yamaha)

2nd G. Kearney  (Husqvarna)

3rd  Ben Burrell  (KTM)

E21st  C. Hollis         (KTM)

2nd S. Merriman (Yamaha)

3rd  J. Green        (Yamaha)

4th  L. Stanford   (Husqvarna)

Veterans1st D. Smith       (Husqvarna)

2nd K. Hutton     (Yamaha)

3rd  C. Treasure  (Yamaha)