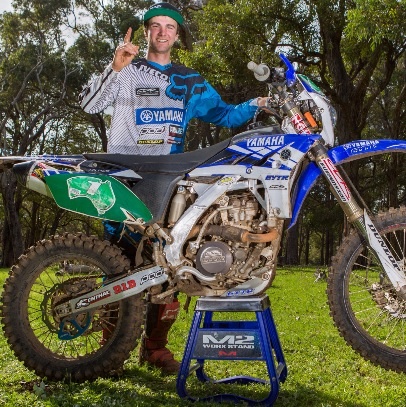 Daniel Milner has gone back to back winning his second consecutive Australian Four Day Enduro as the fourth and final day wrapped up in Harvey, WA.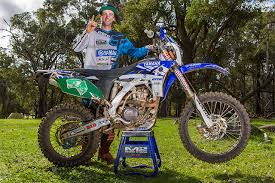 On board his factory CDR Yamaha YZ250F, Milner overcome an intense battle across the four days to win with a comfortable one minute margin after the final motocross test was completed today. His outright victory was hand in hand with his class victory in the E1 division.
"I'm so happy right now," Milner shouted not long after the finish of the event. "It was a real battle for the whole event as there were a lot of top quality riders here and I had to be at my best the whole week to get the win.
"I put in a huge effort on day three to really get a bit of a break so it didn't come down to a winner take all fight in the final motocross test. I was able to win most of the tests and get a gap on the guys so I felt really good coming into today and I just had to use my head and not do anything stupid.
"To win this again and this time with a team as awesome as the CDR Yamaha crew is unreal. They have provided me with the best team and environment I have been involved with and my bike has just been amazing all week. I look forward to having a beer with all of them tonight," Milner ends.
Stefan Merriman rounded out the week in eighth place outright and fifth in class. Merriman worked hard all week and the toughness of the WR450F was again out to the test when Merriman hit a tree stump on day two, ripping the radiator from the bike and leaving a huge whole in the engine cases.
With next to no oil, and coolant leaking like a fountain, Merriman nursed the WR450F to the next work period, repaired the damage and the machine ran flawlessly for the rest of the event.
At nearly forty years of age, Merriman is a unique talent and continues to pay a vital role within Yamaha in bike development and assisting Daniel Milner. Eighth outright is another impressive result for the former world champion.
"It was a fun event to be a part of with lots of different terrain and surfaces to ride on," Merriman offers. "I would like to have finished a little higher but I put in my best effort and I have to be content with that. The CDR Yamaha team have been a great addition to the off road racing scene in Australia and just their presence will lift the profile of off road racing in Australia," Merriman said.
CDR Yamaha owner, Craig Dack, is a former four time Mr. Motocross champion but has been relishing his new role overseeing the new off road team and came away from the event impressed with what he saw.
"I have to admit I have a new found respect for the riders in an event like this. Their ability to read the terrain, overcome four days of racing and keep wanting more is amazing and I really admire their dedication and determination.
"This is a great moment for CDR Yamaha as well. We are new to the off road world and to win the A4DE in our first attempt is special and it means a lot to myself and everyone in the team.
"I'm really proud of what Daniel has achieved so far this year and the win he just adds to that. In the time we have worked with him, he has become a true professional and matured enormously on and off the track. He has been a delight to work with and we look to more championship success with him in the future.
"Stefan is a warrior of the off road world and has the respect of everyone in the team. His eighth was built on hard work and had a few things gone his way, he might well have been a lot higher up."
After a few well- earned days off, the CDR Yamaha Off Road team will have their nose back to the grind stone as the finish off the 2013 Australian Off RoadChampionship (AORC) in the coming months.
2013 A4DE – Final Standings
OUTRIGHT
1st Daniel Milner -01:56:55.123 (CDR Yamaha)
2nd Chris Hollis – 01:58:07.770
3rd Matthew Phillips – 01:58:22.711
4th Josh Green –                02:01:38.231 (Active8 Yamaha)
5th Tom McCormack – 02:02:09.824 (Active8 Yamaha)
6th Peter Boyle – 02:02:28.438
7th Lachlan Stanford – 02:02:47.089
8th Stefan Merriman – 02:02:47.156 (CDR Yamaha)
9th Ben Burrell – 02:03:11.180
10th Ben Grabham – 02:03:20.999
E1 (Under 250cc)
1st Daniel Milner (YZ250F)
2nd Tom McCormack (YZ250F)
3rd Peter Boyle
E2 (251-450cc)
1st Chris Hollis
2nd Matthew Phillips
3rd Josh Green (WR450F)
4th Lachlan Stanford
5th Stefan Merriman (WR450F)