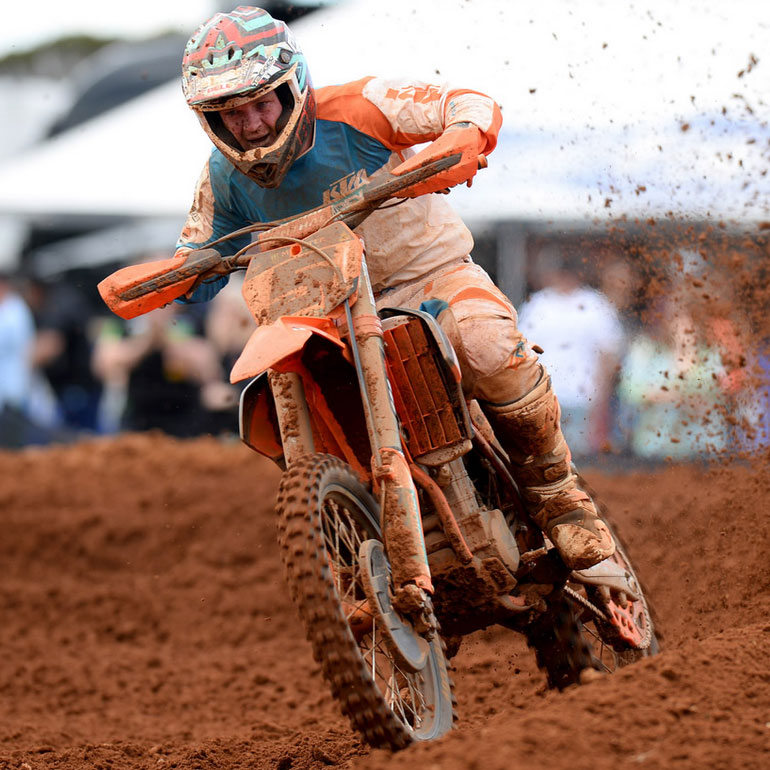 KTM Motocross Racing Team rider Kirk Gibbs has ticked off another career milestone, taking his first overall win in a round of the Monster Energy MX Nationals series, and best of all, it was before his home crowd at Murray Bridge, South Australia.
The Mt Gambier native finished a gritty fifth in the first Moto after he ran out of Tear-Offs and was forced to throw his goggles, riding a number of laps with no protection from the roost of riders ahead, and copping a black eye in the process. After visiting the medical crew at RaceSafe to have his eyes flushed, Gibbs seemed determined to spend as little time as possible in traffic in the second Moto, executing four passes before the end of lap one to burst into the lead and power away to a dominant win. The victory brings Gibbs to within 13 points of the championship lead, coming into next weekend's round at Wanneroo in Western Australia.
Rob Twyerould: "Well we're very happy today, I've lost my voice a little bit from cheering! He got a terrible start in the first, and was moving forward when he got stuck too long behind Mackenzie and used up all his Tear-Offs. He tossed his goggles, got roosted in the face and copped a black eye, but when Matt Moss came back to them at the end he rode that last lap virtually blind to get past him, he was so determined! In the second Moto he was fifth in the first corner but by the fourth corner he was in the lead, and it was on! For the first 10 min it was a bit of a freight train, but he maintained probably a 4 to 5 second gap over them and at the end of the race he started to pull away. He didn't put a foot wrong, just rode absolutely sweet today! A big effort from the team too, and now Gary the truck driver is heading off to Perth so he's got a big drive ahead of him, and we're really looking forward to the sand race ahead. It's always unpredictable in the sand and there are not many points in it so it could be a real game changer."
Kirk Gibbs (KTM 450 SX-F) – "My first overall win, I'm really happy, so it's good, and a lot of family and friends were here to see it so I'm very pleased. Today was a bit up and down obviously, that first one was tough, I didn't get the best start, and I had to take my goggles off and copped a rock to the eye, so I've got a bit of a shiner! That last race I got a good start and just made passes really early which made it easy. I got the lead just before the end of the first lap and just rode away with it. I've had a podium at every round now so I'm really happy with that, that's the biggest thing I've always wanted is to be really, really consistent. I've been doing that so far, so I'm really pleased with where I am at."
In MX2 Racing, Instant Security KTM rider Brenden Harrison used brute strength and fitness to overcome poor starts and finish second on the day between the Husqvarnas of Luke Arbon and Kayne Lamont. CMR Red Bull Motorex KTM rider Hamish Harwood remains the highest placed KTM in the series, third behind Luke Clout and Lamont, despite a seventh overall today. Harrison maintained fourth in the series, ahead of Tune Tech KTM's Kale Makeham, who was fifth today.
Brenden Harrison (KTM 250 SX) – "My day was about horrible starts, I had to come back through the pack in both races, but just with my fitness; I feel like I'm the fittest on the track at the moment, and in the second moto I came from something like 17th on the first lap to third, so I just want the motos to be 10 minutes longer! I need to get my starts sorted. I really want to win this Championship so I've got to start making it happen."
In MXD racing Bolton's KTM-mounted Jack Simpson has slipped one point off the lead of a championship in which the top four riders are separated by just 8 points, with a fifth place finish at Murray Bridge. Simpson now trails Egan Mastin with Jed Beaton and Nathan Crawford close behind.
For more information on KTM Motorcycles, visit www.ktm.com.au or www.facebook.com/KTMAustralia
Monster Energy MX1 standings after 4 of 10 rounds: 1. Matt Moss 294, 2. Kirk Gibbs 281, 3. Adam Monea 259, 4. Jake Moss 247, 5. Billy Mackenzie 242, 6. Kade Mosig 216, 7. Rhys Carter 214, 8. Hayden Mellross 206, 9. Jay Marmont 196, 10. Jacob Wright 185
Motul MX2 championship standings: 1. Luke Clout 261, 2. Kayne Lamont 249, 3. Hamish Harwood 242, 4. Brenden Harrison 235, 5. Kale Makeham 221, 6. Luke Arbon 204, 7. Jay Wilson 193, 8. Errol Willis 189, 9. Ryan Marmont 176, 10. Caleb Ward 172
Pirelli MXD championship standings: 1. Egan Mastin 273, 2. Jack Simpson 272, 3. Jed Beaton 270, 4. Nathan Crawford 265, 5. Wilson Todd 209, 6. Kyle Webster 206, 7. Jayden Rykers 199, 8. Aaron Tanti 177, 9. Brock McLeary 176, 10. Daniel Price 155