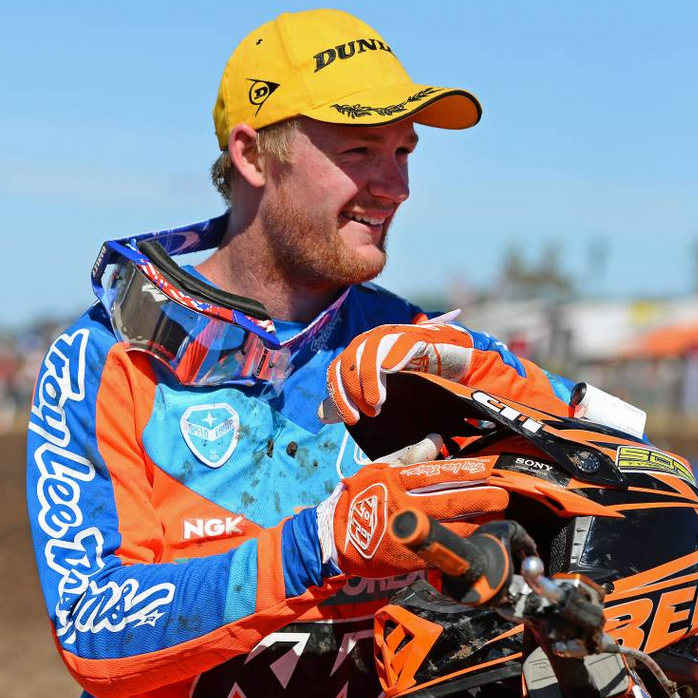 Point proven – KTM's Gibbs takes top spot at round one!
FOR IMMEDIATE RELEASE
29 March 2015: Horsham, Victoria
With a point to prove, KTM's Kirk Gibbs arrived at Horsham determined to take race wins.
After recording the second fastest lap time in GoPro SuperPole, a win in moto one ahead of teammate Luke Styke, and another win in moto two, Gibbs was a certainty for the MX1 overall ahead of CDR Yamaha's Kade Mosig and KTM's Luke Styke this afternoon.
While Gibbs celebrated, MX1 defending champion Matt Moss, was a notable absentee from the front of the pack, finishing 14th in both moto one and two, handing him 13th overall for the day in a shocking upset for Team Factory Suzuki.
Monster MX1 Round 1 Overall Winner – Kirk Gibbs– KTM Motocross Racing (1st, 1st -70 Points)
"My preparation this year has been awesome, we all went over to race in New Zealand for the pre-season and it's really paid off –  I really owe it all to KTM," he said.
"I had a lot of confidence coming into this round so I'm really happy to take the win.
"A few years ago I didn't really know where I was going with my career and Rob Twyerould took me on – I can't thank him enough for that.
"My pa passed away a couple of weeks ago and I know he told my dad that he wanted me to win so this win today is for him."
To check out how the rest of the Monster MX1 class went today, and to re-watch all of the action from every race at Horsham, tune in on Wednesday night via www.nrgtv.com.au for all of the racing on demand!
GoPro SuperPole
1) Ford Dale (1:53.483) – 5 points
2) Kirk Gibbs (1:53.779) – 4 points
3) Lawson Bopping (1:54.004) – 3 points
4) Kade Mosig (1:54.691) – 2 points
5) Daniel Reardon (1:55.477) – 1 point
Monster MX1 Round overall and Championship points
1) Kirk Gibbs – 74 points
2) Kade Mosig – 64 points
3) Luke Styke – 58 points
4) Lawson Bopping – 59 points
5) Cody Cooper – 55 points
6) Ford Dale – 50 points
7) Adam Monea – 49 points
8) Dylan Long – 47 points
9) Cheyne Boyd – 40 points
10) Jesse Dobson – 40 points
For a full list of results please visit the MX Nationals website via www.mxnationals.com.au 
– ends –

Media Enquiries:


Misty Walton: 0448 725 229


misty@eskimomediagroup.com.au


www.eskimomediagroup.com.au