National Pump Monster Energy Kawasaki rider Matt Moss has beaten home a stacked MX1 field to win the opening round of the 2016 MX Nationals.
By Hayden Gregory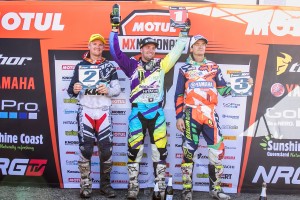 Thousands of spectators were on hand as the 2016 season kicked off with a number of exciting motos. In the Thor MX1 class an array of top line riders were on show and it was Matt Moss who would enjoy opening round honours.
Early in the day defending champion Kirk Gibbs recorded the fastest time in qualifying before Kade Mosig topped the GoPro Superpole.
The day was set and 2015 Supercross Champion Dan Reardon shot to the front in moto one claiming the first holeshot of the season. In a crazy opening lap Kade Mosig fell from second to 12th while Reardon also slipped back allowing Dean Ferris to move into the lead.
Out in front Ferris completed lap after lap unchallenged while the focus shifted to the remaining podium positions. Defending champion Gibbs had moved into second place while Moss and Todd Waters followed closely.
While Gibbs began to place more pressure on Ferris he was able to hold strong and claim victory in the opening moto. The KTM rider claimed second while Moss won the battle for third in an impressive first ride for the Kawasaki team. Reardon and Brett Metcalfe would round out the top five.
In the second moto Kade Mosig showed great gate speed to capture the holeshot with Gibbs and Moss slotting into second and third. A great battle ensued for the opening laps with less than a bikes length separating the top four riders.
Moss was able to move past teammate Mosig for the lead, while Ferris made a mistake in the whoops costing himself some valuable positions.
The Kawasaki rider looked comfortable out front while once again the closer battles were for the remaining podium positions. Mosig dropped from second to fourth while Gibbs and Waters then competed for second place. After a few laps of bar banging Gibbs was able to make the move on Waters scoring his second consecutive runner up result of the day.
A 3-1 result was enough for Moss to score victory in the opening round with Gibbs one point behind in second and Ferris a further four back in third.
"I didn't expect to come here and do this, I really just wanted to run my own race, but it proves that I've been training and working hard, and also that what we're doing as a team is working," he said.
"There's been a lot of people who have doubted me after last year, and a lot of people really wrote me off, this is proof that they're all wrong – I want to win another championship, and that's what I'm here to do.
"I really can't thank the people who have stuck by me enough. A lot of people don't understand this sport, or don't realise what we have to do, but to the people who have stuck by me, I'm really happy I could do this for them.
"My team manager Troy Carroll understands how I work, and he's worked me out as a person pretty quickly. I'm really happy that I got to battle with Gibbsy (Kirk Gibbs) and that after everyone talking, that we are the two guys standing here on the podium at round one."
Mosig and Waters rounded out the top five with Metcalfe in sixth and Dan Reardon claiming seventh.
MX1 Pro Class Results – Round 1 Horsham
MX1 450 Pro Class – Moto 1 
1 Dean Ferris – Yamaha YZF450F
2 Kirk Gibbs – KTM SXF450
3 Matt Moss – Kawasaki KX450
4 Daniel Reardon – Yamaha YZ450F
5 Brett Metcalfe – Husqvarna TC 449
6 Kade Mosig – Kawasaki KX450
7 Dylan Long – Honda CRF450R
8 Jay Wilson – Honda CRF450R
9 Todd Waters – Suzuki RM-Z 450
10 Jesse Dobson – Husqvarna FC450
11 Lawson Bopping – Yamaha YZ450F
12 Matthew Toth – Yamaha YZF450F
13 Michael Menchi – KTM SXF 350
14 Kurt Wightman – Honda CRF450R
15 Joel Milesevic – KTM SX 450
16 Michael Mahon – Yamaha YZF450F
17 Daniel Banks – KTM SX 450
18 Aaron Watts – Other CRF450R
19 Jack Foley – Yamaha Yz450f
20 Lachy Steen – Yamaha YZ 450
21 Jayson Tough – Honda Crf450
22 Eddie Brown – Suzuki RM-Z 450
DNF Luke Wilson – Suzuki RM-Z 450
DNF Nick Murray – honda crf450
DNS Jacob Wright – Yamaha YZF 450
DNS Izak Maule – Yamaha YZ 450
MX1 450 Pro Class – Moto 2 
1 Matt Moss – Kawasaki KX450
2 Kirk Gibbs – KTM SXF450
3 Todd Waters – Suzuki RM-Z 450
4 Kade Mosig – Kawasaki KX450
5 Brett Metcalfe – Husqvarna TC 449
6 Dean Ferris – Yamaha YZF450F
7 Dylan Long – Honda CRF450R
8 Jesse Dobson – Husqvarna FC450
9 Daniel Reardon – Yamaha YZ450F
10 Lawson Bopping – Yamaha YZ450F
11 Jay Wilson – Honda CRF450R
12 Jacob Wright – Yamaha YZF 450
13 Joel Milesevic – KTM SX 450
14 Michael Menchi – KTM SXF 350
15 Kurt Wightman – Honda CRF450R
16 Matthew Toth – Yamaha YZF450F
17 Daniel Banks – KTM SX 450
18 Izak Maule – Yamaha YZ 450
19 Luke Wilson – Suzuki RM-Z 450
20 Michael Mahon – Yamaha YZF450F
21 Aaron Watts – Other CRF450R
22 Jack Foley – Yamaha Yz450f
23 Lachy Steen – Yamaha YZ 450
24 Jayson Tough – Honda Crf450
25 Eddie Brown – Suzuki RM-Z 450
DNS Nick Murray – honda crf450
MX1 450 Pro Class Overall Round 1 
1 Matt Moss 65
2 Kirk Gibbs 64
3 Dean Ferris 60
4 Kade Mosig 53
5 Todd Waters 52
6 Brett Metcalfe 52
7 Daniel Reardon 50
8 Dylan Long 48
9 Jesse Dobson 44
10 Jay Wilson 43
11 Lawson Bopping 41
12 Michael Menchi 35
13 Joel Milesevic 34
14 Matthew Toth 34
15 Kurt Wightman 33
16 Daniel Banks 28
17 Michael Mahon 26
18 Aaron Watts 23
19 Jack Foley 21
20 Jacob Wright 19
21 Lachy Steen 19
22 Jayson Tough 17
23 Eddie Brown 15
24 Izak Maule 13
25 Luke Wilson 12
26 Nick Murray 0
26 Jacob Wright 0