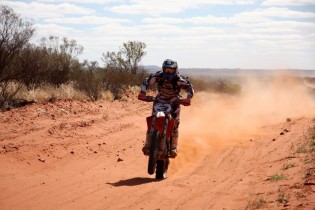 Soft sand and fast flowing stages test competitor endurance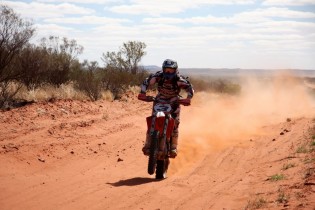 Today was the longest distance travelled for Australasian Safari competitors as they raced in three stages totalling 662 competitive kilometres in a looped course around Laverton in Western Australia's northern gold fields.
Undeniably it was South Australian Shane Diener's day, winning all three stages on his Yamaha WR450. Jacob Smith and Todd Smith swapped second place in the stages, with Jacob second fastest in two of the three. Todd Smith is still in the overall moto lead by approximately 10 minutes.
"Today was pretty fast and the navigation wasn't too tricky. We caught a bit of rain, there were pools of water on the track but this didn't cause any problems. The bike is going well which helps!" Diener said.
The Smith brothers from country New South Wales both enjoyed the sandy tracks and fast pace and are enjoying both being on the same team this year.
"Today was fun, I enjoyed it," Todd said. "I like going fast. The only downside is it's hard to increase lead-time when the navigation is easier.
"I'm happy to have a bit of a gap now that we're over half way so I can ease off a bit."
Jacob also commented on the day. "It was a bit tricky at the start, but after that the navigation was straight forward.
"It's heaps better this year being in the same team as my brother Todd as we can help each other out.
"Todd is in the hot seat and the race is really his to lose now," he said.
Rod Faggotter is managing to hold onto fourth fastest position despite having a broken hand sustained in Leg 2.
Dakar champion and first-time Safari entrant Cyril Despres is holding onto fifth position overall and is still getting on top of a different style of racing.
"This is not the race I was expecting and I am taking it like a training day – not pushing to ride as fast as possible. I enjoyed the sandy tracks and was able to test the bike a bit," Despres said.
Overall Standings- After Day 4
1st Todd Smith – 17.05:57 (Honda)
2nd Jacob Smith – 17.15:50 (Honda)
3rd Shane Diener – 17.16:19 (Yamaha)
4th Rod Faggotter – 17.35:19 (Yamaha)
5th Cyril Despres – 18.06:14 (KTM)
6th Damien Grabham – 18.17: 39 (Husberg)
7th Ben Williams – 19.00:34 (Honda)
8th David Schwarz – 19.23:43 (Husberg)
9th David Geeves – 19.58:50 (Honda)
10th Russell Scooble – 20.00:55 (Honda)