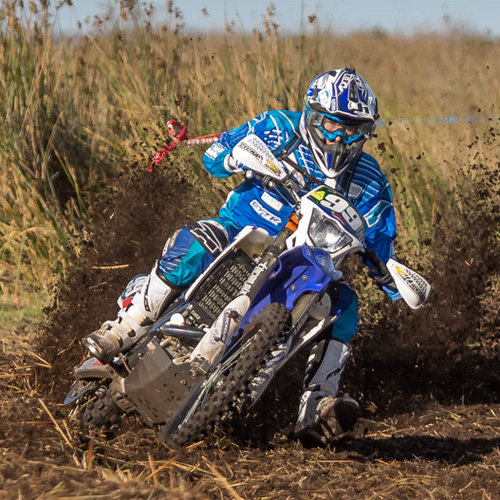 Active8 Yamaha's Josh Green and AJ Roberts came out on top of their respective classes at today's round six of the Yamaha Australian Off-Road Championship (AORC), held at Corner Inlet, Victoria.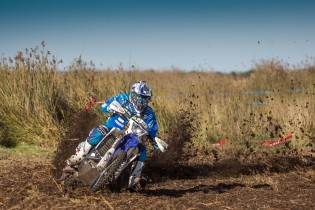 Green, 22, from Nelson Bay (NSW) won the hotly contested Championship E2 Class by about 30-seconds after six sprint laps aboard his WR450F.
"After my Outright win yesterday and my class win today, I couldn't ask for a much better weekend," Green said.
"It was an awesome track and a good set up. The track was really tough after getting chewed up yesterday so it made for a good, challenging event and I like that.
"I'm looking forward to the next rounds of the AORC and hopefully gaining some more points towards the championship.
"I'm sitting third Outright now behind Daniel Milner and Chris Hollis… we've got a bit of a break again until the South Australian rounds, but I'll be keeping busy.
"We are driving straight to Alice Springs now to get ready for the Finke Desert Race, which is being held on the June long weekend – in two weeks' time.
"This will be my first Finke and I'm super excited. I want to achieve a good, solid position – qualify well and get down and back safely."
Roberts, 30, from Ningi (QLD) finished first in Championship E3 by about 10-seconds, ahead of a second-placed Geoff Braico.
The team's Championship E1 rider, Tom McCormack, finished just shy of the podium in his class, coming fourth and 10th Outright.
For full results from the weekend, visit: http://www.mylaps.com/en/events/902130
The 2013 Yamaha AORC is a 12-round championship held over six weekends. Rounds seven and eight of the championship will be held at Coonawarra (South Australia) from June 29th to 30th.
Round seven will be ran in cross-country format (class mass start, most championship classes race for three hours flat out). Round eight will be ran in sprint format (several laps of the bush/motocross track racing against the clock). Full details here: www.ma.org.au
The Active8 Yamaha Yamalube Racing Team is proudly supported by: Active8 Electrical and Refrigeration, Yamaha, Yamalube, MotoBarn, GYTR, Force Accessories, Michelin, AXO, LKI clothing, Tallon, Safari tanks, Goodridge, Bazzaz, Protaper, Kustom MX Graphics, Just One Helmets, DID, Cycra Plastics, Etnies, KCTools, Race Tech, Eks Goggles, Falco boots, Three Six Motorsports , Uni Filter and Voss Signs.
Check out the new team video: http://www.youtube.com/watch?v=s1e_9Xjzbjc
For more information on Yamaha please visit http://www.yamaha-motor.com.au/
Yamaha AORC Round Six
RESULTS
1. Daniel Milner  YAMAHA  Champ 1 CLASS WINNER
2. Josh Green  YAMAHA  Champ E2 CLASS WINNER
3. Chris Hollis  E2
4. Glenn Kearney  E1
5. Stefan Merriman  YAMAHA  Champ E2
6. Jarrod Bewley  E2
7. Alex Stephenson  E2
8. Peter Boyle  E1
9. Scott Keagan E2
10. Tom McCormack  YAMAHA  E1
11. AJ Roberts  YAMAHA  Champ E3 CLASS WINNER