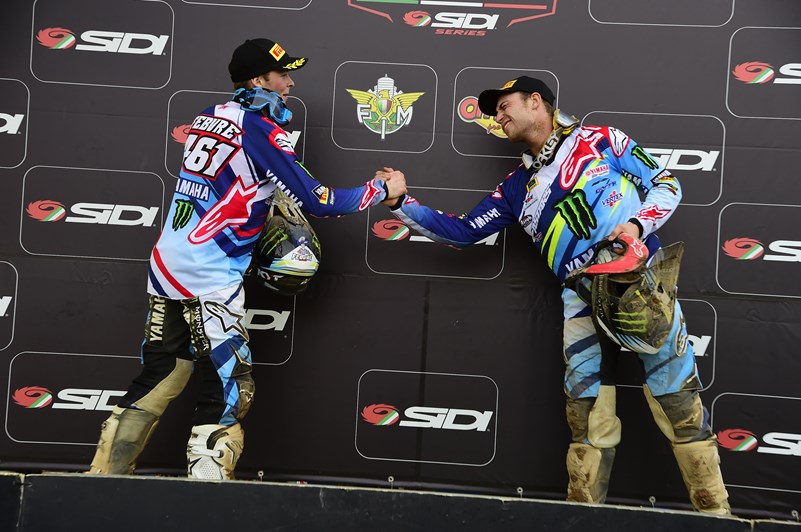 Massimo Raspanti – Monster Energy Yamaha Factory MXGP Team Manager has spoken about his team's first hit out in Italy.
By Hayden Gregory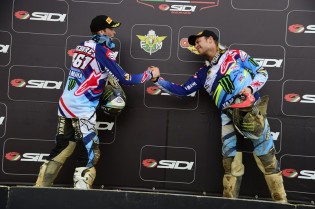 The first round of the Italian Championships were held on the weekend and provided Yamaha riders Romain Febvre and Jeremy Van Horebeek the perfect opportunity to test their race skills.
In the first MX1 race the pair finished 1-2 with Febvre taking overall honours. In the second elite race the Yamaha riders were content to follow Russian Evgeny Bobryshev around the track claiming a close second and third.
Massimo Raspanti was pleased with the hit out and can take a lot of positives out of the result.
"It was a difficult day, and the race had a lot of very good riders who were riding at different speeds, but for the first competition of the new season with so many good riders the Italian National Championship in Alghero was a good test for Romain and Jeremy after the break to see where their preparations are and what remains to be done."
"It was the first time this year we could see what the YZ450FMs would do in competition, the first time we could test the preparations, and we saw that it was all something to make us happy about the progress, both for the riders and for the bikes." 
"Jeremy moved up from his start position midrace in the MX1 to take advantage of other riders' mistakes and finish behind Romain on the podium, and we're happy with the results. In the Elite race Romain started in third and Jeremy in fifth and both had really good speed, but Romain was content to follow Bobryshev and not to take any risks and he only pushed really hard in the finish where he was caught behind some lapped riders in the last 200m." 
The team will look to continue their MXGP build up in the Italian Championship fine tuning the YZ450FM to be a front runner in the 2016 season.