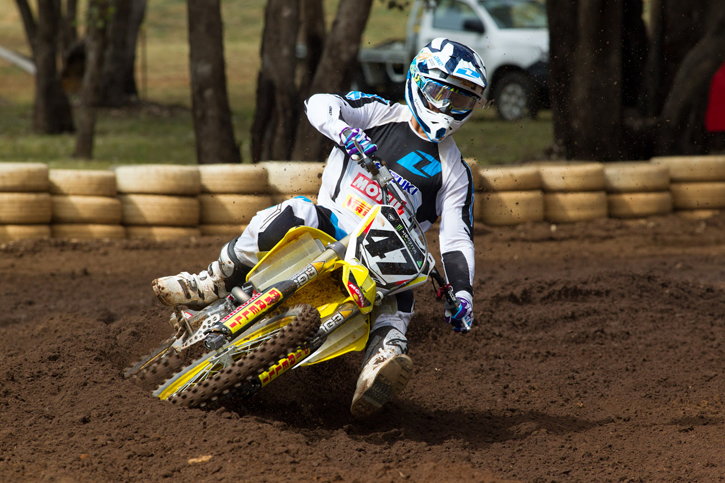 Motul Pirelli Suzuki has claimed a consistent results haul at Coonabarabran's second round of the MX Nationals, Australian Motocross Championship, on 14-15 April in New South Wales.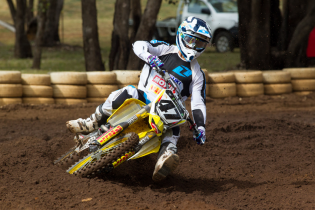 Kiwi contender Cody Cooper raced to a solid sixth place overall in the premier Pro Open class aboard the factory-supported RM-Z450, claiming sixth in moto one, fifth in moto two and a fighting fourth in the final moto of the round.
The result sees Cooper remain eighth in the series, however he's confident that the boost in form following round one will give him momentum as the series continues.
"I definitely felt a lot better than the first round, where the heat got to me," Cooper commented. "I pretty much had the holeshot in the first race but I stalled it and it's a hard track to pass on. I'm happy for sure, getting better and better. I'm a fan of the next track at Wonthaggi, so we'll see what happens there."
Team Pro Open newcomer Todd Waters again displayed the speed required to win races in 2012, however a series of frustrating mishaps including bad starts forced him to settle for 10th overall.
Waters did however ride to fifth in the final moto after piecing it together, gaining vital championship points and now sitting seventh overall after two of 10 rounds.
"This weekend was a little disappointing for me," Waters admitted. "In the first two motos I had the speed coming from the back of the pack and dropped it twice – that put a halt to my progress.
"In the third moto I just didn't feel confident, so I rode to a comfortable fifth place for points. I look forward to round three and trying to make back the points I lost today in the series."
Pro Lites rider Scott Columb improved to a strong sixth place overall for the round as he continues to adapt to the Motul Pirelli Suzuki RM-Z250 after being called into the team as a replacement for injured regular Steven Clarke.
Columb climbed the points ladder to 11th in the standings after finishing with 6-3-8 placings for the round, enjoying his first real taste of success in his maiden full season of Australian competition.
"I've been putting in a lot of work and the bike feels really good," Columb said. "The track this weekend was a lot of fun and my finish in the second moto gives me a lot of confidence heading into the rest of the season."
Wonthaggi in Victoria will host the third round of the season on 28-29 April.
Round Two 2012 Australian National Motocross Championship Results
Pro Open Overall Results:
1. Josh Coppins 63
2. Tye Simmonds 56
3. Jake Moss 55
4. Jay Marmont 54
5. Brad Anderson 50
6. Cody Cooper (Motul Pirelli Suzuki) 49
7. Lawson Bopping 48
8. Daniel McCoy (Suzuki) 40
9. Daniel Reardon 39
10. Todd Waters (Motul Pirelli Suzuki) 35
Pro Lites Overall Results:
1. Luke Styke 75
2. Kirk Gibbs 56
3. Kade Mosig 53
4. Cheyne Boyd 52
5. Ford Dale 48
6. Scott Columb (Motul Pirelli Suzuki) 48
7. Errol Willis (Raceline Pirelli Suzuki) 46
8. Justin McDonald 40
9. Ryan Marmont 39
10. Josh Cachia 36
Pro Open Championship Standings (after 2 of 10 rounds):
1. Josh Coppins 125
2. Jake Moss 101
3. Jay Marmont 95
4. Brad Anderson 94
5. Tye Simmonds 94
6. Lawson Bopping 89
7. Todd Waters (Motul Pirelli Suzuki) 89
8. Cody Cooper (Motul Pirelli Suzuki) 87
9. Ben Townley 75
10. Daniel Reardon 72
Pro Lites Championship Standings (after 2 of 10 rounds):
1. Luke Styke 132
2. Kirk Gibbs 119
3. Ford Dale 110
4. Kade Mosig 97
5. Josh Cachia 92
6. Justin McDonald 88
7. Cheyne Boyd 87
8. Adam Monea 80
9. Errol Willis (Raceline Pirelli Suzuki) 76
10. Ryan Marmont 67
11. Scott Columb (Motul Pirelli Suzuki) 65