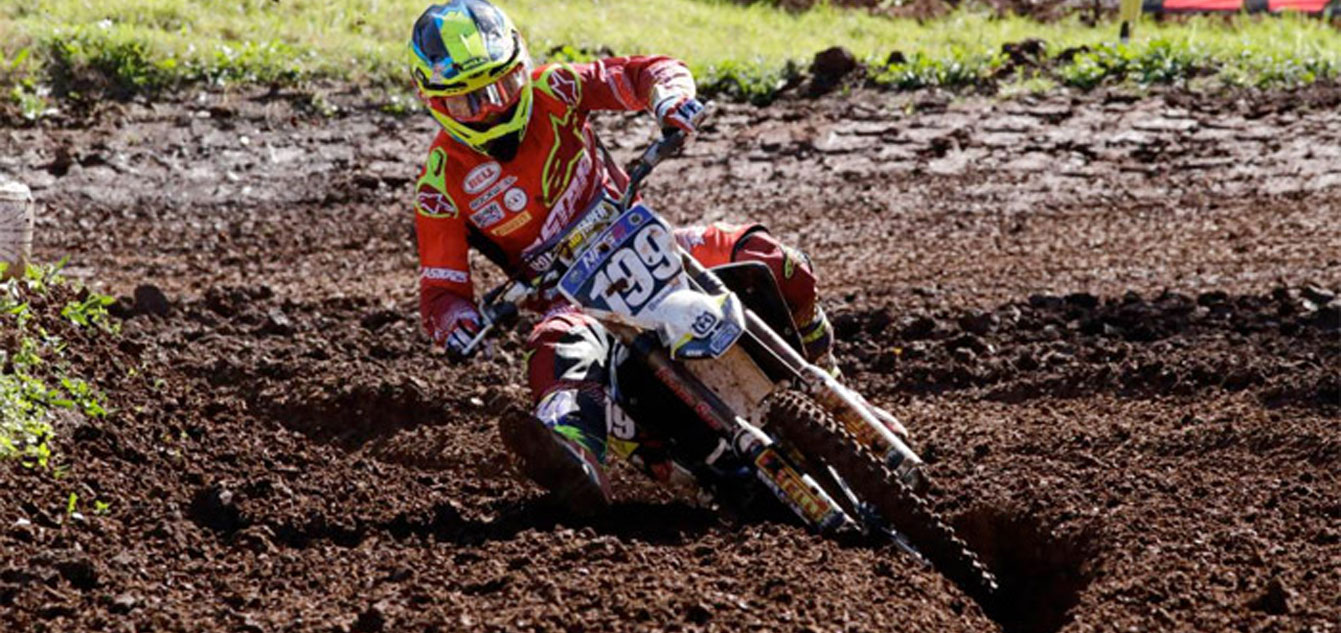 The Husqvarna rider will enter the final round with the red leader's plate.
By Hayden Gregory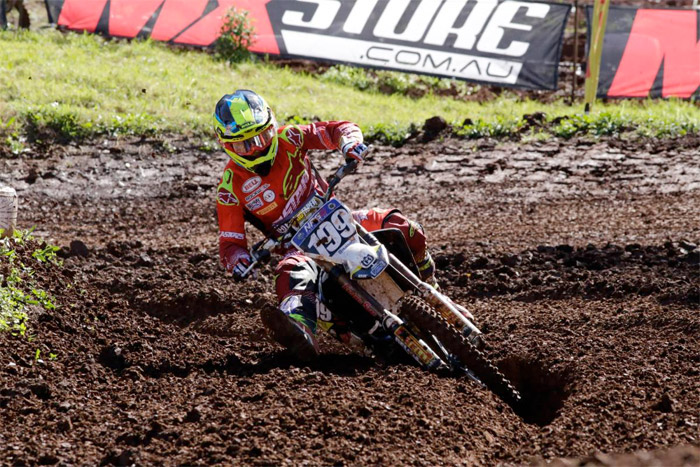 Nathan Crawford impressed at the penultimate round of Motul MX Nationals, finishing with a 1-2 scorecard to top his class. Prior to the Echo valley round, Crawford was tied on equal points with DPH Motorsports Jed Beaton who would finish the day in third.
In the first moto, Jayden Rykers claimed the holeshot before Kyle Webster quickly assumed the race lead. Two laps later and Crawford became the third leader in as many laps, showing the speed that has him considered a serious championship threat.
Webster soon ran into trouble, wheeling his bike off the track for a DNF while Rykers, Caleb Ward and Wade Hunter battled for second position. Red plate holder Jed Beaton was missing from the main action all the way back in seventh place.
Out in front Crawford continued to tick off laps, piecing together a great race to take the chequered flag by eleven seconds. Wilson Todd won the battle for second place with Rykers holding off fast finishers Ward and Beaton for third.
In moto two, Dylan Wills claimed the holeshot before going down early handing Todd the lead closely followed by Crawford and Ward. The top there began to pull away from the pack leaving Beaton with some work to do back in fourth if he wanted to retain the red plate.
The running order continued until lap ten when Ward decided to make his move on Crawford slowly closing in before making the decisive pass. With only one lap left, disaster struck leader Todd with his bike stopping in the middle of the track. Ward took advantage of the mishap shooting into the front and claiming the chequered flag. Crawford claimed second place with Beaton also benefiting in third.
Crawford finished the round in top spot, scoring the overall championship lead with one round left to race.
"I'm feeling so good after today. I'm loving being up here in Queensland racing in front of all my friends and family, and it was a really solid day for me," Crawford shared.
"I qualified fastest and won the first moto then got second in the second moto, so it was a pretty perfect weekend.
"If someone had of told me at the first round that this is where I'd be at Toowoomba I wouldn't have believed you – I'd only been on the bike a couple of weeks after injury so that makes this feel even better.
"Coming in to the final round now, I love Coolum, its one of my favourite tracks so I'm just really excited, and looking forward to next weekend."
Crawford now has an 11 point buffer on Beaton in second place with all eyes set to be fixed on the pair next weekend in Coolum.
Motul MX2 round nine results
1) Nathan Crawford – 67 points
2) Caleb Ward –  63 points
3) Jed Beaton – 56 points
4) Kale Makeham – 50 points
5) Dylan Wills – 48 points
6) Keiron Hall – 46 points
7) Hamish Harwood – 45 points
8) Tomas Ravenhorst – 43 points
9) Joel Wightman – 42 points
10) Aaron Tanti – 38 points
Motul MX2 Championship Standings
1) Nathan Crawford – 574 points
2) Jed Beaton – 563 points
3) Caleb Ward – 555 points
4) Jayden Rykers – 479 points
5) Wilson Todd – 444 points
6) Dylan Wills – 429 points
7) Hamish Harwood – 398 points
8) Joel Wightman – 383 points
9) Kyle Webster – 324 points
10) Wade Hunter – 324 points