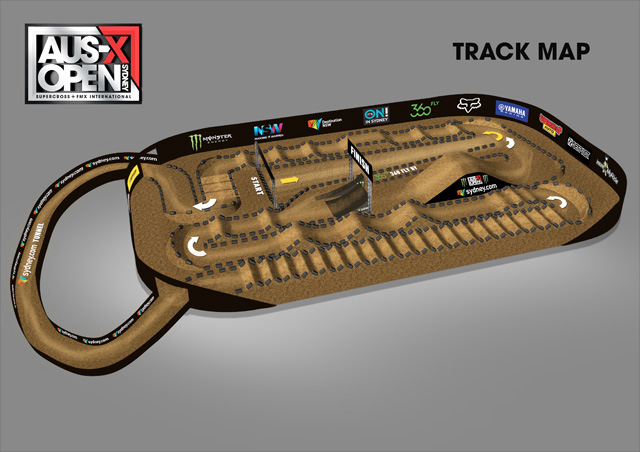 A revolutionary track has been revealed ahead of the 2015 AUS-X Open set to take place in Sydney on November 28 and 29.
By Hayden Gregory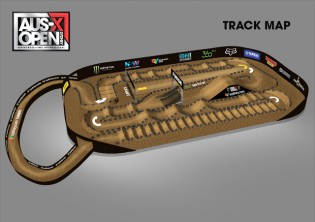 In a world first, Sydney will feature a '360fly by' lane which can only be used once acting as a race shortcut. This lane will undoubtedly create an element of strategy which we have never seen before in racing adding to the appeal and excitement of the event. Not that dissimilar to the Joker Lane as seen in the recent Monster Energy Cup, the '360fly by' will actually advantage riders if used correctly and purposefully.
Adding to the revolutionary design will be a 100m tunnel which will be the first tunnel used in world supercross competition for 2015. The riders will disappear from crowd view as they are tested across varying track elements and the crowd will be left in limbo not knowing what is happening and if a pass has been made.
In another twist the track will feature FMX style steel take off ramps allowing riders to go higher and longer which the crowd will love. Racers will achieve substantial heights as they hit the final finish line jump, clearing a 65 foot gap onto a purpose built 5m tall dirt landing ramp.
All Phones Arena is Australia's second largest indoor arena and event organisers are planning to use the space to its full potential. 3,500 tons of clay has been used set to create a viewing experience like no other.
AME management, the promoters of the event have really focused on entertainment in this track design, with an eye to revolutionise supercross and create a viewing extravaganza.
"Our aim from the get go with the AUS-X Open has been without a doubt, to change the game and offer a completely new and unique entertainment spectacle for fans." stated Adam Bailey – Event Director.
"With the addition of the world's first '360fly by', the Sydney.com tunnel and the only event in the world with steel finish line jump; we know spectators are going to be truly stunned by what they see on both nights of racing and entertainment. We absolutely cannot wait!"