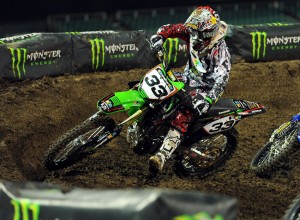 In front of a huge crowd of 58,782 at Qualcomm Stadium in San Diego on Saturday night for round six of the 2012 AMA Supercross, both Kyle Chisholm and Cody Mackie brought home their best SX Main finishes of the season capping off a solid weekend for the DNA Energy Drink / JWR / Kawasaki team.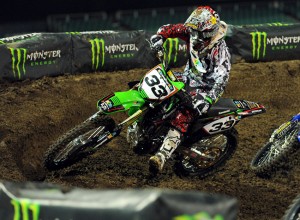 Chisholm led the charge finishing eighth with Mackie crossing the finish line in 12th.
Leading up to the SX Main, Chisholm finished 11th quickest in his SX Group A first qualifying practice with a lap time of 48.230. Mackie, who was in SX Group B, finished his first qualifying practice third quickest with a lap time of 49.764. Both riders went on to pick up speed in their final qualifying practices with Chisholm finishing 13th fastest with a lap time of 47.811 and Mackie finishing third again in his group with a lap time of 49.593.
Those times put Chisholm 13th fastest overall in Heat 2 with the seventh gate pick and Mackie 24th fastest overall in Heat 1 with the 12th gate pick. Mackie and Chisholm both put together solid Heat races with Mackie finishing 6th in his Heat and Chisholm finishing 7th in his, giving the DNA Energy Drink / Jeff Ward Racing team two entries in the SX Main.
Chisholm's eighth place finish in the SX Main keeps him 13th in series points with 56, eight points outside of the top-10. Grant's return from injury will continue to be evaluated on a week-to-week basis with Mackie filling-in until his return. Up next for the DNA Energy Drink / Jeff Ward Racing team is Dallas, TX for round seven on Saturday, February 18th.