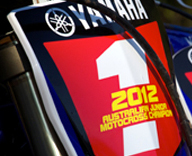 YJR FORM 11 RIDER ASSAULT IN 2013
For Immediate Release: Thursday, January 24, 2013.
Yamaha Junior Racing (YJR) returns for the 2013 motocross season with a strong 11 rider line up across five states in Australia's largest motocross junior development program.
The YJR setup, with its hands-on approach including an ex- professional racer overseeing the development of the riders and bikes, has proven to be ultra-successful with several state and national championship victories in 2012. Each team has its own dedicated manager who is at the track working with the riders to provide the best environment for not only racing but also maturing as a person in sport.
Again the full range of Yamaha's motocross bikes will be in action, from the small wheel YZ85, to the screaming YZ125 and the YZ250F with riders ranging from nine years old through to 15.
"The YJR program has been a great asset to Yamaha and the success both on and off the track has been very rewarding," states Yamaha Motorsport Manager, Ray Howard. "In 2012, the teams won many state championships as well as two national championships and have a huge presence in the junior racing scene."
"We believe YJR plays a vital part in developing Australian junior motocross talent and Yamaha is happy to continue our involvement in 2013," Howards ends.
Each state team competes in their respective regional and state based events before all coming together for the Australian Junior Motocross Championship in September. On top of that, a host of selected events, such as the Australian Supercross Championships are also contested and give the riders a wide variety of racing and experience.
Racing gets under way in February in most states and the teams can be followed on Facebook;www.facebook.com/YamahaJuniorRacingAus
Race Team Structure
YJR – Victoria
Manager: Cameron Taylor
Riders: Cody Dyce (YZ85) / Jed Beaton (YZ125/ YZ250F)
YJR – NSW
Manager: Shane Booth
Riders: Brendan Walther (YZ85/YZ125) / Dylan Heaton (YZ125/ YZ250F)
YJR – WA
Manager: Peter Strickland
Riders: Matt Fabry (YZ85) / Liam Whisler (YZ250F)
YJR – SA
Manager: Shane Metcalfe
Riders: Oscar Maule (YZ85) / Thomas Larwood (YZ85) / Nick Day (YZ125/ YZ250F)
YJR – QLD
Manager: Scott Bishop
Riders: Wilson Todd (YZ125/ YZ250F) / Nathan Crawford (YZ125/ YZ250F)