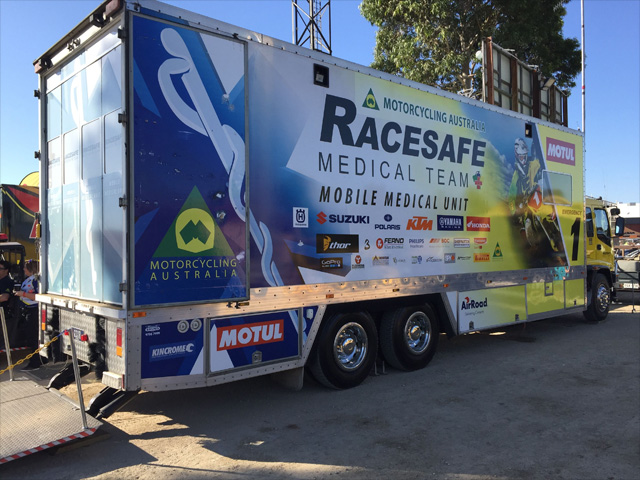 The high-flying 2015 Australian Supercross Championship presented by Penrite Oils is a spectacular sport where man and machine are pushed to the limits, so it's reassuring to know competitors take part under the watchful eye of Racesafe, Australia's leading specialised motorsport medical service.
Press Release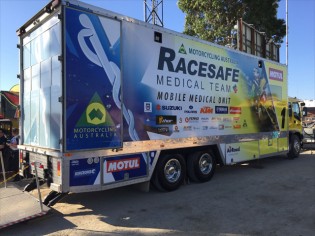 Over the past 20 years Racesafe has served as the Official Medical and Safety Team to many of Australia's major motorsport events, including the Australian Superbike, MX Nationals and Supercross Championships, in addition to local Moto GP, World Superbike and V8 Supercar races.
Racesafe provides a full range of motorsport emergency services, which includes a highly specialised and experienced team of trauma doctors, paramedics, nurses, physiotherapists and rescue personnel who donate their time and expertise to ensure the safety of motorsport competitors.
"From our earliest stages of planning the 2015 Australian Supercross Championship presented by Penrite Oils, the involvement of the Racesafe team was always a high priority," explains Australian Supercross Championship series co-ordinator, Mark Luksich.
"Time and time again the Racesafe team have been on-hand to assist competitors when they need it most: in the time of an on-track medical crisis.
"Knowing the Racesafe team is an integral part of the 2015 Australian Supercross Championship brings an added level of peace of mind to the racers, and, of course, their families and friends."
For Racesafe Director of Emergency Services, Simon Maas, his organisation's involvement with Supercross continues Racesafe's extensive support of Australia's leading motorcycle sport categories.
"Supercross is one of the most exciting forms of motorcycle racing of all, but it comes with both thrills and spills," Maas explains.
"Racesafe has a highly skilled team that is experienced at responding to crashes and treating the serious injuries that come from the high speeds and big jumps of Supercross.
"The riders contesting the Australian Supercross Championship are serious athletes, competing at an international level, and as such their medical care must be of an international standard, which Racesafe provides.
"Everyone at Racesafe is excited to be an important element of the 2015 Australian Supercross Championship."
The Racesafe team operate out of a purpose-built, fully-equipped Mobile Medical Unit that travels from event to event. This world-class facility provides an on-site Emergency Medical Centre, physiotherapy facility and Mobile Command Unit for the Racesafe Medical Team.
Further, Racesafe Medical Buggies equipped with Advanced Life Support Equipment allow the Racesafe team to gain immediate access to incidents anywhere around the race track.
More details of the world-class and extensive facilities the Racesafe team offers are available by viewing the www.racesafe.com.au web site.