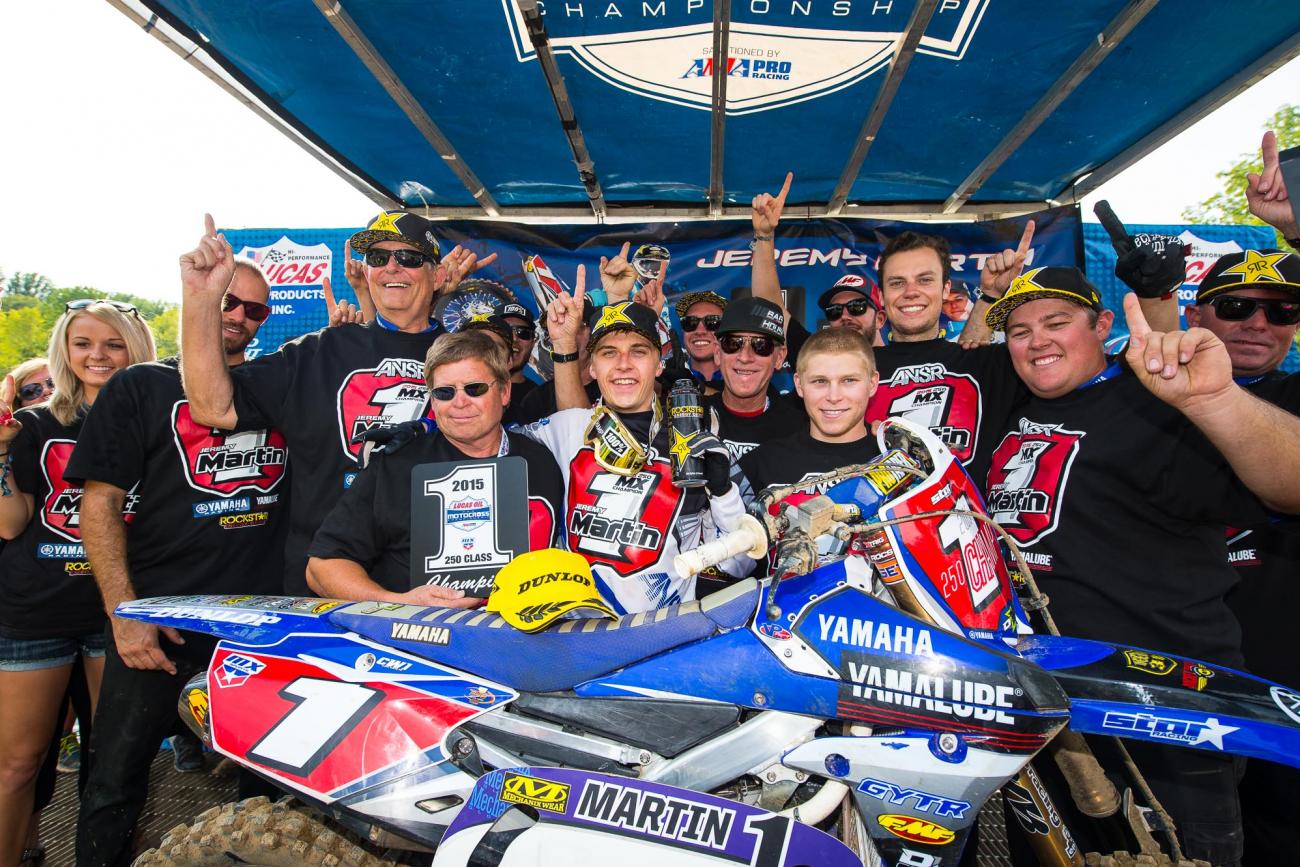 The final round of the 2015 Lucas Oil Pro Championships started with one of the closest title fights we have ever seen in the 250 class – a head to head showdown between Jeremy Martin and Marvin Musquin.
Story by Hayden Gregory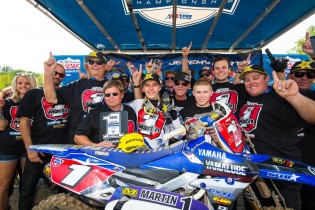 As the gates dropped for the opening moto, Yamaha's Cooper Webb moved to the lead whilst most fans kept their eyes fixed on the battle between Martin and Musquin. The battle we were all expecting however, ended prematurely as the riders approached the trademark uphill section named 'Godzilla'. In devastating circumstances, Musquin suffered technical issues and was forced from the race as his KTM became unresponsive.
Musquin appeared shattered as he pushed his bike off the track realising he had lost any chance at the 250 title. With the knowledge that Musquin was out of contention, Martin knew that a moto win would secure the championship. This looked like a real possibility as he stormed into second place behind Cooper Webb.
Unfortunately for Martin, Webb was having an outstanding race pulling out to a double digit lead midway through the moto. Martin soon had other things to worry about as Yamaha rider Aaron Plessinger made an incredible surge through the field to eventually pass the Yamaha rider and take second place on lap nine.
Plessinger's impressive run continued lap after lap as Webb's lead was reigned in. As the final laps came around only a few bike lengths separated the two, however Webb was able to hold on to secure the win. Martin continued to lose ground after Plessinger's pass with KTM's Jessy Nelson also overtaking the champion to finish in third place. Martin settled for fourth place with a 20-point championship lead over the unfortunate Musquin.
Yamaha's Martin knew the equation. With a 20-point lead he needed only finish in 15th position or better to secure his second straight Gary Jones Cup.
As moto two started, Musquin was in desperate need of both a race win and some luck. Kawasaki's Joe Savatgy took control of the race alongside Jessy Nelson with the pair setting a quick pace out front. It was Plessinger who once again made it his mission to catch the leading riders. Lap four saw leader Nelson come crashing down to lose a number of positions before Plessinger passed Savatgy on lap seven to take first position.
The rookie rider pulled away to win the first moto of his career, an impressive 10 seconds ahead of Savatgy. Musquin salvaged his day with an impressive third place before waiting fingers crossed to see where Martin would come in. Unfortunately for the Frenchman the mishap in moto one proved costly with Martin finishing in ninth place to win his second straight 250 class championship by 12 points.
Martin was ecstatic with his achievement and reflected on the incredibly close season.
"What a crazy year. Marvin [Musquin] was really strong this season and pushed me to my limit. He's a great competitor. The first one was sweet. I'd say this one was even sweeter. It was a lot harder to me; it felt a lot harder," explained Martin.
"It was a weird summer. I'd get great starts and good finishes, but I also had trouble at times when Marvin would do well, so it was a constant battle until the end. This year was a much tougher championship to win. It was tough last year, but this was a dogfight all season long and I'm even more proud to end the year on top."
Musquin finished the championships positively, enjoying his second place achievement rather than dwelling on what could have been.
"Unfortunately my bike had a problem. It was the only time I had an issue all year long. It is something we would have never expected to happen but that is part of racing.
"It was a great year. The best year of my career [in the U.S.] so I feel like I can't really complain," he said. "My team was fantastic all season. We came into the first moto [today] really strong and I was ready to battle."
Martin was able to celebrate his title win alongside rookie teammate Aaron Plessinger who was able to win a career first overall victory.  His 2-1 effort made him the 77th different winner in 250 class history.
"This is amazing. I only live about two-and-a-half hours from here [in Ohio]," said Plessinger. "I was able to charge hard in both motos and it ended out working really well for me in the end. Today was a great learning experience. I'm just a rookie but I have many years ahead of me and I'm looking forward to continue improving."
Kawasaki's Joel Savatgy managed to finish as runner up in the final round (5-2) while Jessy Nelson rounded out the podium in third (3-6). Martin achieved sixth overall (4-9) with Musquin still managing to finish in tenth place despite a 40-3 round.
250 Class Moto Finish:
| | |
| --- | --- |
| 1st | Aaron Plessinger (2-1) |
| 2nd | Joey Savatgy (5-2) |
| 3rd | Jessy Nelson (3-6) |
| 4th | RJ Hampshire (8-4) |
| 5th | Matt Bisceglia (6-5) |
| 6th | Jeremy Martin (4-9) |
| 7th | Zach Osborne (10-7) |
| 8th | Christian Craig (9-8) |
| 9th | Cooper Webb (1-37) |
| 10th | Marvin Musquin (40-3) |
250 Class Championship Standings:
| | |
| --- | --- |
| 1st | Jeremy Martin – 491 |
| 2nd | Marvin Musquin – 479 |
| 3rd | Joey Savatgy – 348 |
| 4th | Zach Osborne – 330 |
| 5th | Jessy Nelson – 323 |
| 6th | Aaron Plessinger – 311 |
| 7th | Alex Martin – 288 |
| 8th | Matt Bisceglia – 256 |
| 9th | Shane McElrath – 248 |
| 10th | RJ Hampshire – 248 |