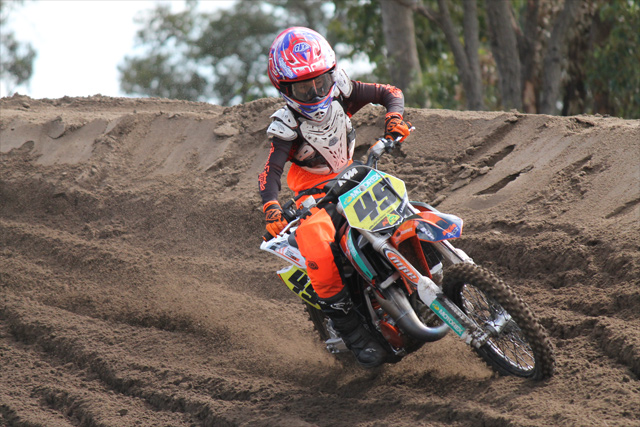 The junior pair have emerged as early front runners in the 85cc 2-stroke and 150cc 4-stroke 9-u12 classes.
By Hayden Gregory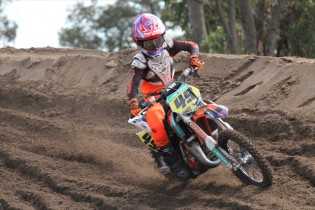 As the first official day of racing got underway there was no denying the excitement of all involved. From riders to parents the buzz in the pits was evident as the first engines roared to life.
As gates dropped in the 85cc 2-stroke heat the young riders made their intent known early. The lead changed a number of times in a very competitive race which saw Alex Larwood charge to the lead and hold onto it with two laps remaining, securing top qualifying time.
"I'm so happy to get the win this morning, I just need to get past two more qualifying races and then we'll go from there," Larwood said.
"I was hoping to get the win, I didn't get a good start but I got past the guys and finished the race. I've been trying to get the passes, get the gap and just go.
"The plan this week is I want to get a top three on both bikes and just go."
In the final qualifying race of the morning, Jett Lawrence proved unstoppable taking out the 85cc 2-stroke 9-u12 division by 26 seconds. This was a huge margin for a ten minute moto, stamping the young rider's presence in the competition.
85cc 2-stroke/150cc 4-stroke standard wheel 9-u12 years class heat one results and points:
Alex Larwood – 35 points
Cody Chittick – 32 points
Seth Manuel – 30 points
Billy Payne – 28 points
Liam Atkinson – 26 points
Noah Smerdon– 25 points
Myles Gilmore – 24 points
Dylan Vivian – 23 points
Evan Brownie – 22 points
 Brock Flynn – 21 points
 Lewis Callow – 20 points
 Rhylee Bevin – 19 points
 Jayden Slater – 18 points
 Jack Kitchen – 17 points
 Jordan Johnson – 16 points
85cc 2-stroke/150cc 4-stroke standard wheel 9-u12 years class heat two results and points:
Jett Lawrence – 35 points
Deegan Mancinelli – 32 points
Blake Hollis – 30 points
Levi Rogers – 28 points
Benny Novak – 26 points
Luke Bell – 25 points
 Brad West – 24 points
 Zachary Watson – 23 points
 Kipp Adams – 22 points
 Harrison Foster – 21 points
 Connor Rossandich – 20 points
 Taj Gow-Smith – 19 points
 William Kennedy – 18 points
 Ryder Kingsford – 17 points
 Harrison Huber – 16 points