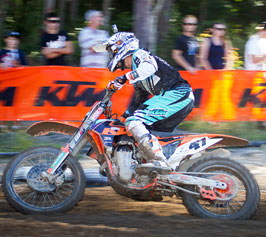 Motorex KTM Racing Team rider Todd Waters has executed the best possible start to this year's MX Nationals series, which kicked off today at Raymond Terrace, NSW.
PR – 14/04/2013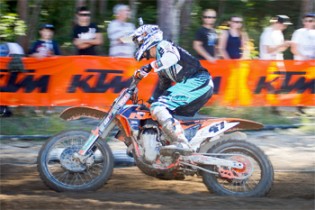 The North Queenslander qualified fastest, won the Go Pro Super Pole by more than a second with a scintillating lap of 1.59.623, then backed that up with victory in both motos to win the day from Cody Cooper and Billy Mackenzie.
Waters' sensational form saw him win the first moto by more than ten seconds from Jay Marmont (Kawasaki) and Cody Cooper (Suzuki), then back that up in the second with an even bigger margin of over 18 seconds from Billy Mackenzie (Yamaha) and Cooper.
For the first in-house KTM motocross outfit for three years, it was the perfect result to start the series, and sees Waters 10 points clear at the head of the MX1 table.
Waters' team mate Kirk Gibbs had his MX Nats premier class debut hindered by the effects of a shoulder injury suffered a fortnight ago in New Zealand, the South Australian battling hard all day for 13th and 11th places which Team Manager Rob Twyerould assures is nowhere near Gibbs' potential when injury free.
ROB TWYEROULD Team Manager– "A really great day for us today. Todd was just incredible. His fitness was great, as was his race craft – he found lines no-one else got onto. He was only fifth each time out of the gate but by the first or second lap he'd be leading. Our pre-season trip to New Zealand really made him sharp, but now he's just gone to another level.
"Unfortunately for Kirk the shoulder injury and not being able to ride for two weeks made it tough for him with the weakness and pain in his shoulder and he seemed to ride a bit tentatively. But his potential is much greater than we saw today and with the next round being at his home track in South Australia I think that will be a big thing for him.
"All up I'm very happy. All the guys have done an incredible job."
TODD WATERS #47– "It was a pretty good day for us, we did exactly what we came to do and I'm very happy for the team. For me, I'm here to get a good job done and build on the way I ride so I can be a better rider when I get to Europe and from that point of view it was a perfect start. I only got mediocre starts today but I was able to get through quickly and start to make a gap and ride my own race. It was a really tough track to race on; very slick and hard packed and one-line which made it really tough to pass on, so it was good that I was able to. I really loved my new bike too. It's exactly what I wanted to ride – it's an animal. I'm excited about going to Murray Bridge. I'm not known as a hard-pack rider so it was good to win here, but Murray Bridge is one of my favourite tracks so I'm looking forward to it."
KIRK GIBBS #5 – "I'm a bit down about today but it's gonna be alright. I didn't gel too well with the track here and I needed to flow a lot more than I did, but there were some considerations. I carried an injury in to the event and then got caught in someone else's crash in practice which didn't help the way my shoulder felt. Then in the race I pumped up real bad when I was running sixth or seventh and drifted back to 13th. Race two was a little better and we got through uninjured and scored some points, so we'll go home and work on it and do it better next round. Murray Bridge is a place I've done well at in the past and I know that track pretty well."
The next round of the Monster Energy MX Nationals takes place at Murray Bridge, SA on April 28.
For more information on KTM motorcycles visit www.ktm.com.au or www.facebook.com.KTMAustralia
CHOICE MOTORSPORTS KTM
The rookies of the distributor-backed MX2 team Choice Motorsports KTM had an up and down day at the office, with 2012 MXD champ Kayne Lamont 6th and 10th across two motos for 8th on the day, while team mate Dylan Long battled to 14th in Race One before a freak DNF in Race Two when he drowned the bike in a puddle, for 22nd on the day.
ANTHONY GILES – Team Manager: "It was a tough day at the office for the boys on their MX2 debut. Kayne had a great, successful start and comeback from injury, but poor Dylan, it wasn't his day and we look forward to the next round."
2013 Monster Energy MX Nationals, Australian Motocross Championship Round 1 – Raymond Terrace, NSW
Go Pro Super Pole (MX1) Official results:
1 Todd Waters KTM 01:59.623
2 Billy Mackenzie Yamaha 02:00.702
3 Jake Moss Suzuki 02:01.559
4 Tye Simmonds Yamaha 02:01.574
5 Ford Dale Honda 02:24.329
MX1 Overall Results:
1. Todd Waters, 75
2. Cody Cooper, 60
3. Billy Mackenzie, 58
4. Jay Marmont, 54
5. Matt Moss, 53
6. Tye Simmonds, 52
7. Lawson Bopping, 50
8. Jake Moss, 47
9. Adam Monea, 46
10. Ford Dale, 43
11. Cody Mackie, 41
12. Kirk Gibbs, 37
13. Daniel McCoy, 37
14. Robbie Marshall, 36
15. Jacob Wright, 35