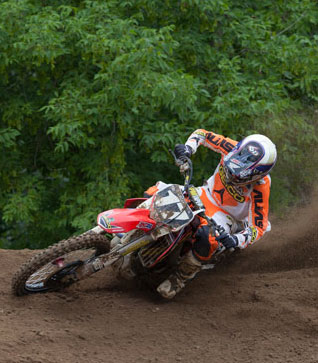 Eli Tomac's Streak Reaches 4 Motos with 250 Moto 2 Win at Spring Creek
Eli Tomac was unstoppable, racing through the pack after coming out in 10th place after the first lap of Moto 2 at Spring Creek.  Tomac flew by all the other riders to take the sweep and has put himself in the driver's seat for the championship with 3 rounds left in the 2013 Lucas Oil Pro Motocross Championship.

With two more today, Wil Hahn (19) is up to 7 Motorcycle Superstore Holeshots this year. (Photo: George Crosland)
Tomac had his second subpar start of the day but quickly made his way through the pack before passing Blake Baggett for 2nd place.  This set up the showdown that motocross fans have been waiting for: Tomac and Roczen duking it out for first place in a moto.  The showdown proved to be anticlimactic though, as Tomac briefly sized up Roczen, passed him easily, and built a 13 second lead for the win.
Roczen followed his DNF in the first moto with a second place finish in Moto 2. It was a gritty performance from the Red Bull KTM rider after his crash earlier in the day left him visibly shaken. He grabbed the lead from Baggett on Lap 5, but ultimately couldn't hold off the charging Tomac. With the rough start to the day and Tomac going 1-1, Roczen finds himself out of first place in the 250 Class points for the first time this season.  He'll have his work cut out for him if he hopes to make up the 28 points Tomac gained at Spring Creek.

Blake Baggett (1) led three laps and finished inside the top five for the first time in his last seven motos. (Photo: George Crosland)
Blake Baggett earned the final podium spot of the second moto to go 6-3 and wrap up 5th overall. So far unable to capture last year's magic in 2013, the Monster Energy/Pro Circuit/Kawasaki rider led at least one lap in a moto for just the third time this year. He became one of four riders to lead a lap in this one after passing Motorcycle Superstore Holeshot winner Wil Hahn on Lap 2.
Marvin Musquin finished in 4th to go 4-4, good enough for 2nd overall.  Jason Anderson came in 5th and with his second top five finish of the day grabbed the final spot on the overall podium. The Rockstar Energy racing rider was followed by Justin Bogle, Jeremy Martin and Wil Hahn. Hahn repeated his performance from the first moto: taking the holeshot, leading a bit, then drifting back to 8th.  Zach Osborne came in 9th, making it four GEICO Honda riders in the top ten, and Cooper Webb followed his DNF with a 10th-place finish.

Roczen (94) led four laps, but was no match for Tomac. (Photo: George Crosland)
Tomac is clearly riding better than anyone in the field at this point of the season and going forward we'll see if anyone can give him a fight for his newly acquired top spot. If he can avoid any big crashes, Tomac might not have much trouble holding on to that red plate all the way through Lake Elsinore.

Is this the last time we ever see Tomac run a black background? (Photo: George Crosland)

Marvin Musquin has finished 4th in 8 of 18 motos this year. (Photo: George Crosland)
Spring Creek 250 Moto 2 Results
1. Eli Tomac
2. Ken Roczen (-13.0 seconds)
3. Blake Baggett
4. Marvin Musquin
5. Jason Anderson
6. Justin Bogle
7. Jeremy Martin
8. Wil Hahn
9. Zach Osborne
10. Cooper Webb
11. Justin Hill
12. Adam Cianciarulo
13. Martin Davalos
14. Cole Seely
15. Darryn Durham
16. Alex Martin
17. Kyle Peters
18. Jimmy Decotis
19. Zack Williams
20. Jesse Wentland

Jason Anderson claimed his first overall podium spot of the year. (Photo: George Crosland)
Spring Creek 250 Class Overall Results
1. Eli Tomac (1-1)
2. Marvin Musquin (4-4)
3. Jason Anderson (3-5)
4. Jeremy Martin (2-7)
5. Blake Baggett (6-3)
6. Justin Bogle (5-6)
7. Wil Hahn (8-8)
8. Justin Hill (7-11)
9. Ken Roczen (35-2)
10. Zach Osborne (11-9)
11. Adam Cianciarulo (9-12)
12. Darryn Durham (10-15)
13. Cole Seely (12-14)
14. Martin Davalos (14-13)
15. Alex Martin (13-16)
16. Cooper Webb (37-10)
17. Kyle Peters (16-17)
18. Jimmy Decotis (17-18)
19. Kyle Cunningham (15-37)
20. Gannon Audette (18-36)

Jeremy Martin (77) finished in a three-way tie for 2nd overall, but fell on the losing end of the tiebreaker. (Photo: George Crosland)
Updated 250 Class Point Standings
1. Eli Tomac, 405
2. Ken Roczen, -27
3. Marvin Musquin, -71
4. Blake Baggett, -110
5. Zach Osborne, -144
6. Jason Anderson, -167
7. Justin Bogle, -196
8. Jeremy Martin, -198
9. Kyle Cunningham, -222
10. Cooper Webb, -235