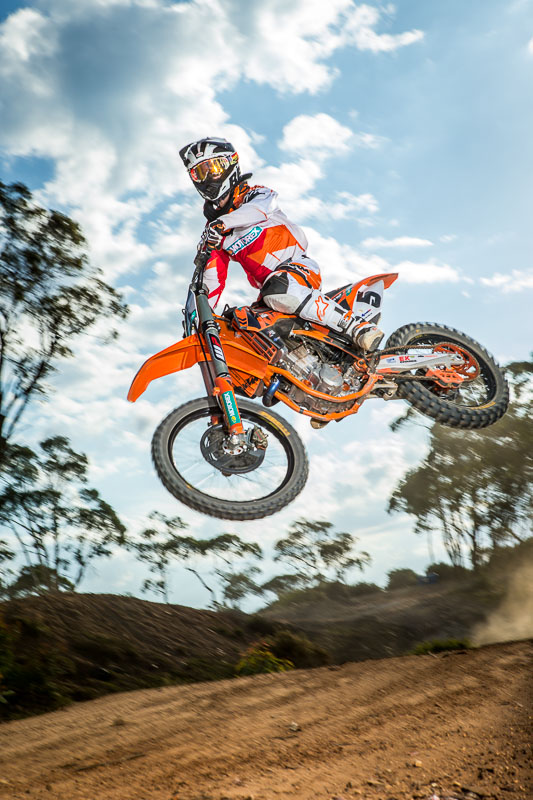 A famous man once said, "you can't guarantee victory, only deserve it", and in the field of motocross conflict, few riders would be more deserving than Motorex KTM's Todd Waters, who showed his champion's mettle yet again today as the MX Nats continued at Appin.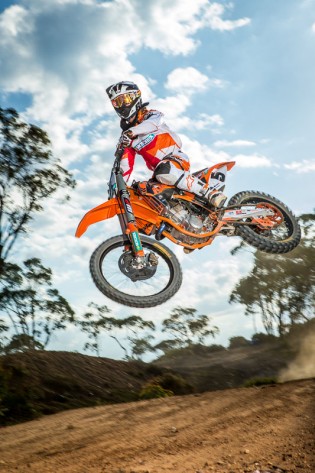 For the third round in a row the runaway winner of the first three carried in a significant injury and managed risk, pain, and diminished capacity to still emerge as championship leader – albeit by a scant four points.
Just a fortnight after breaking his collarbone at the Queensland championships, Waters was passed 'fit to compete' in a medical assessment and after posting seventh-fastest time in Go-Pro SuperPole, finished with 7th and 11th placings from the two motos.
While his team mate was being heroic, Kirk Gibbs was continuing his spectacular rise in the MX1 ranks in what is his first year in the top grade, posting his best ever finish in the class with a Moto 1 second, then backing that up with fourth in Moto 2 for his second Overall podium of the year.
Rob Twyerould – "Todd came in with a substantial injury management issue so the goal was to survive and grab points. The choice to ride today was totally up to him and it was a Herculean effort. He's very good at disguising how hurt he is but he admitted the strength just wasn't there as he hasn't been allowed to train, or do anything that could make him sweat, for the last two weeks. Todd always expects more of himself but to get through like that when there was always a risk of further damage and come away still with the championship lead is a fantastic effort. Kirk had a great day. He came in with confidence on the back of some great results and I said to him on the start line, 'I've got a good feeling about today'. He was probably unlucky in SuperPole, and his Moto 1 ride was fantastic; at no stage was he fazed by the pressure from Jake and he gapped him on the last lap to secure second. Moto 2 he wasn't great off the line but in Turn 3 he got around five guys and ended up in third challenging Mackenzie who defended very hard, and Monea passed them both. Kirk is now up to sixth and just 27 points off fifth so he's right there now and I'm very pleased for him."
Todd Waters: "We purely rode in defence mode today. The medical guys went to great care to tell me exactly what was at risk today if I crashed on it, so we kept it together and got through able to walk away from it, so now I'm looking forward to Hervey Bay in a fortnight's time. I'll have a week off then get back into the riding and hopefully go out on the track and start feeling like myself again. I want to say a massive thanks to Rob – we've had some misfortune come our way but he's always been so supportive which has made my job easier to focus on the things that matter. I really like working with him and my mechanic Ryan, they back me 100 percent and I hope to get back up there and reward them for it. There was a bit of pain today but you've gotta deal with that sometimes, it was more the muscle fatigue that was bothering me!"
Kirk Gibbs: "I probably could have done a little better in SuperPole today but on my lap Lawson fell in front of me and I had to go wide around him. In the first race I was second under pressure from Jake Moss, but it's a hard track to pass on and I tried to just focus on riding my own race. In the second I had a pretty good pace going but trying to get around Billy I got stuck in his pace which allowed Monea to catch us, so I need to work on that. I'm going better and moving forward which is the main thing. It's only my rookie year and as long as I'm at the pointy end, I'm happy. Things are a little harder in MX1 adjusting to the bike and the depth of talent, so to be running up near the front with these boys is something I'm just stoked about."
MX2 & MXD
In the MX2 category, KTM 250SX-mounted Kale Makeham leapt up three positions in the championship, finishing second overall after following up a sensational first moto win with a third in the second race, despite finding himself outside the top ten off the start.
In the MXD category for U19 riders, Hamish Harwood is joined by another KTM at the top of the table, after Jack Simpson won the day, moving into second overall just 19 points in arrears.
For more information on KTM Motorcycles, visitwww.ktm.com.au or www.facebook.com.KTMAustralia
Monster Energy MX1 championship standings (after six of 10 rounds): 1. Todd Waters 376 2. Matt Moss 372 3. Billy Mackenzie 340 4. Cody Cooper 331 5. Lawson Bopping 320 6. Kirk Gibbs 293 7. Adam Monea 285 8. Jake Moss 279 9. Tye Simmonds 273 10. Jay Marmont 241
Motul MX2 championship standings (after six of 10 rounds): 1. Luke Styke 403 2. Kale Makeham 320 3. Josh Cachia 305 4. Brock Winston 302 5. Luke Clout 285 6. Geran Stapleton 264 7. Takeshi Katsuya 260 8. Ryan Marmont 244 9. Dylan Long 227 10. Rhys Carter 209
Pirelli MXD championship standings (after four of eight rounds): 1. Hamish Harwood 244 2. Jack Simpson 225 3. Jesse Dobson 218 4. Joel Dinsdale 194 5. Jay Wilson 190 6. Corey James 180 7. Joel Wightman 179 8. Nick Scott 176 9. Logan Blackburn 166 10. Jake Emanuelli 134