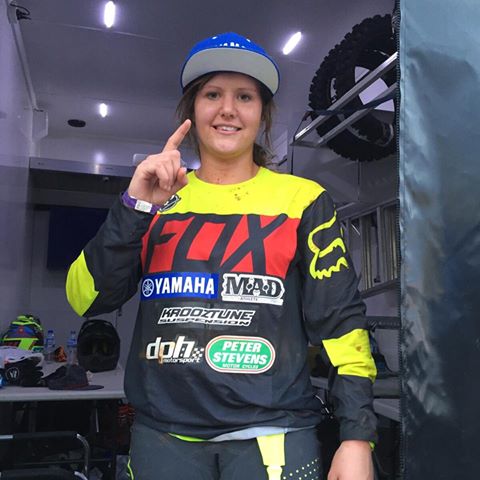 Brown completes a fairytale year laying claim to national motocross and supercross titles.
By Hayden Gregory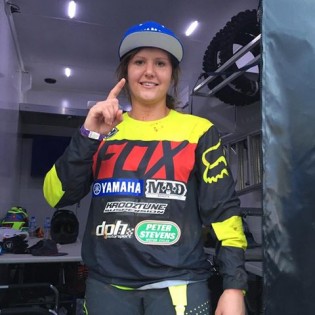 Having won her second national motocross title in as many years, Brown moved into the Supercross competition with her eyes set on the MX, SX double.  In a one off event held in conjunction with the final round of the Australian Supercross Championship, Brown dominated the women's class overall.
Combined with the men's Clubman 450 and 250 classes, the women's event was a fantastic spectacle. In an incredible feat Brown showed that she could not only win her class but mix it with the best clubman. The girl from Seville East finished fourth in the final despite being up against near 20 males.
"I've been training specifically for the supercross for a while," Brown said. "I've been doing no motocross so I can't wait to get back into it. 
"With supercross, you definitely just can't go out there and expect to hit everything. You have to judge everything right. It's a bit daunting as there are big triple-jumps but it's a lot of fun," Maddy added. 
"It was pretty cool racing with the lights on in front of a big crowd. It was a good atmosphere. I had all my family there supporting me.
"My first supercross competition was in 2013 at Phillip Island so I'm getting used to it. It's just a matter of getting more confident with it." 
2015 also saw Maddy venture to Europe where she competed in the Motocross World Championships. Racing in three rounds she finished fifth, third and fifth, ranking her as not only one of the best female riders in Australia but also the world.  At this stage she is still not certain whether Europe will be on the cards for 2016 despite her eagerness to get over there.
"I haven't heard anything yet. It's frustrating because I really want to get over there next year. If worse comes to worse, I guess I'll have to do it on my own but I'm hoping it works out."
The 21 year old is confident that she can remain competitive for years to come and is looking forward to another strong season come 2016.
"I can't wait for next year. I'm going to have a little bit of a break now but I can't wait to get back out there and compete. It's been one of my most successful years in the sport and I hope to keep it going," Maddy finished.